LA's Ultimate Halloween Event Returns to Griffith Park This Fall; Announces Refreshed Experience with Several New Additions
LOS ANGELES, CA | AUGUST 30, 2023 – Thirteenth Floor Entertainment Group, the world's largest Halloween-themed entertainment company, announced today that their signature Los Angeles event, "Los Angeles Haunted Hayride," will be returning to Griffith Park this fall. Opening on September 22 through October 31, tickets are on-sale now at losangeleshauntedhayride.com, with prices starting at $29.99 on select nights.
Welcome to the Midnight Falls annual Hayride, which offers a scenic tour of the majestic wilderness that features destinations typically unseen by visitors. This exciting excursion runs continuously during the Midnight Falls Halloween Festival for tourists to enjoy the wondrous beauty of this beloved town. Guests must be alert, as this is the time of year when the leaves start to turn and the veil between the living and the dead is at its thinnest, allowing the Witch of the Woods who has cast her spell to summon the spirits of the Underworld.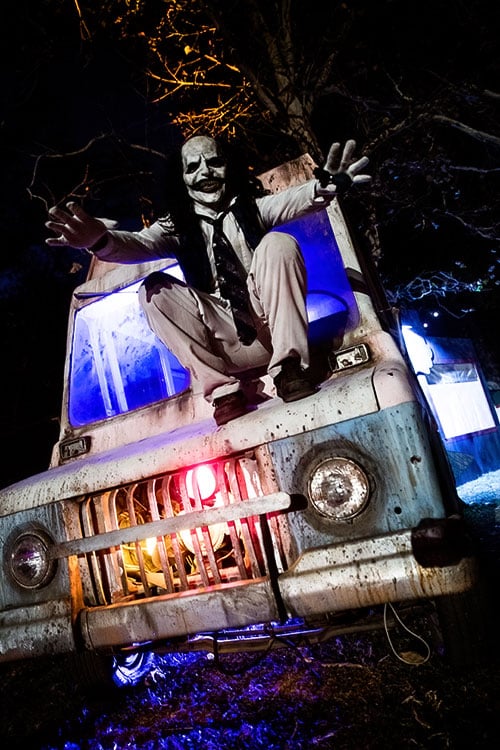 Celebrating the Haunted Hayride's 15th anniversary, Thirteenth Floor is significantly updating the experience to keep longtime fans on their toes this Halloween season. New additions to this year's show include brand-new wagons with seating options, updated effects, several new horror scenes, all-new add-on experiences, and a new maze titled Hellbilly Halloween. 
"We listened to your feedback, and are proud to announce that the Haunted Hayride is getting a significant refresh in 2023," said Chris Stafford, CEO & Founding Partner of Thirteenth Floor Entertainment Group. "I'm really excited to announce that we have added all new wagons for the Hayride experience which feature seating for the first time. This is something our guests have been requesting each year, and we're thrilled to make it happen. We have a lot of new and exciting updates and we look forward to welcoming you all back to Midnight Falls!"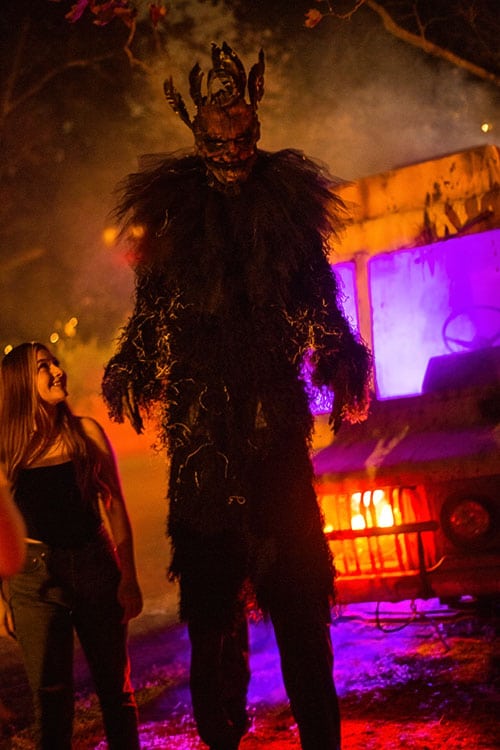 In addition to the Hayride, guests can immerse themselves in the cursed community of Midnight Falls and enjoy a variety of Halloween-themed activities, attractions, concessions and on-site food trucks. 
This year's Los Angeles Haunted Hayride side attractions will feature:
NEW MAZE: Hellbilly Halloween: Venture deep into the backwoods of Midnight Falls where a long rumored cannibalistic family has taken in the spirit of Halloween by dishing out diabolical tricks filled with horrifying treats.
NEW – Midnight Falls Axe Throwing: With the curse of the witch plaguing the city of Midnight Falls, learn to protect yourself from the less-than-friendly ghouls. The Axeperts at Midnight Falls will train you up and for only $5 you can try your hand at hitting the bullseye 5 times.
NEW – Zombie Splat – A GellyBall Experience: Keep the army of the undead at bay and protect Midnight Falls! Gellyball is completely safe, as it's much smaller than a traditional paintball and uses a colored water balloon, allowing for a much lighter impact and no permanent mess. Guests will be required to wear protective eyewear, provided at no extra charge, and will be aiming at live actor zombies in a zombie apocalypse simulator. 
The Monte Revolta Show: Get ready for the ultimate Theatrical Macabre Experience from beyond the grave. It's Monte Revolta… the undead irreverent lounge singer who is bringing the dead back to Rock. Join Monte, Rotly & Ms. Muerte as they exhume an ultra shocking musical, comedy revue.
The Town Square of Midnight Falls: The central hub of festivities where guests walk between attractions or hang out to soak in the fear as townsfolk roam the streets and interact with outsiders.
Midnight Mortuary: Scorched Earth: Once a beacon of rest and peace, the mortuary has ignited its darkest chambers to show guests a different kind of afterlife. Step into the heat as you're invited for a rare open house experience, guiding you through the ashen halls where spirits are not set free but forever smoldering in the shadows. The crematorium's roaring flames are hungry, and those who stray from their group may just find out how it feels to the focus of its insatiable appetite. 
Trick or Treat: Local homes inside Midnight Falls spring to life, driven by the spirit of Halloween, but it is soon discovered that the ghoulish residents have far more tricks on their mind than treats. The wondrous magic of a traditional neighborhood Halloween celebration is turned upside down as terrors stalk the streets in Trick-or-Treat.