Makeup Artist and Costumer Extraordinaire Elizabeth X Talks About Her Life and Her Work.
Hello, everyone. I'm Jonathan, and this blog is based on Episode 173 of Haunt Weekly, a podcast for haunted attractions and the haunt entertainment community, whether you're an actor, an owner, or aficionado. For this episode, Crystal and I went on a field trip to Wild Wonders, which is part of the Seventh Ward, and also Esplanade Ridge, just on the other side of Cremay.
We were seeing a friend of ours and someone I wanted to introduce you to, Elizabeth [inaudible 00:58] of Crafty Lil Devil, whom we spoke with about her experiences in haunting. We asked Elizabeth to tell us a little about herself and her business.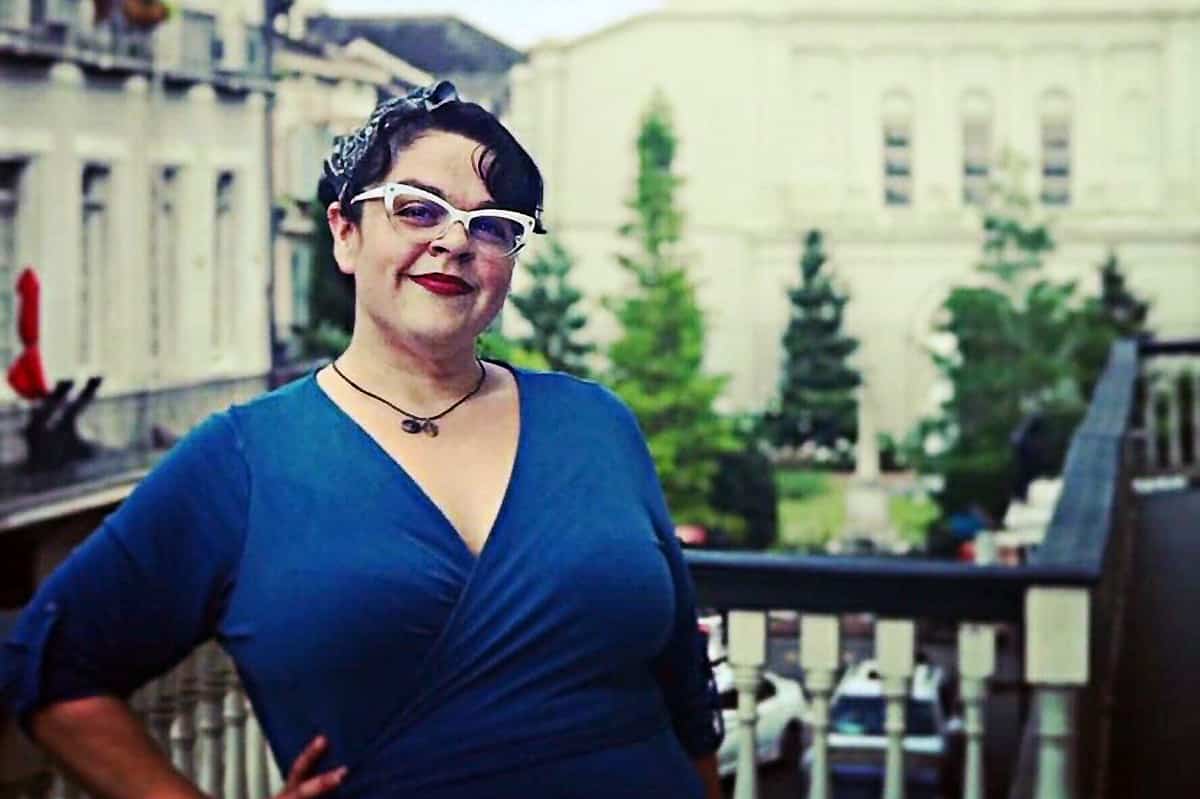 One Crafty Lady
"I'm a born and raised New Orleanian, and I own a business called Crafty Lil Devil," explained Elizabeth. "Mostly what I do is costume design, headpiece making, and hat making. I'm a full milner, which means I make ladies' hats, but I also dabble in some makeup and other various crafty items. That's why I have a blanket name for the business, because I didn't want to just say headpieces or sewing. I wanted to be able to incorporate all sorts of things. I love New Orleans, and it's great to be here building costumes and headpieces and such."
I observed that, just as there are few places in the world where a trombonist can hope to make a good living, there are only a couple towns in the world where a headpiece maker can make a good living.
"That's true," said Elizabeth. "I've been a crafty person all my life, I've been a maker all my life. About five years ago, I decided I really wanted to take the chance on making my business happen. At the time, I was a tour guide and, unfortunately, I got into an accident while I was crossing the street. I was hit by a Ford F-250. My back was broken. After two years of being laid up, I had to start the recovery process. These last four years have really been about recovery, but this gave me an opportunity to lay out what I wanted to do with my business and make an actual go of it. So, here I am, trying to make it work."
We'd like to add here that Elizabeth's business is doing quite well.
"Mardi Gras was wild. Over Mardi Gras, I did a crown and a scepter for Louise Andrew Nelson for Crew Delusion. She's otherwise known as Trombone Shorty's Mama, and she's one of the original Baby Dolls, which is a dance marching crew here in New Orleans and the African American community. It's so rooted in history here. My other big commissions this year included one for Fatsy Fine, a local drag queen who was performing in the Krewe of Armenius Ball, one of the big, gay, Mardi Gras crews—the oldest, I believe. I did his dress and a big portion of his costumes. He won the drag category for the Bourbon Street Awards, which is a huge costume competition. I was also hired by Muses this year to create the crown for their honorary muse, Patricia Clarkset. So, it was very much a roller coaster for Mardi Gras this year, and I'm going right back into it. I've been getting phone calls."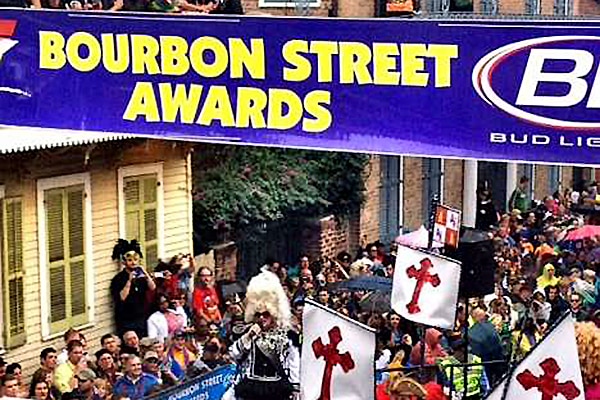 How Elizabeth Entered the Haunt Scene
Crystal asked Elizabeth if she's been into Halloween and haunting for a long time.
"I've been into Halloween since I was a kid. I just loved the spooky atmosphere of it and the idea of ghosts coming out that night. It's such a fun feeling. The air at that point is crisp, and you're feeling good, especially after New Orleans summers. I've always enjoyed a little bit of the spooky side, especially being from New Orleans. We're surrounded by ghosts, we're surrounded by voodoo, and we're surrounded by all those spooky things. My love of the spooky was why I was drawn to being a tour guide and being out in the city. That was a great experience to do. I've stayed at the Myrtle's Plantation and the Hawthorn Hotel in Salem," she explained.
"I started a mini parade here, four or five years ago now, which was Krampus Gras. We did our first little parade and had some bands play, and it was a really great time. I had people either be a Krampus or a naughty child. The friends that helped me with all that were talking about doing it again either this year or the next, and we were trying to figure out how to approach that. So, I went to Gratz, Austria for the largest Krampus procession in that country," Elizabeth said.
"For those that might not know, Krampus is the Christmas demon. In European tradition, Saint Nicholas's day is December 6th, and Krampus Nacht is December 5th. So, what happens is, Krampus arrives and either puts all the naughty children in his sack and takes them away or switches them with his birch branches. The children he doesn't abscond with or switch are the good children, and they're the ones who get the oranges in their shoes from Saint Nicholas—which is where the tradition of having an orange in your stocking came from," she explained.
"The interesting thing about Krampus in Austria and all over Europe is they hand carve their own masks. The masks you see are all wooden, and the detailing in them is incredible. There are different, I want to say, gangs of Krampus or Krampi or whatever the plural is. There are these gangs of them from all over, and they descend upon these various towns to parade. They each have their own jackets, their own logos, and you see them in different colors walking around the city with all their stuff on their back. It was really an incredible thing to watch them all convene at this one place. I doubt you could get away with this in the States. They drag pots of fire, they have firecrackers, they have people blowing fire throughout the street, you know? We have so many laws about fire safety, especially in New Orleans, because the houses are so close together. They would go up like tinder. The Krampuses would also grab children from their parents, run around with them for a few seconds, and then bring them back. Again, it's hard to believe that's allowed," she said.
"Anyway, I wanted to help bring Krampus to New Orleans and, through that, I've met Krampus groups from all over the country. Kel McBride from Bloomington, Indiana has been doing this for, I want to say, 14 years. She introduced it to the US, and I think it's great—keeping a little fear in Christmas," said Elizabeth.
We asked her how long she's been involved in haunted houses.
"This was my first year being involved in a haunt," she said, "but my first haunt experience, which happened when I was eight years old, was with Sherriff Woody's Haunted House, which used to be in City Park. I was terrified. I cried the entire way through. As I grew older, I came to appreciate it. I went through some schooling for theater, and then it became about the thrill of the jump scare as well as seeing the sets people came up with and the costumes," she explained.
Getting into Horror Makeup and a Little Scare Acting
"This year I got to go to 13th Gate, which is always amazing. They've got some aerial things going on in there that I'm just enamored of. I also went to New Orleans Nightmare, which is brand new this year. I worked with the Haunted Mortuary this year, which is on Canal Street. I was part of the makeup team. That was led by Bill—you can find him on Instagram at Bill_FX. I had some experience in makeup, but I learned so much from him and the rest of the team while I was there."
"What was the hardest part about doing that, without having that kind of experience before?" asked Crystal.
"Putting on prosthetics isn't particularly easy. If you really want to get a fine finish, it takes time. I also learned the beauty of stippling and using brushes to get a different texture instead of just a flat color, using different tones, what types of alcohol-based makeup to use, and what some of the best makeup companies are for that. On one of the nights I was there, I had the opportunity to be in the cast. Even though I'd gall bladder surgery like three days before, I said, 'I'm gonna do it,' because it was a new experience. They made sure I was located in the seance room—a very spooky room, and notoriously haunted. Kenny, the floor captain, made sure I was well taken care of with enough breaks, water, whatever I needed. It was quite an experience. In a haunt, you get to say things you could never ever say in real life. Like, they pay you to threaten people. It's your job. However, it can be dangerous, because, if you scare somebody in just the right way, and you're in close proximity, you can get hurt. I went behind one middle-aged guy and said, 'Boo,' in his ear. He whipped around and hit me in the chest with his arm. At the same time, it's fun to see grown men fall on the floor when you jump out at them."
Oh, yeah. The tough guys, who aren't afraid of anything. We know about those.
"In one of my favorite boos, I was in a nurse's uniform standing in the corner of this octagonal-shaped room. I was near a white door, so it was difficult to see me. I'd wait for guests to come around the corner. They'd be looking at something on the other side of the room, and then they'd turn back. That's when I'd get them. I was exhausted by the end of the night, but it was also a bit of a stress reliever, because you I could say anything I wanted to. I burned off a lot of adrenaline over those eight hours, and I think I slept incredibly well that night—better than I had in a while."
Returning to the makeup issue for a minute, I asked, "What were some of the things you had to learn about doing this quickly?"
"I learned how to use an airbrush. That was an exciting new skill. It sometimes can be tricky, but it was a valuable, valuable tool. It adheres so well and so quickly, especially when you're trying to pale out arms, chest, face, and maybe a portion of the back. I learned what colors worked best to mimic bruising and what colors worked best for a zombie bite. It was a European makeup brand, I believe, and they had some incredible gory shades: Fresh Blood, Dried Blood, Putrid, Vein. Some really great names," she said.
"Mostly where I pick up my makeup is a local company called Last Looks, and they carry all different brands. The guys over there do a lot of film work, and they're so knowledgeable. You can go in and explain what you're trying to do, and they help you. It's important to have those resources around town, if you're just beginning and don't know how to start."
"How many people would you make up in a night?" asked Jonathan.
"Usually we had upwards of 30 people that four or five of us had to do, so we were doing five or six people on some nights, and some were quicker to do than others. We had one clown in the haunt this year, and I always got the clown. I was fine with that, because I'm not terrified of clowns, but clowns are still creepy. We don't do the same people every night. It's pretty much whoever's in line," said Elizabeth.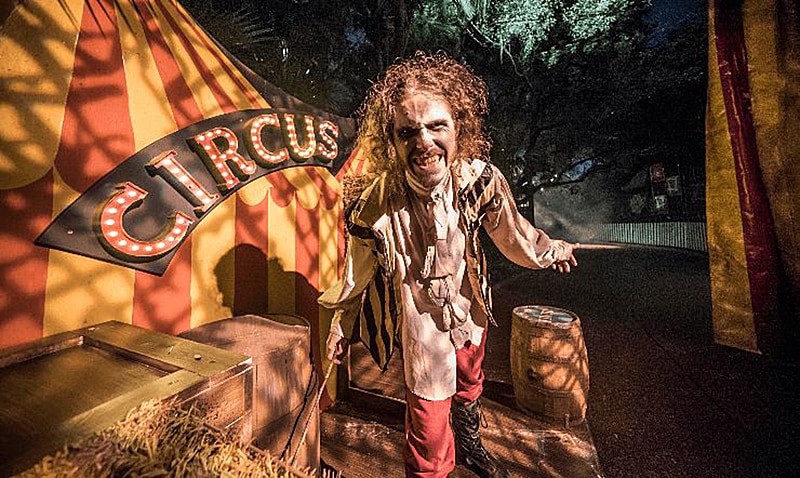 Creepy Lingering or Startle Scare?
On the podcast, we've talked about different types of scares, what people do in different roles, and how you can be creepy. I asked Elizabeth if she prefers to do the creepy lingering where it's the guest remembers you in their dreams kind of thing or the startle and it's over fast kind of thing.
"I prefer sneaking up on them, but it becomes a jump startle because I wait for them to turn around. If I was in a doorway where they couldn't see me, I'd come up behind them, stand there, and wait for them to turn around. Or, I'd stand there and whisper something in their ear like, 'Where can I get you?' That's what I really enjoyed, because they didn't see it coming. Without having to expend all your energy being wild and crazy, it was enough to make some people fall on the ground or run," said Elizabeth.
How to Get Involved in the Haunt Community
I asked her if she approached the Haunted Mortuary or the Mortuary approached her about starting to do makeup with them.
"I have a couple of friends who work over there, and they let me know they were looking for some makeup folk. I was invited to a meeting, and then I started working. This is how it is with the haunt community. Just because you're in one house doesn't mean you don't start to meet people from other houses. You meet people from different haunts, and I think that's a really nice aspect of it. There's community—and also little competition. Friendly competition."
But as we frequently say, haunts don't compete with other haunts. They compete with all the other things guests could do—concerts, Halloween parties, etc.
"As we were talking about before, there's a place for everyone," said Elizabeth. "Even if you're not a makeup person or a costume-building or set-building person, you can still find your place in a haunt. If you're a haunter who has injuries, you can still participate. They'll help you find a way to participate. Like I said, haunting is for everyone. If that's something that interests you, go out and meet the people working at your local haunt. It's about putting yourself out there. You never know what's going to happen if you just say hello to someone and see what they might need. Offer help," she suggested.
In my experience, creative people like haunting as a creative outlet. It's something you really can't get any other way. As Elizabeth said, you get paid to insult—within reason, obviously.
"What's so cool about the haunt industry is guys like you who have your home haunt, which is incredible. Home haunters are the ones I'm most impressed by, because companies have a budget—a hell of a budget, usually—and some people just want to do it for the neighborhood. You could start your own haunt in your garage and build that up. If your dream is to own a bigger haunt, that's the way to get started," said Elizabeth.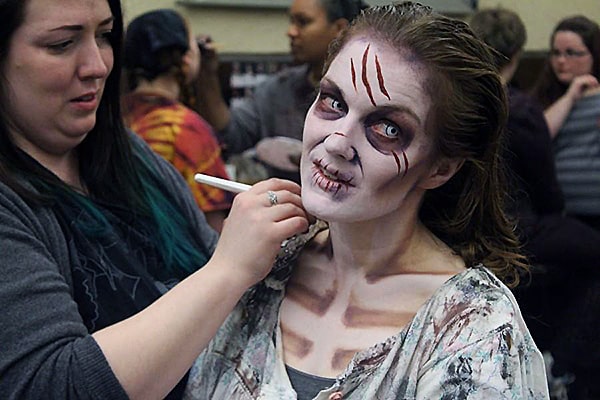 Keep the Costuming and Makeup Simple
Crystal asked her if she had any tips haunters could learn from costumers and makeup people that would surprise them.
"Wear things that are comfortable," Elizabeth responded immediately.
Haunters aren't really good at that, I observed.
"I totally understand that, because the look is the thing, but it doesn't take much to throw on an old jacket and use a combination of water and paint to distress it, make it look old, or rip up pieces of it."
And make it breathe, offered Crystal.
"Exactly. Don't wear super-heavy costume pieces. You can do some easy costuming. Don't overthink what the costume might look like. Certainly, if you're doing something very specific, that's a whole other ball game. But, in basic haunting, you can create costumes out of pretty much anything," said Elizabeth.
Most of us aren't characters that guests are going to be spending a lot of time with, I noted. All you want to do is get the concept of your character across.
"Yeah, and you only have essentially 10 to 30 seconds to do that," she said.
This is one of the reasons haunts use archetypes—this is a zombie, this is an evil doctor, this is a whatever, and so on down the line, because we can convey that in a microsecond.
"That goes along with makeup. The paling out of your face, putting a little bit of a shadow in your cheekbones, and darkening your eyes with just a bit of shadow can be very effective. Throw a little blood on it, and you're good to go," she said.
I asked Elizabeth if she had any advice for people wanting to get into doing makeup for haunts or maybe struggling with doing their own makeup.
"Practice, practice, practice," she said. "Years ago, I wanted to learn makeup, and I wanted to learn how to put on eyelashes. So, every weekend for about a year, I'd put on eyelashes before I left the house, because it was practice. So, sit in your house on a random night and make yourself up like a zombie. Just practice. It's fun, and there's a million different YouTube tutorials on different aspects. Even though all the contouring used in beauty makeup might not be what we do, you can learn from that and incorporate it into horror makeup. One of my favorite people, RJ7 from Monster Kid Masks, is a mask maker, and his attention to detail is amazing. Seeing the colors he uses has inspired my use of color in horror makeup."
If nothing else, the beauty tips can be useful, because you can just do the opposite, I suggested.
"Yup. Use an opposite color. Don't discount the beauty makeup tutorials, because you can learn some great techniques to make things more finessed, to get a better detail, and to make it look more real. Blending is something I've been practicing this year, because you don't just want to use one flat color. Bruising isn't just one color—there's green, blue, purple, yellow, and sometimes red. You might be using the Vein color, the Bruise color, and the Fresh Blood color all in one, and then maybe adding a little Putrid yellow."
I mentioned to Elizabeth that when I talk to people who do makeup and costuming professionally and then I talk to haunters who don't, one of the big differences is costumers seem to focus more on simplicity and effectiveness.
"That's exactly it," Elizabeth agreed.
Haunters—especially new haunters—really want to drill down and get the exact look or the exact appearance they're going for, even if it's not important. It doesn't aid the effectiveness of the scare or the role.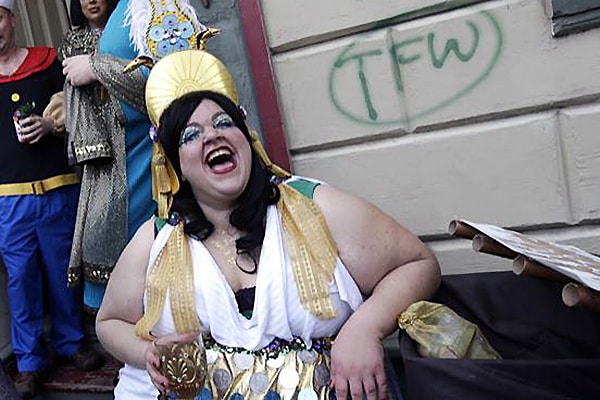 Costuming and Makeup Changes You
"Simplifying the costume is important, because you only have that 10 to 30 seconds, and you want to be able to move in that costume so you can give them the best scare possible," she said. "Another thing is that once people are in costume and makeup, it changes their demeanor, and this is true even if the costume and makeup are simple. You'll start to feel the change of your character once you're in it. It's the same for theater. Once the actors have tech week, where they put on their costume and makeup, they finally feel the character. One night, they don't have any costume or makeup, but, at the tech rehearsal, they do. There are just so many little nuances that weren't there the night before, because they're getting into their character," Elizabeth observed.
I asked her if there was anything else she'd like to talk about.
"One of the things I enjoy when the haunt season is starting to come upon us are the television shows that follow different home haunts. I like to look at the decorations other people make and how they make them. Two tongue depressors, spray insulation foam, some duct tape, and you've got a ghoul. It's impressive," she said. "I'm always researching techniques that might not be the traditional techniques, because there are so many things you can create with nontraditional and recyclable materials. Also, it gets me into the season. It might still be 90 degrees here in the middle of October, so we haven't had that cold snap yet. I watch those shows and I'm reminded that Halloween is coming."
I asked her if she'd be doing the Haunted Mortuary again next year.
"I'd very much like to. The Mortuary haunted house actually started Scout Island Scream Park this year after talking about trying to do it for years. The owner, Jeff, started out at Chinchoopa Haunted House back in the day, and his dad worked for Sherriff Boady's Haunted House, so he's been a haunter for years and years and years. He realized there was such a magic about having a haunted house in a city park, being surrounded by the oak trees with all the Spanish Moss hanging down from them. It's spooky," said Elizabeth.
I was excited to hear that Elizabeth might be doing the Mortuary again next year. I told her she might be a new inductee into the haunter community.
"I really enjoyed doing the scare acting," she confessed.
Scare acting is addicting. It really and truly is.
To wrap up, we asked Elizabeth to mention where people can find her, what she makes and sells, and the services she provides.
"I work out of my house, and I mostly do custom costumes, headpieces, millenary, and pretty much any other crafty little thing I can do. You can find my business at CraftyLilDevil.com, and you can contact me through that. If you have an idea for something I can't do, I have lots of assistants and teams that could provide it for you."