We recently sat down and chatted with Ed Roberts—director of the West Coast Haunters Convention and staff member at Oregon School for the Deaf in Portland—about this year's West Coast Haunters Convention, which will be held on April 13th at the Hilton Double Tree Hotel located at 1000 NE Multnomah Street in Portland, Oregon. The West Coast Haunters Convention is the longest-running convention for home haunters, professional haunters, and Halloween fanatics on the West Coast. In 2018, the convention is celebrating its 31st year.
Benefitting Kids with Special Needs
One of the main purposes of the convention is to raise money for a charity sponsored by WCHC that benefits with autism or hearing impairment. The event began when Ed joined the Oregon School for the Deaf three decades ago and asked to build a haunted house as a fundraiser for the school. Ed explained: "'The Nightmare Factory' now covers the main school building, which is 13,000 square feet, with a 5,000-square-foot covered queue and preshow area. We've raised a lot of money for these kids over the years," said Ed. "We're open for 13 nights, and we average about 14,000 people each year. In 2010, we were blessed with a visit from the TV show Extreme Makeover Home Edition, and that really helped put us on the map. We haven't looked back."
What's Happening at This Year's WCHC Event
We asked Ed how he's feeling about this year's WCHC event.
"Well, I'm excited that attendance is up and we have something like 70 classes, the vast majority of which are free. The class schedules are posted on our website, HauntersConvention.com. Roy Wooley is back, and we have Ralis Kahn, Brett Hays, and Leonard Pickel. But mostly I'm excited that people are willing to support this convention, because it really and truly is about the charity. It's about the grants we give out every year to professionals that work with deaf children and/or children with autism. These professionals directly benefit from the funds raised. And, in the process, we're sharing our vast knowledge with one another. We have people at the event that have been haunting for one year and people that have been haunting for over 30 years."
WCHC is a 501(c)3 nonprofit organization and its grant funds are available to anyone who meets the criteria. "We give grants to people that apply for them," Ed explained. "This year, we're awarding a grant to a school in California as well as the Oregon School for the Deaf, where I work. Grants are awarded to any professional on the West Coast that works with kids that have autism or a hearing impairment." To apply for a grant, visit HauntersConvention.com and click on the "charity" button.
What's Unique About WCHC?
We asked Ed what makes West Coast Haunters stand out from other conventions.
"I don't like to compare apples to apples. Each convention—whether it's HauntCon or Haunt Fest in Texas or Midsummer Scream or Transworld—does its own thing, if you will. WCHC sees several hundred people a day and has 30 to 40 vendors. That's not giant growth, but it allows us raise the money for the charity, do the event, and my kids are still involved. Regardless of the fact that it's not on campus anymore, my kids attend and it's accessible because we have volunteer interpreters to interpret the classes the kids are taking. It's a haunt networking opportunity. Our vendors know they probably won't make bank, but they come because they know they'll make a great connection with these haunters and spread the word that the charity is the primary reason folks should come—to help us raise money to help others, and to educate yourself. We have pro haunters, home haunters, and Halloween enthusiasts. We're open to everybody. We encourage everybody to come out and check us out at least once and, hopefully, we'll get you hooked and you'll want to come back again," he said.
"Oh, by the way," said Ed, "if somebody out there would like to donate to the auction, we have a place where you can go on the website to donate an item. That would be phenomenal, to help us with our auction. I know a lot of people just got done with Transworld, and you're all hectic and busy, but if you want to help us raise money for these grants, for these kids, please donate something to our auction. It will get your name out there, and it supports the charity."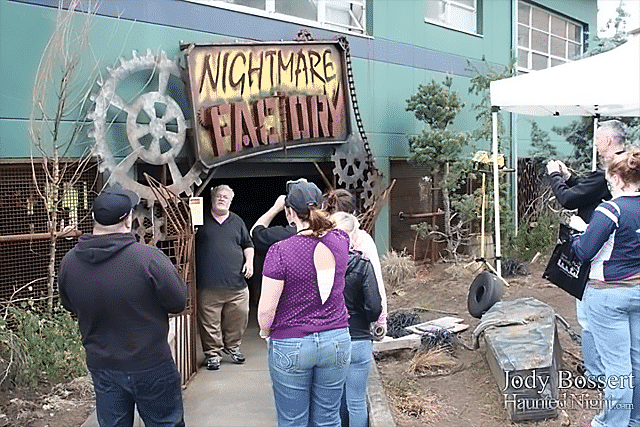 Recent Recipients of WCHC Grants
We wanted to know who received grants last year and asked Ed for a story about the impact this money has had on students.
"OK, let's do the Kindergarten Transition Kit. These are backpacks that are given to children who have varying degrees of autism that are transferring from preschool to kindergarten. The Kinder Kits help them prepare for that transition. A lot of people with autism, myself included, sometimes need to be told ahead of time that there's going to be a change. So, if you have a preschooler with autism that will be going to kindergarten, you need to give them all the tools they'll need to be ready for that change. Kinder Kits do that. They have calendars, number books, information about the school they're going to, crayons—everything is in that kit. It goes to school with that child so the teachers can help that child transition to kindergarten. We gave the creators of these kits a grant last year," he said.
"We also gave some money to the Northwest Regional Education District. If a teacher needs a tool for a specific child, they can go to their regional school district—in this case, Northwest Regional—and get the funds for whatever they need. So we funded them last year as well. We also gave funds to the Oregon School for the Deaf for its science program, and we gave funds to a program that needed new PE equipment for their kids with autism."
Ed continued, "Education, in my opinion, is still very underfunded, and special education is particularly underfunded. Even though there's a lot of money per child, it's sometimes just not enough. So, we're able to offset those needs by helping with Kinder Kits or different so-called manipulatives or whatnots for these teachers. Last year, we awarded five grants totaling $4,066.44. We're hoping to do that, or more, this year. We do this by folks making donations to the auction and by going to the auction and bidding on items or by coming to the convention and helping us with the show or by sponsoring the show and offsetting our costs so we can give more money to these very, very deserving educators and professionals."
Special Stories About Special People
To wrap up our discussion about the charity before moving on to this year's event, we asked Ed to tell us one of his favorite stories involving haunt experts, their interactions with his students, and how the students were impacted.
"We bring kids to the show every year. Last year we had a group of kids come up and, you know, we're in Salem, Oregon, so we do our haunted house and we're plugging along doing our thing. You can explain to any student that there are hundreds of other haunted houses and people that decorate their homes, but, until they're exposed to that and realize, wow, there are all these other people doing it, they don't really fathom it," he said.
"So, last year, one of the kids came to me and said, 'First of all, I'm so blown away by the number of people that are here, and all of them are willing to talk to me. I'm deaf. Most of the time, I don't have someone willing to teach me besides you and the Dean at the school or other people willing to share with us. This is great.' My response to that was, 'You're also educating them. You're opening their eyes to your world.' A lot of people think, 'Oh, the poor deaf kid,' but the truth is, you can do whatever you want, regardless of whatever your 'disability' is. Your disabilities should never limit what you do. So, the kids are always so appreciative," he said.
"Another story is a star-struck story, which happened with Roy Wooley. One of my kids walked in and saw him and was like, 'Oh, that's the guy from that TV show! What do I do?' I said, 'Well, you go up and ask him a question or talk to him, because he puts his pants on one leg at a time, just like you do.' Ray has been so… or any of these guys, any of the people that we bring in as guest speakers have always been so readily accessible to my kids and everybody else. For me, it's just being able to open my kid's eyes to the world around them."
Ed told one last story: "Jon Cooke, of Knott's Scary Farm, came to our show last year. He told me, 'Hey I hire deaf actors.' I'm thinking, hey that's great. Then I get this wild idea. 'Jon, would you be OK with a small group of my top actors coming to Knott's Scary Farm and getting a chance to see what you do?' He said yes. This is a very busy man who's running one of the biggest, longest running haunt parks in the world, and he took the time to bring my kids in through the back door and take them through costuming, makeup, casting, all this. Then he let them experience Knott's Scary Farm for themselves. These kids are still talking about it. One young man who's graduating is going to go down there and audition because he knows Jon hires deaf actors. The kids got a chance to meet the deaf actor that was working that night. That's amazing to me."
The Convention Itself: Lots of Classes—and Most of Them Are Free
We next asked Ed to tell us more about the classes being offered this and the VIPs who'll be teaching some of them.
"Roy Wooley is the lead makeup artist with Netherworld and has been on the FaceOff TV show. We have Brett Hays from Indiana's Scariest Haunted Attraction, and he's also Vice President of the Haunted Attractions Association (HAA). Ralis Kahn, makeup artist extraordinaire, has an amazing list of credits on IMDB and does haunted house makeup, and he'll be teaching classes as well," Ed said.
"The majority of the classes are an hour long, and there's a handful that run 90 minutes to two hours. The classes start at nine in the morning and go until five in the afternoon—and then it's time to play. We have somewhere in the neighborhood of 70 to 75 hours of classes, and the majority of them are free. For classes that have a fee attached to them, people can sign up now or when they get there, but it's nice to know who's coming so we can better prepare. For example, Roy is teaching a class called 'Making Monsters: Your Own Custom Prosthetics Class,' which has a $100 hands-on fee. You'll get to hang with him. There's a three-gelatin class with Ralis, and that's $25. There's a fee class where you get your own airbrush. So, the fee-based classes vary," he said. "If you come on Friday and just have the Friday pass, you can take any class that's free on Friday. If you come all three days, you can take any class that's free all three days."
Ed continued, "The classes are set up so there's a minimum of a half an hour (usually an hour) between them so participants can sit down and digest what they just learned or take a quick tour of the trade show floor. There's a charging station on the show floor so attendees can recharge their phones while they look at some of the products, and then go to their next class."
It's All Volunteer
We asked Ed to estimate how many volunteers are involved in the three-day weekend event.
"Oh, maybe 30 volunteers, in that neighborhood, not counting the board of directors. We have the trade show, the educational sessions, and all the classrooms have a volunteer. Then there's the tech folks that come in to help. We record all the classes so folks who buy the one-day or three-day pass can have access to the classes they may not have been able to attend. Wanna volunteer? Go to our website and look for 'volunteer signup' under the 'About' tab. That takes you to a link that shows you the available slots you can sign up for. If you sign up for enough hours, you get a free pass to the convention," he said.
Register Early to Save Money
Ed mentioned that attendees save a little money if they register now. "Online registration usually closes a few days before the show to allow our sales team to get everybody's package ready for when they arrive. You save $20 by registering now on the three-day combo pass with the breakfast buffet. So, here's the deal: If you buy the three-day pass and the combo ticket at $190, you get a three-day pass plus the costume ball, haunt tour, and breakfast buffet every day. You also get the WCHC tee-shirt, which, this year, was designed by Doug Shaffer. If you get the three-day pass with just breakfast, you'll save $10-$20 by getting it now. But you can also buy it at the door. There's also the one-day pass."
The Trade Show for Everything Halloween
The West Coast Haunter's Convention also has a trade show. We wanted to know if the number of vendors has been growing, and what the show floor is like.
"We have a core group of vendors that have been supporting us for the nine years we've been around. Then we have people that come to the West Coast Haunter's Convention to test their wares. We average between 40 and 50 vendors each year. Not a lot of vendors, but all are very much targeted to the Halloween theme. We're not a pop culture convention. We're a Halloween convention, so the vast majority of the vendors are related to Halloween. There's makeup, props, coffins, furniture, theater lighting, and Halloween antiques. We have this store in a nearby town that sells some of the most amazing collectibles for Halloween. So, it's a wide variety that includes everything you find at the larger shows, just on a smaller scale. Admission to the trade show floor is included in the ticket price. If somebody just wants to see the trade show, we do have an admission price for that, but we'd rather people experience the entire event, buy the three-day pass, do everything, and get to know everybody. It's a family event," Ed emphasized.
Don't Miss the Foam-Dart Wars
The WCHC is famous for its foam-dart wars, which began the first year the convention was held. We just had to ask about that.
"The foam-dart wars are held twice a day—once around noonish and once around four o'clock—on all three days. They're posted, they're on the schedule, and they're in the program, so you know when they're happening. There's also an announcement over the PA system before each one letting people know that if they want to participate, they should go to the first floor," he explained.
"I and another person manage people so the action doesn't spill out into the vendors that don't want to partake. The 'war' goes on for five or six minutes, and it's over. We started it in year one because, in all honesty, there weren't a lot of people and there was a lot of downtime. One person had a Nerf gun and somebody else had a Nerf gun, and it started from there. It's been a part of our show ever since," he said.
"If you go to the 'Fans of West Coast Haunters Convention' Facebook page, you'll see people showing off their arsenals of Nerf guns, foam-dart grenades, and all sorts of foam-dart stuff. It's controlled chaos on the first aisle of the convention. As a matter of fact, when vendors sign up, we ask them, 'Do you or don't you want to be on this first row?' Foggies is there every year and they fog it up. We have sound effects that go off. We also have a shooting gallery. If you've never been to the show, you have to come and see this. It's a blast. One year, Quan was there, but he didn't know beforehand about the dart wars. When he found out about it, he sent someone out to buy Nerf guns and darts. I don't know how much money that boy spent, but he had quite the arsenal. It was really funny," said Ed.
The Costume Ball, with VIP Judges
Another legacy of the WCHC is the costume ball, which was initiated during the third year of the convention when the event moved from the Oregon School for the Deaf, where the show started, to the Hilton Double Tree.
"The ball is great," said Ed. "We have a great DJ, a costume contest, and a silent auction in conjunction with it, with all the money from the auction going to our charity. If you have a costume and you want to be judged, show up on Saturday evening. Roy and Ralis will be judging, and there's some other judges I can't remember. We have trophies for a variety of categories. The costume ball has grown exponentially."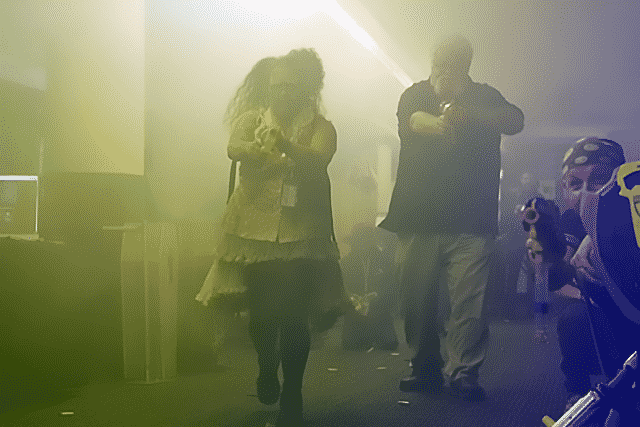 Big Fun on the 13th Floor
In addition to the costume ball, another extracurricular event is the 13th floor. What's that about?
"The Double Tree has a 13th floor [which many hotels do not], but they don't talk about it. We grab all those rooms, and, if you show up Thursday, you can pay a little extra to be on the 13th floor. You can decorate your room, and we have an award for the best decorated room. Thursday night is our meet and creep on the 13th floor, which is sponsored every year by I Love FX Makeup and Contact Lens company. I should mention that there's only one 13th-floor room available right now, and by the time this is published, I'm sure that will be gone. There's also room 666. I think it's funny that the hotel also has that. No one has grabbed it yet, but we'll send a team in to decorate. It's the one room that we decorate," said Ed.
"On Friday night, we have a haunt tour. This year we're going up to Milburn Manor. After that, we'll be having a wedding reception on the 13th floor. We have a couple that met on the 13th floor last year and just got married, and we're having their wedding reception on the 13th floor. On Sunday night, we have what we call our handshake event. That's the movie night, where we play really horrible movies. This year, it's something from the '80s, because this year our theme is the '80s. Everyone comes in their pajamas and hangs out and watches movies. It's kind of Mystery Science Theater 3000 night at the movies, that sort of setting."
A New Member of the Haunted Attractions Association Board
Ed also recently joined the board of the HAA. We asked him to tell us about his new position and what that means for the West Coast haunt community.
"What I want to do is get together with the current board and find out what their expectations are of me. I'm going to be representing the West Coast, and I'll represent the Haunted Attractions Association in good faith wherever I'm at. I really do appreciate their mission statement and everything they stand for. I'd like HAA to go to Midsummer Scream and to the show in Texas and get the word out that this association is there for you and you have representation on the West Coast. Not that there was never representation, but now I can, hopefully, help alleviate some of those West Coast questions by being on the board," he explained.
For more information about this year's West Coast Haunters Convention, visit HauntersConvention.com.