Historic, Haunted Buildings and Real Ghosts Await Guests at This Unique Outdoor Haunt at Fort Abraham Lincoln on the North Dakota Prairie.
Haunted Fort is a seasonal attraction that takes place every October at Fort Abraham Lincoln near Mandan, North Dakota. The site is a reconstructed military fort from the 1870s and is most famously known as the last home of General George Armstrong Custer before he headed out to the Battle of the Little Big Horn in 1876.
Haunted Fort is a linear, walkthrough event featuring four, distinct haunted houses surrounding a midway area. The attraction officially opens on October 11, 2019 and continues every Friday and Saturday night through the month of October as well as on November 1st and 2nd. A special lights-on event will take place on October 5 and a lights-off event will be happening on November 2nd.
Haunted Fort has served to not only bring attention to the historical site but also grow the haunt industry in North Dakota. What's unique about this event is that it's operated by a state agency, North Dakota Parks and Recreation, and it raises money for summer programming that introduces people to the area's history.
The Creative Director of Haunted Fort, Matt Schanandore, first realized he was a haunter soon after it became clear that Haunted Fort wasn't going to be just a one-weekend event. "When it grew from a one-weekend to a multiple-weekend event, the leadership sent me to the haunt show in St Louis. That's what turned me into a haunter—that show. I really saw the potential in terms of the industry. When I was going through the seminars and seeing all these people that had the same passion that I did for haunted houses, that's when I realized this is a pretty cool thing to do," he said.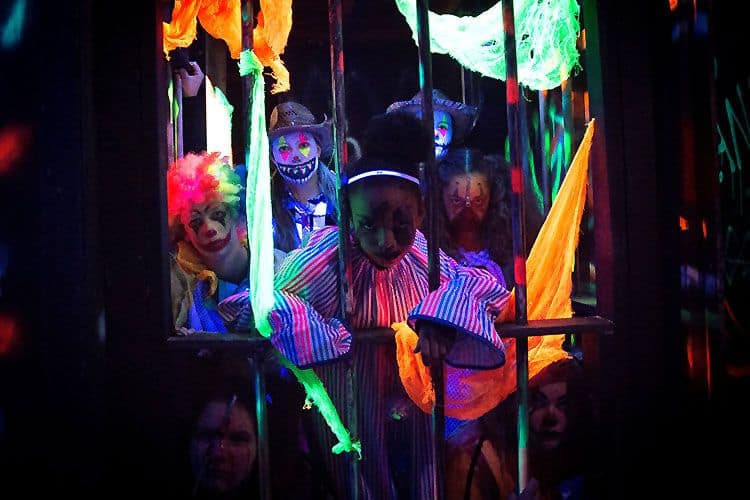 What's New for 2019 at Haunted Fort?
New this year:
Scares and mazes
A craft-beer lounge
Special lights-on, lights-off events
The Haunted Fort Experience
There are four, reconstructed military buildings that make up Fort Abraham Lincoln—the commissary building, the granary, the central barracks, and the house that General Custer lived in from 1874 to 1876. The house itself is a Living History Museum, so it depicts what life was like at the time, and it's set up as if General and Mrs. Custer are still living there. For Haunted Fort, each of the four buildings becomes a haunted house.
Guests begin the Haunted Fort experience via a red-carpet, VIP zone that leads through the parade grounds to the General Custer house. From there, they continue to the three other buildings around the square. "The granary is more of a funhouse-style haunt—an an-old school, clown haunt—but we've added modern tech in there and made it more of a UV, black-light haunt," said Matt Schanandore, Creative Director for Haunter Fort. The barracks is two different haunts—the Asylum and the Guard House. The Guard House, which just opened last year, is an immersive haunt that guests must venture through alone. "That's our extreme haunt, and it's optional. After visiting the houses, the guests arrive at the midway area. "In the midway, we have concessions as well as a zombie paint-ball gallery called the Zombie Battlefield."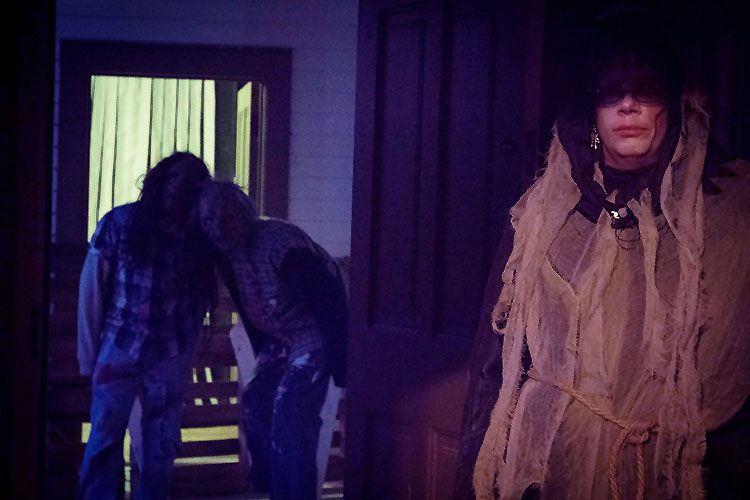 Added this Year—A Craft Beer Lounge
Guests had voiced a desire to have more of a social atmosphere either prior to going into the haunt or afterwards, and that resulted in the zombie paintball experience on the midway as well as the Haunted Fort Shop, where guests can find some cool Haunted Fort swag. "This year, we have a new concessions area that's UV inspired with black lights," said Matt.
Also new this year is the Haunted Fort craft beer lounge. "Craft beers have kind of taken off in North Dakota over the last a couple of years, and we're catching up," he explained. "We're working with a brewer here in town to supply a couple of craft beers that we'll be serving in our lounge area. One of them will be a themed beer named after the Haunted Fort and available only here."
Special Lights-on and Lights-off Events
Haunted Fort opens on October 5 for a special, lights-on, "Family Spooky-less" experience for guests ages seven to 13, who are younger than the recommended age for the main event. "They can come out with their parents, get into the event, and experience Haunted Fort on a lighter scale," said Matt.
On November 2nd, there will be a new feature—Darkness Unleashed, which will essentially be a lights-off experience. Guests will be given a glow stick to make their way through the grounds.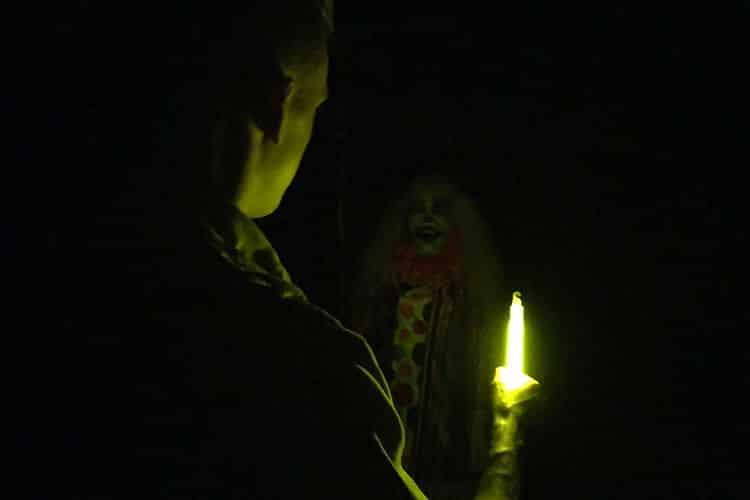 Haunted Fort is a Haunted, Open-air, Historic Attraction
Haunted Fort is unlike most scare attractions because the buildings in which it takes place are historic and authentically haunted. "Guests walk from building to building over four acres in the darkness of a North Dakota night. They're out on the open prairie, and they'll hear coyotes in the distance. This is not only unique compared to other haunt attractions, it's also very different from visiting Fort Abraham Lincoln during the summertime," said Schanandore.
Helping to Grow the Haunt Industry in North Dakota
In addition to the financial advantage to Fort Abraham Lincoln that Haunted Fort provides, Matt said it's the passion for creating a haunted attraction that's really what keeps it going. "I've worked in this industry for about 15 years. The development of Haunted Fort has been spurred on by my passion and seeing how Haunted Fort has influenced the haunted attraction industry in North Dakota. Fifteen years ago, it was one of the only haunted houses in the state. As more haunted houses are showing up in smaller communities, they're coming to us for advice about how to create a successful attraction, and we're totally open to helping them," he said.
The local community is the attraction's biggest advocate, and it understands that this seasonal attraction has become a cornerstone event in North Dakota. "North Dakota tourism sells Haunted Fort to different media partners across the country and encourages bloggers to experience the event and write about it," said Matt.
Haunted Fort changes each year, and that's to keep interest fresh. It's also due to the nature of being operated by a state agency. "Many of our programs are based on a two-year window, because new leadership could turn everything upside down within a couple of years. We want whatever political party is leading the state in the future to see there's an intrinsic value of having this event hosted in a state park in North Dakota," he said.
Justifying an event of this magnitude and the expense of putting on an event like this given that the state agency that operates it is publicly funded through taxpayer dollars. However, the community has supported Haunted Fort throughout its existence and provides the justification as well as many of the resources for the event to keep going. The in-kind value (contributions, support, volunteer hours, etc.) for Haunted Fort is upwards of $60,000 a year, said Matt. "That type of value is really seen as a benefit to the state. It also does one thing that most state agency programs doesn't do—it turns a profit. Those dollars help support our other programs in the park."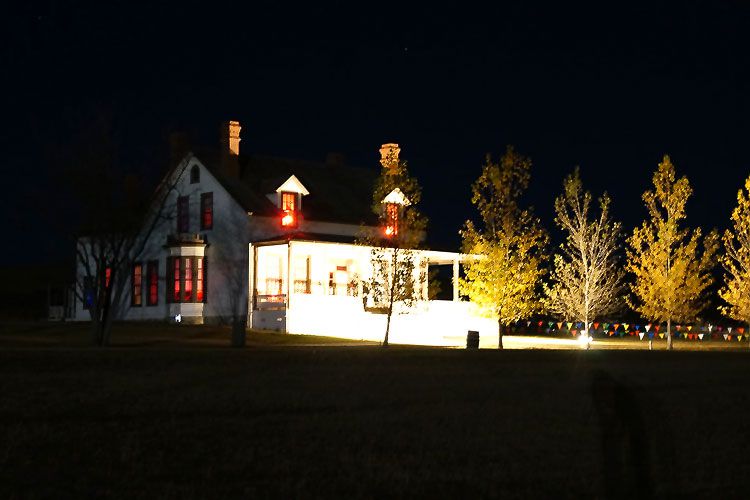 Growing a Haunted House and a Community
It takes time to grow a haunted house community. "What I've seen in events of any kind that last in the community is that they establish solid, family traditions. Haunted Fort's main success is that it's become a Halloween tradition. So, for someone who's just getting into the haunt industry and is looking at establishing a haunted house or creating any sort of event in their community, keep in mind it takes time to create that connection with the community, so don't get discouraged. There will always be obstacles. Working with a state agency and putting on an event like this just shows me that if we can do it, other people can do it. It requires working with those obstacles and objections convincing people to take a different look at it," he said.
And, of course, haunts can't happen without volunteers and sponsors. "We have a great, great group of volunteers from the local community that come out every night, every year, and help with the event. We have long-standing sponsors, and our radio stations have been wonderful in helping to get the word out. Acme Tools helps us with a lot of our lighting and infrastructure, and the City of Mandan partners with us on the event and markets it as one of the core events they host throughout the year."  
Where is Haunted Fort Located?
Fort Abraham Lincoln is located seven miles south of Mandan, North Dakota. For more information about this event, visit the Haunted Fort website.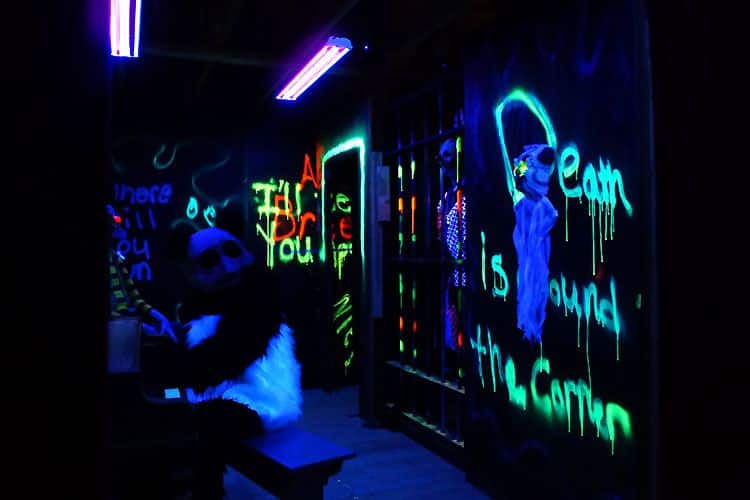 How Much Are Tickets to Haunted Fort?
Ticket prices on Friday nights are $15 for general admission and $50 for the Ultimate Fear package, with Zombie Battlefield as a $6 add-on. Ticket prices on Saturday nights are $18 for general admission and $55 for the Ultimate Fear package, with Zombie Battlefield as an $8 add-on.
Tickets for the October 5, lights-on event are $12 online for youth (17 and under) or $17 at the door, and accompanying parents get in free. Tickets for adults ($18 and older) are $15 online and $20 at the door.
Haunted Fort is also open on Halloween night as well as November 1st and 2nd for Darkness Unleashed. Ticket prices are the same on these nights as other nights, but tickets for Darkness Unleashed are limited.
Tickets are available for purchase online as well as on site from 7 pm to 11 pm each night the event is open, except for October 5, when ticket sales will end at 10 pm.
What Ages Can Attend Haunted Fort?
For the main experience, guests must be 13 years and older. The event on the last night the haunt is open, Darkness Unleashed, on November 2nd, is for guests 16 year or older.