Need a break from Christmas holiday mayhem? Cleanse your palate with a little Halloween spice. Halloween is over for most people, but not for us! Keep your holiday season creepy with these events coming to the greater Los Angeles area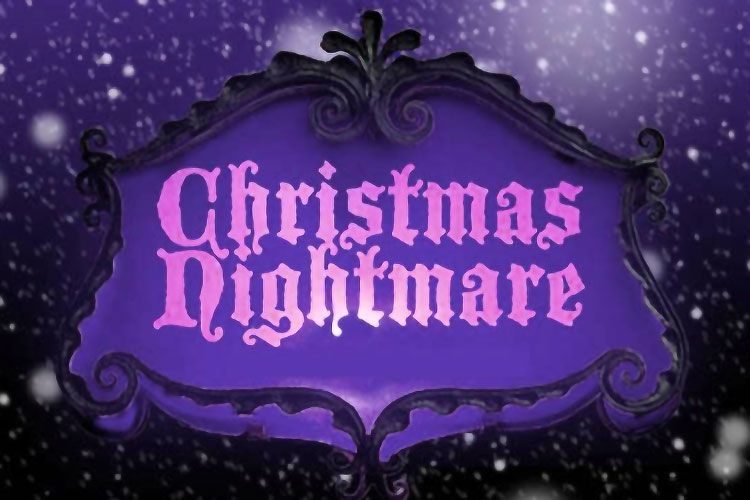 1. Beetle House Christmas
December 5 to January 31 from 7-11:30 PM
Los Angeles, CA
Beetle House LA will be celebrating their Christmas Nightmare from December 5 to January 31. You can enjoy their Halloween décor, snow machines and eat some of their new food and drinks. They boast an indoor/outdoor theatre for an epic experience.
Their exciting shows include fire eaters, psychics, mentalists, impersonators, fire swallowers, and many more side acts. The restaurant will run these horror shows daily at 7, 8:30, 10, and 11:30 PM. You can walk into their bar anytime, but be sure to make a reservation.
Beetle House is a year-round celebration of Halloween featuring artistic and thematic atmosphere inspired by horror culture—everyone from Tim Burton to Edgar Allan Poe. It's described as "an adult Halloween party with a Burtonesque feel curated by Alfred Hitchcock. There's a '90s goth band on stage and everyone is wearing weird costumes."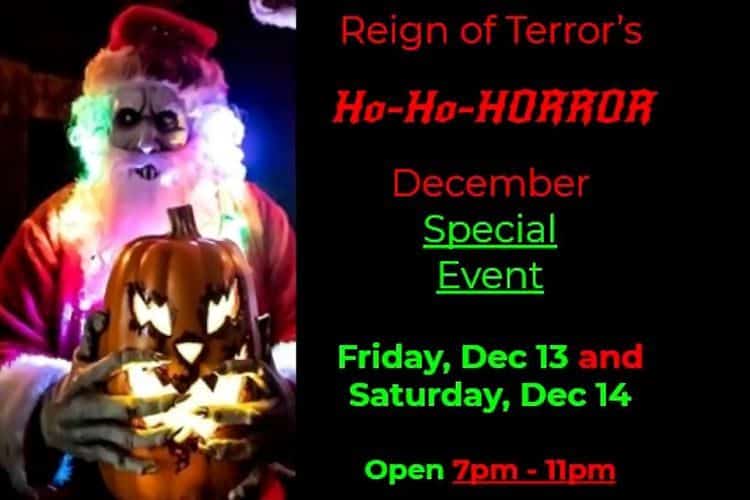 2. Ho Ho Horror at Reign of Terror Haunted House
December 13 and 14 from 7-11 PM
Thousand Oaks, CA
Reign Of Terror is an award-winning Haunted House with more than a hundred spooky rooms, monstrous characters, and terrifying special effects. They are organizing a special Haunted Christmas event on the 13th and 14th of December from 7-11PM.
The event features photo ops with Scary Santa, an indoors Wicked Wonderland complete with foggy snowstorm, fiendish characters such as Jack Frost and Rudolph the Rotten Reindeer, gruesome lighting, horrendous versions of holiday-music classics, and devious decorations.
Ticket prices are $25 for general admission, $40 for a VIP pass, and $80 for front-of-line, immediate access.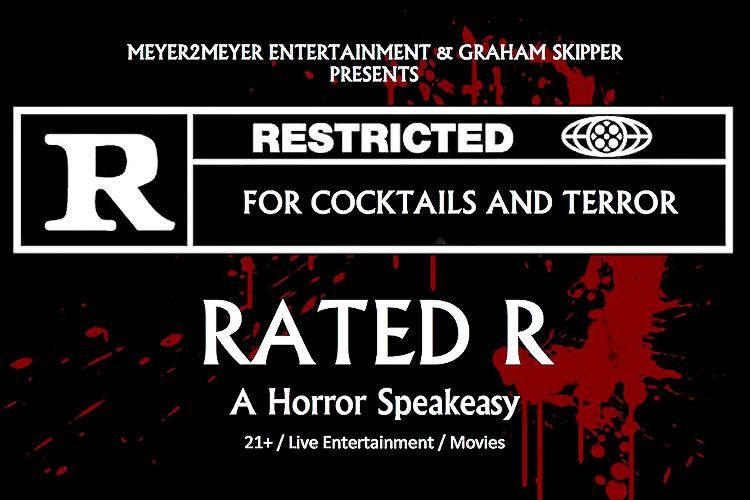 December 20 from 7 PM – 1 AM
Glendale, CA
Save the date for the Rated R Speakeasy on December 20 from 7 PM to 1 AM. This event, which is "rated R for cocktails and terror," features live entertainment, a full bar, horror-movie screenings, horror artwork displays by local artists, and lurking monsters throughout. The live entertainment includes aerial bartenders from Elevation Aerial, sexy and scary go-go dancers, and magicians. Food is provided by the Kitchen Ganstas.
Tickets are $10, and a percentage of the proceeds go Artistic Evolucion, a noprofit organization supporting arts and artists.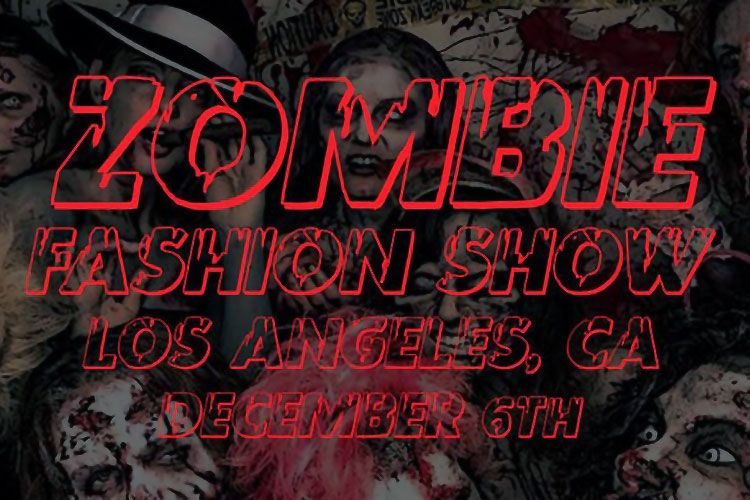 December 6 from 8 PM
Catch One, Los Angeles, CA
The Zombie Fashion Show and Creature Art Exhibition will take place on December 6 at 8 PM in Los Angeles. You will see famous Hollywood make-up artists turning models into zombies.
Zombie Santa and his flesh-eating elves will also be available for photos, so guests can take home the perfect Christmas card. There will be live DJs, a photobooth, and other tricks and treats.
Interested in entering the Zombie Makeup Competition? Guests wanting to be models can purchase a 30-minute, 60-minute or two-hour session with a makeup artist for $50, $80, or $140, respectively.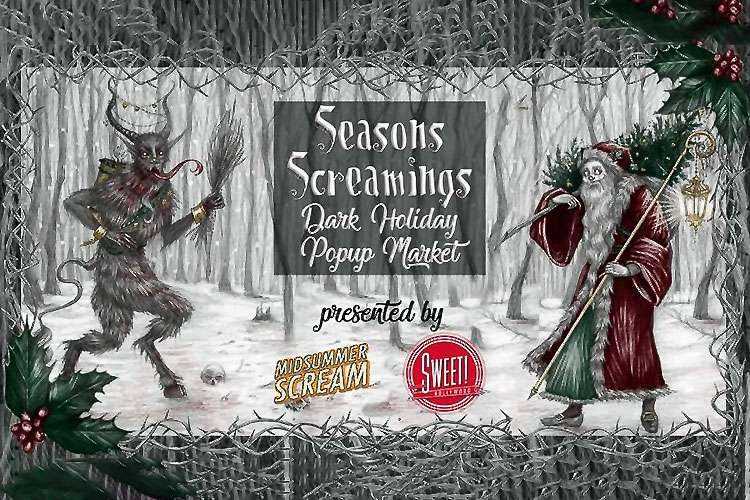 5. Season's Screaming Pop-Up Market
December 7 from 10 AM – 6 PM
Sweet Hollywood, Los Angeles, CA
Season's Screaming presented by Midsummer Scream and Sweet Hollywood, is a dark-holiday, pop-up shopping event featuring vendors from Midsummer Scream, fortune tellers, a photo session with the Hells Krampus, and other exciting activities.

Visitors can select from scary stocking stuffers and other creepy holiday items at this mini-horror con inside Sweet Hollywood, a massive candy shop that features an Elvira pop-up shop and a design-your-own-candy-bar station.
Entry to the event is free, but you're encouraged to bring gifts for needy kids.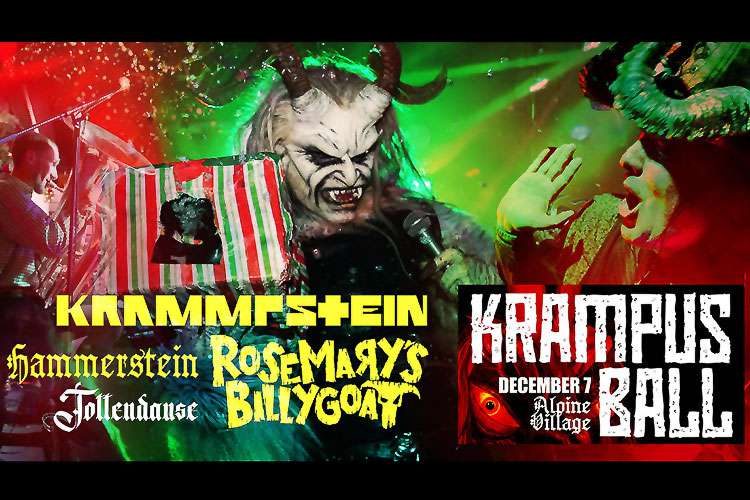 December 7 from 6 PM – 1 AM
Alpine Village, CA
The annual Krampus Los Angeles Festival features both a Krampus Run and a Krampus ball this year.
In the Krampus Run, you will experience costumed monsters in the middle of Alpine Village's shops and chapel.  The Krampus Run isn't really a run nor a parade but more of an "interactive ruckus" featuring several dozen yuletide devils and mountain spirits in handcrafted costumes.
Tickets for the Krampus Ball are $30 and must be purchased in advance online. The Krampus Run is free for all ages.
Pre-ticket holders can go from the Run to the Krampus Ball directly. You can enjoy drinks at their bar and eat German cuisine at the Alpine Village. There will be many exciting performances from the Tottendanse, Hammerstein Musik Bavaria, and Rosemary's Billygoat.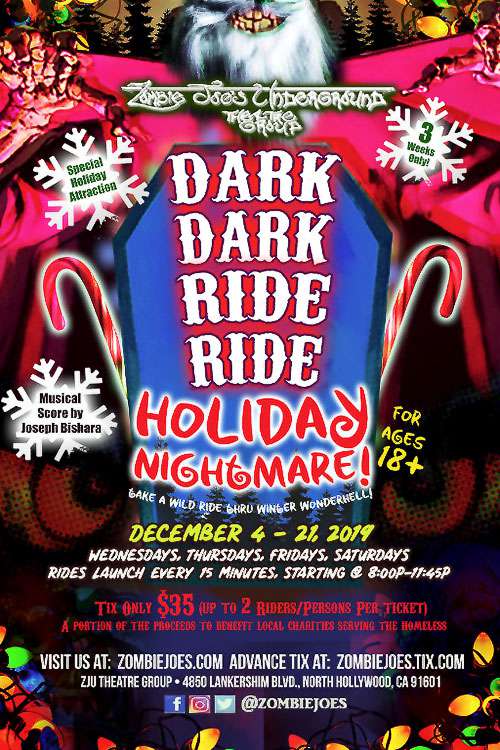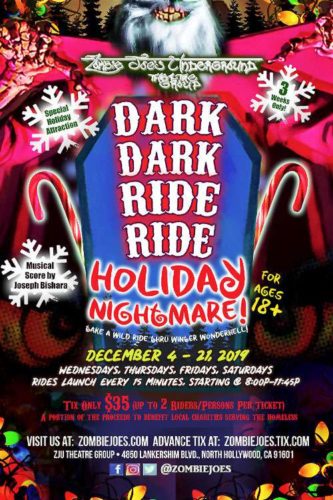 7. Zombie Joe's Underground
December 1-21; varied times
North Hollywood, CA
Zombie Joe's Underground Theatre Group has 2 creepy shows lined up for the holiday season.
Zombie Joe's Underground Theatre Group is presenting "Holiday Nightmare" on Wednesdays, Thursdays, Fridays, and Saturdays from December 4 to 21. Directed by Zombie Joe's Brandon Slezak and featuring a musical score by Joseph Bishara, the show opens at 8 pm each night with "departures" every 15 minutes, with the last ride taking place at 11:45. This 18+ show is described as a "fun and freaky ride though winter holiday hell and back."
Also returning to the theater on December 1 and 21 is Church Discipline: Christmas, which takes place at 8:30 pm. At the dawn of new age, Kris Kringle prepares to name Santa as the new herald of Christmas during the "Coronation of the Claus," a holy, North Pole ceremony in which elves and reindeer pay tribute to the Spirit of Christmas and where Santa must defeat Krampus to claim the title of "Claus" to fulfill his Christmas destiny. Church Discipline: Christmas invites audiences into the ceremonial halls of the North Pole to participate in this off-the-cuff, Christmastime comedy show, directed by Brandon Slezak and produced by Zombie Joe. Chruch Discipline: Christmas is for guests age 16 and older.
Tickets for "Holiday Nightmare" are $35 for up to two people. A portion of the proceeds from ticket sales benefit local charities that serve the homeless.
Tickets for "Church Discipline: Christmas" are $16.