From the Haunted Attraction Network, I'm Phillip and this is the second episode of our Vendor Showcase series. In partnership with the Haunted Attraction Association. Bobby Wiener AKA Bloody Mary is a prolific contributor to the community. The US Department of Defense recognizes Bobby as their number one supplier of camouflage face paint, for which Bobby has received gold medals. She has been featured in CNN Entertainment Tonight, Fortune magazine, The Huffington Post, and New York Times. In 2005, the tales of Bloody Mary Comic Books premiered, and the 5th comic book was used by Six Flags over Texas as the basis for their Bloody Mary's Circus of Fear Haunted House. In 2008, Bobby licensed her brand name to Universal Studios Orlando, where Bloody Mary was their attraction at Halloween Horror Nights. In 2020, Bobby received the HAAs Vendor Excellence Award and she's planning to knock it out of the park again at this year's Transworld. 
Support for this episode that comes from Gantom Lighting and Controls. Sign up at Gantom.com/demo to see what they can do for you.
Bobby: My name is Bobby Wiener and they call me Bloody Mary. I'm a special effects makeup artist for television and film. So I did the Titanic, dead frozen people for James Cameron, and I had my own makeup company. What sets me apart is that I make everything myself. I make it all here in the United States. I have my own factories, my own machines, I make my own compacts, and I have all my own molds. I started the company in a garage 25 years ago after I finished the Titanic. 
I make all the camouflage face paint for the United States government, for the military. I make horror makeup for the haunted industry and for television and films, and all the effects makeup, lots of TV shows, and that's what we do. I write comic books tales, Bloody Mary. we do that. I speak at different events, today it's more like a lot of inspirational things, and I do classes, how-to classes.
I started this little company 25 years ago, and today I have 259 people work for me out of California, out of outside of LA. In San Diego we have another facility there where all my machines are to make all the compacts for the United States government.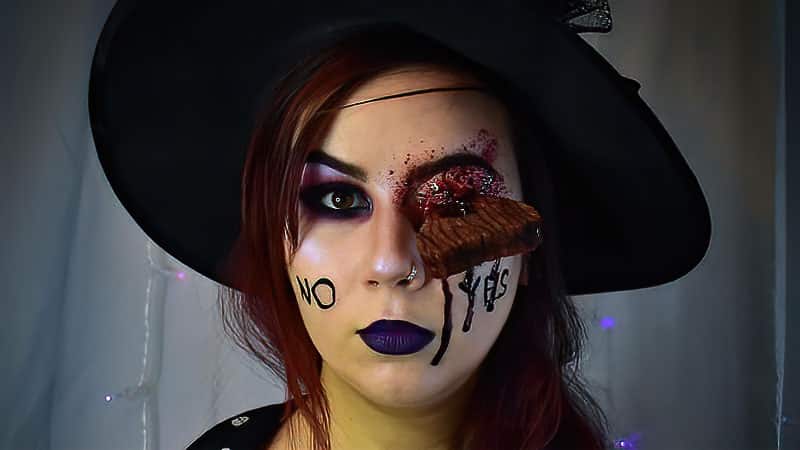 What Is Being Highlighted At Transworld?
Bobby: Oh yeah, sure, sure. We have a new blood which I've been selling on and off to the industry for a while, but I'm making bladder blood, if you know what that is. Bladder Blood is when they fill tubes up and they wrap it around the actor, and then they put him on the set and then they squeeze the little squeezy thing, and then it just squirts all over the place. So, now we're making that and they're selling it. The old stuff still sells, my zombie makeup, my paste, there's no latex in it, it doesn't smell, nobody is allergic to it.
We're selling a ton of stuff, it's been wonderful. I can't complain. I really can't complain. We've been keeping busy. We even take camouflage face paint to the show. We sell our camo there, especially the ones for the Army, because a lot of the people in the haunt industry have kids that are in the Army and Marines or Navy or whatever and they see it and they say, "Oh my God, my son, you know he uses your makeup." Because my name is on all the makeup.
Then we're giving a scholarship again, we give a Bloody Mary makeup scholarship. This will be our second year doing that. People just write into the HAA why they want to go to make-up school, and then the judges decide who they're going to give the prize to. Then last year I even got the best vendor award. I wasn't there for that either. Last year was like a blur, you know? But I miss seeing everybody and it's just wonderful, but it's the fun part of my life. It's not like we have five days to get 10,000 camouflage to Camp Pendleton because we're deploying 10,000 guys at 5:30 AM in the morning. That's the crunch, you know, when you're doing stuff like that. 
Philip: Can you tell me a little bit about the scholarship and why you are supporting that? 
Bobby: It's expensive. When I went to makeup school, you know 29 years ago it was a lot of money then, and today it's like, Oh my god, it's crazy, and it's a lot more competitive. I went to Joe Glasgow and there were nine people in my class. Today they'll stuff 40 people in a class. So when you're with nine people you really get a lot of attention. I was basically the oldest person in the class, but they called me the old lady. Then in the film industry, when James Cameron needed somebody to do dead frozen people somebody said, "oh you wanna call the old lady." They said, "who's the old lady?" They said, "Bobby Weiner."
So this year we're going to do the HAA Auction, and we're offering a $500.00 gift certificate award. They can come to Bloody Mary Booth and pick out whatever they want, and spend up to $500. We do that every year, we've been giving them a $500 certificate for years, and it's a fun thing. At least they come, and they pick out, what they want what they need for their haunt or whatever.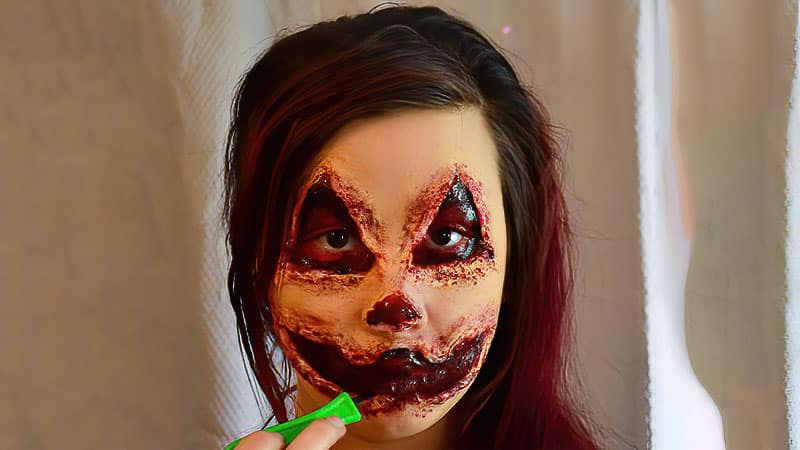 How Is The Supply Chain Issues and COVID Affecting Production?
Bobby: In the beginning, when this started, the government did come into my factory unannounced and tried to close me down. It's funny because the government themselves thought I was just making Halloween makeup and said, "well, you're nonessential." I said, "well what I'm going to do is have my manager take you in the back room," which we call the closet, and the closet is around 3000 square feet, and I said, "and she's going to show you what I do for you." Needless to say, they didn't close me up. 
We did close down for a week. We had to sanitize the whole factory, which we did, it took a week to do that. We were making hand sanitizer already and we were selling it to the government and we're selling it to all over the place. That was it. The only change I had to do with the 259 people that worked for me is set up the tables were, instead of putting six at the table we put four at the table. We spread them out because I have 40,000 square feet there, so I have plenty of room and then the weather is always beautiful there, pretty much, and we put people outside. It worked out. We haven't been closed, as a matter of fact, sometimes we go to 24/7. It really didn't affect me and we have been so lucky. I mean super lucky. 
I don't have a problem with the supply chain. I'm fine, because we make everything, you know? I have to buy my own plastic, I buy it by the pounds to make the compacts. All the makeup, I always made it here anyway, so I'm not depending on China or India, any of those places. Because forget it, you might not see your stuff for a year. There's a lot of companies closing up, they just can't manage it.
Staffing Isn't An Issue Either At Bloody Mary
Bobby: We take care of them. You gotta pay people. That's the other thing, you gotta pay people. We're OK, I can't complain, California is not cheap to live there, be there, or put gas in your car, and so now we actually have buses that go out and pick people up. We have our own buses, they're old school buses, that will go out and pick my people up that don't want to drive to work, and it's terrific, and then they drive them. It's terrific, we can you know put 50-60 people on the bus, so it works out great.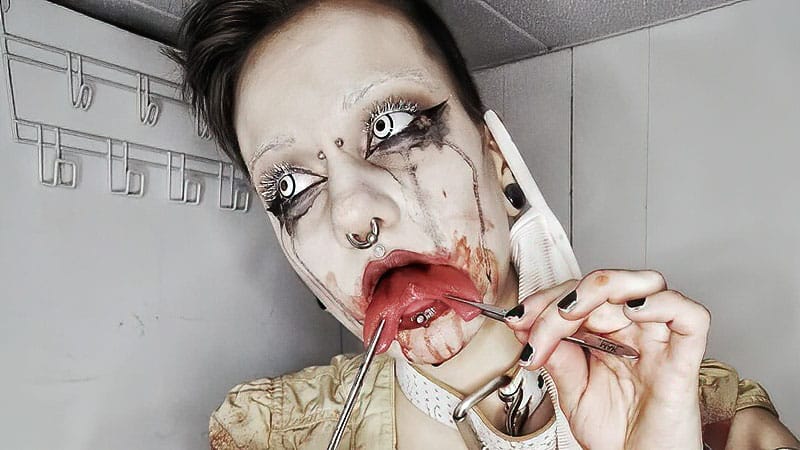 Bobby's Free Workshop At Transworld: Burns
Bobby: The workshop starts 9:00 AM in the morning Saturday morning, room 127. They come in and each person will get their own makeup kit, Bloody Mary FX Wicked Makeup kit, and it's going to be a burn and wound makeup kit. We give out free makeup kits to everybody that comes, and it is free. I don't charge any money to come to my class. If they want to work on their arm, they want to work on their leg, or if they want to bring a partner they can work on their partner. We're doing wounds and burns, and I made a new burner kit. I did this burn on the stage at Transworld years ago, and it was really a big hit, but I never burn kit, you know, wound/burn kit. It's really gross and it's the easiest thing to do, you need like 3 things to do it for ingredients. 
I will have a model with me up front, and there will be big video monitors all over the room, they can watch me, and they follow me. Everybody gets a kit with scab blood, they're gonna get the powders, everything they need, sponges, brushes, all kinds of application sponges, but they have to use what I give them. Everybody uses the same exact thing. Don't bring anything with you, just use what I give you and I give you plenty to do what I'm doing. 
Then at the end, I line everybody up on the wall that had makeup applied, and then we have all the people in the audience clap and decide who is the best. Sometimes I have 150 people lined up from the mall and I go through it and I pick out I think the best of the worst, or the worst and the best. The number one winner will be in the comic book as the person they are, just exactly like they look. We always have the first runner up, second runner up, a third one, and we give them prizes. Everybody comes back to my booth and we take pictures of everybody. Then I take pictures of the winner, and sometimes we even put the second runner up, third runner up… It's like one big happy party, you know? We're all friends and everybody is there to have a good time.