Tickets sold out for the May 29 "Halfway to Halloween" Event at Fear Factory in Salt Lake City
On May 29, 2020, Salt Lake City's ​Fear Factory became the first professional haunted attraction in the world to safely open during the coronavirus pandemic. Themed attractions and most other businesses shut down in the U.S. in mid-March, 2020 because of COVID-19.
"Halfway to Halloween" Event
Fear Factory delayed their annual "Halfway to Halloween" event to May 29th this year because of the pandemic. The event took place from 8 pm to midnight, and haunt owners around the globe were watching to see how people responded. Excellent news! Halfway to Halloween sold out.
"Our annual Halfway to Halloween event was a huge triumph, and we're grateful for the support of our fans and their commitment to practicing proper COVID-19 safety to ensure such a successful event as we work to get back to normal activities," said Rob Dunfield, Fear Factory co-owner and COO. "Prior to reopening for Halfway to Halloween, we developed a safety and contingency plan to ensure the health and safety of our staff, actors, and guests. We created this plan with the World Health Organization's guidelines and federal, state, and local government recommendations for operating a public venue in our new COVID-19 world. We're proud to report that this plan was executed flawlessly." The Fear Factory plan included input from the county health department and a third-party, health-professional inspector.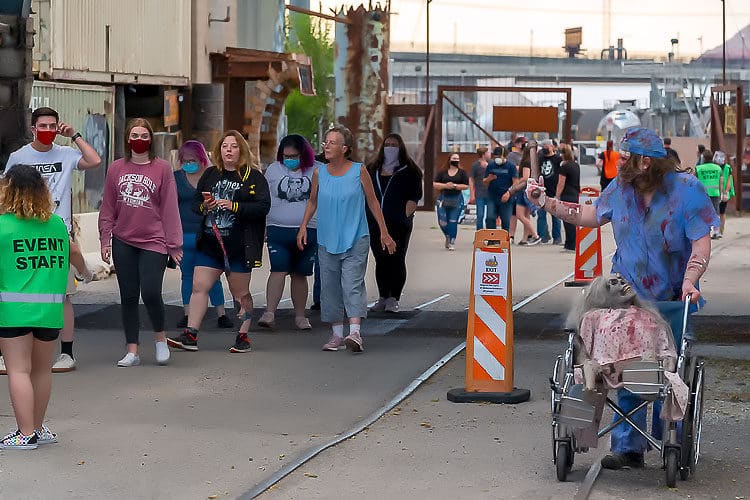 Details of Fear Factory's Safety Measures for This Event
Fear Factory went to great lengths to ensure the safety and well-being of the public by implementing its innovative, in-depth, 35+ page Safety and Contingency plan. The plan summary is ​here​.
Fear Factory's safety measures for the Halfway to Halloween event included:
Implementing over 60 state requirements and over 20 additional measures above and beyond state requirements
A no-contact philosophy throughout its entire operation
Timed ticketing to support spatial distancing for customers
Providing gloves and other safety gear for guests
Using airbrushes only for makeup and costuming
Adherence to strict, six-feet-of-physical-distancing guidelines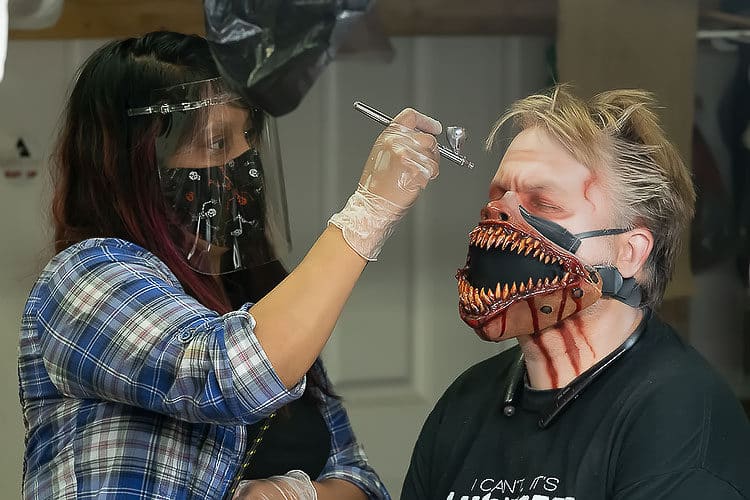 Redesigning for Safety While Amping Up the Scares
The construction and tech team, led by co-owner Keith Sharp, worked for weeks building new scares. One challenge was to create terrifying scares while incorporating the six feet of physical distancing requirements, which meant actors couldn't get closer than six feet to guests. Fear Factory believes it met and exceeded that challenge.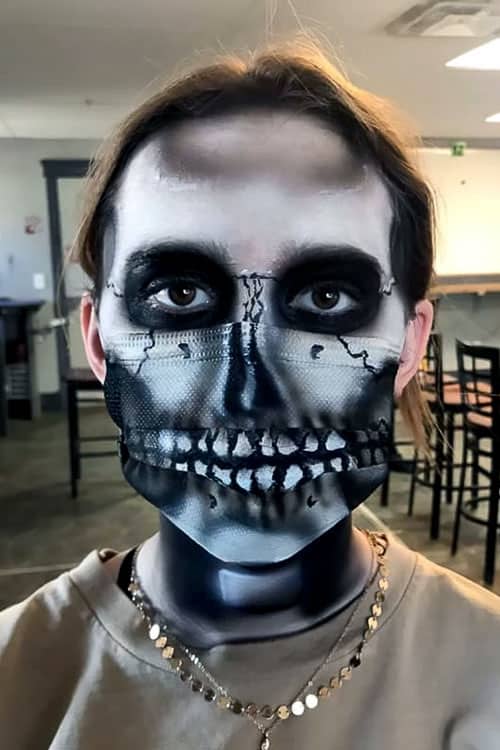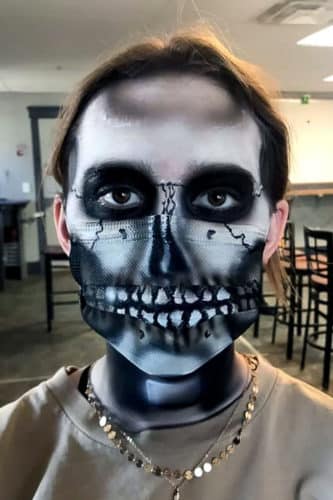 Remaining Vigilant in Uncertain Times
The safety and well-being of its guests has always been Fear Factory's top priority. While 2020 has brought several unexpected challenges for fans of Fear Factory and for people around the world, Fear Factory remains committed to providing its customers with an outstanding customer experience while supporting state, local, and national government leaders.
"We'll remain vigilant in our monitoring of COVID-19 developments and prepare accordingly to ensure that we can continue to provide our fans with a secure venue where they can come to actively take part in a fun yet scary experience" said Dunfield. "​Research shows that being scared releases toxins and helps people feel better about the chaos in everyday life, and we're happy to provide our community with a place to come, have fun, and unwind."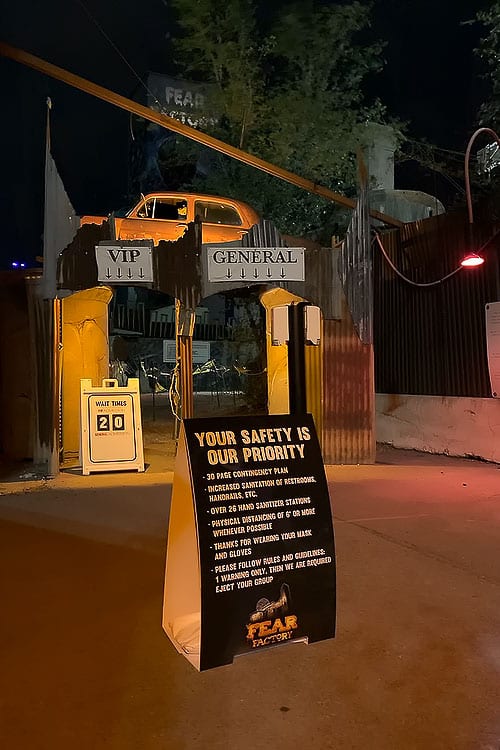 Fear Factory shared their Safety and Contingency plan (version 2.0) with other haunted attractions and amusement parks early May. The 6.0 version of the plan will be available to the public during the first week of June, free of charge. The Haunted Attraction Association hosted a Facebook panel discussion of the event prior to launch.
Spencer will discuss the plan in detail live on June 13th via HAuNT Connect for those who wish to know more. Register here.
For more information about Fear Factory, including a complete list of Fear Factory events and the 2020 haunt schedule, visit ​www.fearfactoryslc.com​.
Images Credit: Fear Factory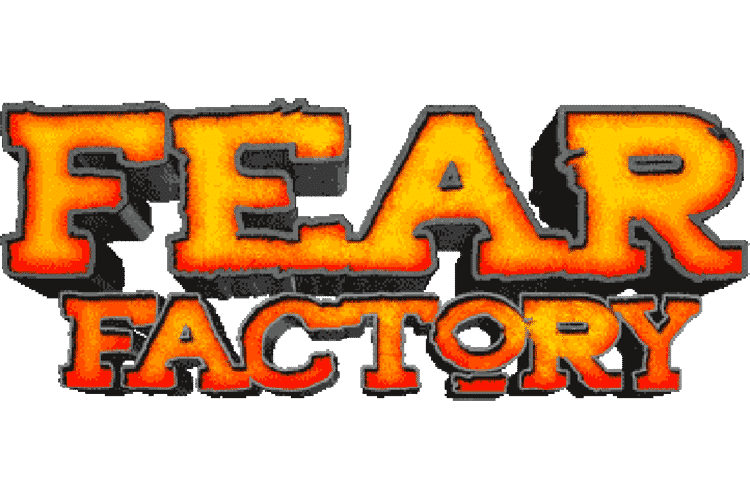 Fear Factory is at 666 West and 800 South in the heart of downtown Salt Lake City, Utah's industrial district, and comprises nearly three acres. The massive, six-building facility includes two underground passages, over 3/4 of a mile of interactive scare spaces, and three rides. Fear Factory uses the world's top technology for effects, projections and more; has a lengthy, 45-minute walkthrough; and has a staff of nearly 300. Fear Factory is known globally as one of the top attractions in the industry and is open for special-occasion events such as the recent Halfway to Halloween spring/summer event and each Fall during September, October, and early November.