This is our 61 day Hauntathon counting down to Halloween, and today we have Andrew Graham, the showtime manager at Luna Park Sydney to explain their Halloscream Curse Of The Coven event, and how Halloween is viewed in Australia.
Tickets are available online for this seven-day event in Sydney Australia. Tickets start at $75.Nine5 and include entrance to the Halloscream event and access to the park rides, including the new rides opening during the Halloscream event in 2021.
What to Expect at Luna Park Halloscream Nine
Andrew: We are in our ninth season of Halloscream, which is our annual Halloween event at the park. So, this year with our ninth season, we've decided to dive into a witch theme. So, we've brought to life nine undead witches who will descend upon the park for our ninth season of the event.
This is my third year with the event, coming down to Sydney and being a part of it. So, since I've come on board, we've added a lot more in park entertainment to the event, all done in-house, with an opening Scaremony nightly for the event, which incorporates all of the performers, actors, and, roaming characters that we've got throughout the park. They all come together to open the event, just like most of the other parks around the world do. Then the actors go into the mazes to get the mazes ready, and we've got nightly performances.
We're a heritage listed amusement park in Australia, so we have a lot of things that we need to think about, and obviously the planning and execution of the event, because there's certain elements of the park we can't theme, or we can't touch due to the heritage listing. However, we do our best to incorporate them and kind of base themes and shows around those precincts and venues to try and use their heritage listing as a element of production.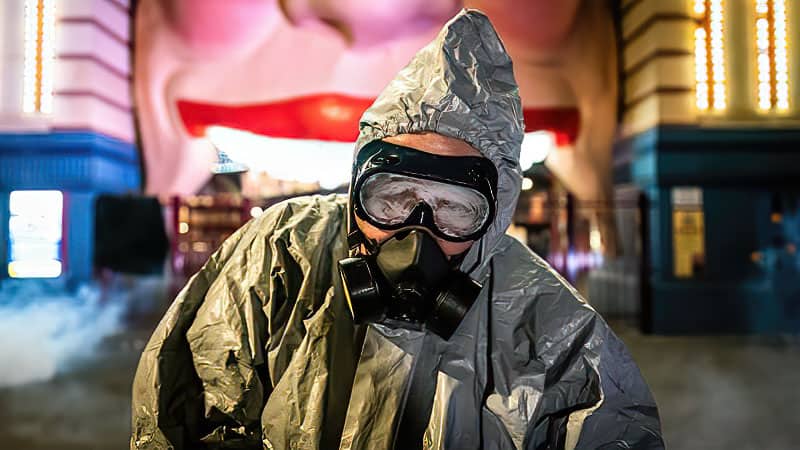 How Is Luna Park Transformed for the Event?
Andrew: So, we have a giant face that is our entrance point of Luna Park Sydney, the iconic face that most people know. So, we transformed that with lighting to give it an eerie green setting at the front when you first entered the park. We then have our first section, which is this year without which theme we are doing the witch hunters.
So, when the guests enter, there'll be witch hunters throughout the park, looking for the witches, on the hunt for the witches, interrogating our guests, looking to try and find who's a witch. And as they make their way through the park, you can see some of our sideshow games have been transformed. So, we transform our Knock' Ems into zombie faces that you've got to throw balls at to try and knock over. The whole park gets decked out with state-of-the-art lighting and sound effects throughout.
The iconic Big Top Sydney, which is our precinct inside the park, is where we build all of our mazes. So, all of the mazes are housed within the Big Top Sydney. Then the iconic Coney Island is the kind of facade for our main stage show. We build a temporary stage setting in front of that with trusses and lighting and do all of our shows throughout the night there. And then inside Coney Island, we also transform that into a more immersive interactive kind of theatrical experience.
The real theme of the atmosphere of the park is to start the night, before the witches have even arrived, we try and create the atmosphere of the witch hunters interrogating the guests. They're dressed with face masks, not only to comply with the COVID restrictions but also to give that element of hidden figures while they roaming through the park. The idea is that the guests are here for the Sydney witch trials. So that's the marketing message we've gone out with for that opening Scaremony.
So, coming through they don't know what's happening, they know that they're being interrogated, they're looking around seeing the characters, and then through the Scaremony we see that the witch that was caught, that is ready to be tried at the Sydney witch trials was called on purpose to summon her sisters, to bring the rest of the eight, so that the curse of the coven, which was all our nine witches come together to take over the park, and then unleash hell by releasing all the maze characters, the performers through the park, to open and then progress with the night, having characters all around and shows and mazes.
The witch theme is mainly for the Midway and in park presentation, and then as well as inside Coney Island is the House of Hex, which houses the five witches for them nightly performances, as well as photo opportunities with witches.
Andrew Explains the Maze Themes
Andrew: The mazes themselves run on a different theme. So, this year we've got three mazes inside the Big Top. DecayMart 365 is our zombie maze. So, it's based on a supermarket that has sat empty, it's been overrun by zombies through the zombie apocalypse, and so as the guests go through, they're walking through an abandoned supermarket that the shelves have been stripped bare, people have taken over, and the zombies were trapped inside. So, as they go through, they're seeing the zombies inside the freezes, in the fridges, they've taken over the aisles, the shelves, the loading dock. Its just zombies are everywhere inside this DecayMart, Supermarket.
Second maze, we have Outback Slaughterhouse. So, it is an outback butcher in the middle of Australia. The start of it is, you walk in and you're seeing an olden day pub, and then as you get further into the maze, you discover that it's not all as it seems, and it's actually an Outback Slaughterhouse full of pig hybrids; there's pig pens, there's gunshots, there's that typical Australian Outback gone wrong with a slaughterhouse theme based around it.
Then our third and final maze this year is Rain Dead. So, Rain Dead is a experiment into the effects of acid rain, essentially. What would happen if the rain was affecting the people going through? So, some people, it would be skin peeling and bubbles, some people the rain would seep straight into their blood causing them paralysis or animalistic behaviors, some people lose movement, some people can't stop moving. So, it's a futuristic world that the guests are immersed into, very plague, hazmat suits.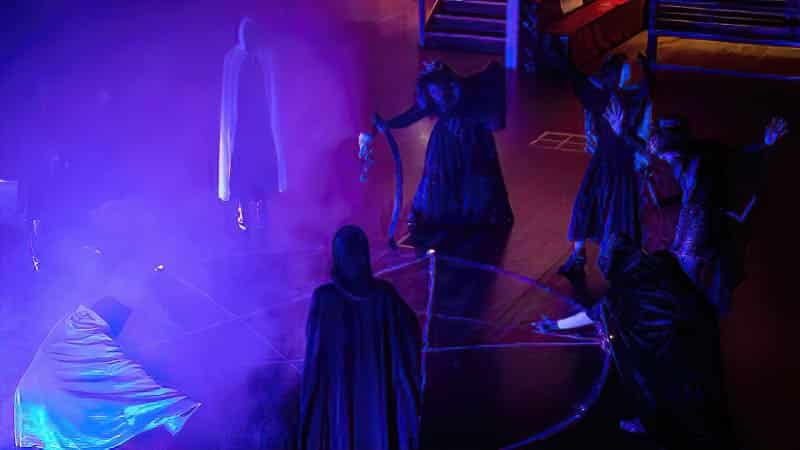 Andrew: So, inside our iconic Coney Island, that's one of our heritage listed buildings, which has been onsite in the park since 1935, we transform it into, this year, House of Hex. So, we're building a round stage in the middle that's got a giant pentagram painted on it, and nightly we have a number of shows featuring five of our nine witches who conduct spells, they do say seances, they do a whole bunch of things throughout the night that the guests can immerse themselves in. That stage also transforms into a photo meet and greet opportunity for guests to come in when the stage is not alive with the performance, but also to give the guests an opportunity to get photos when the show is not happening.
What Difficulties Have Been Overcome for Halloscream Nine?
Philip: I really like this idea of leaning into the adding entertainment to the facility. I've been to the park, so it is like space locked. It's the same kind of problem that like Universal Studios and Hollywood has, like there's not a lot of space, so it's space locked, and then it's also heritage locked, it's a difficult proposition for trying to add to the event. Then the third level, I think that is difficult is, there's not a lot of Halloween stuff in that area, which one might think would be a good thing, but in actuality it works against you in many ways, because it's like guests don't know what to expect. So, it's like a lot of training.
Andrew: It's a very difficult thing to do. I've worked in parks overseas, it's been good to bring that experience to Sydney. I think it's very eye opening, when I first started here, to see how they did things, especially coming from overseas and seeing how big they do it over there, and the limitations you're not facing when you've got a bigger park and more freedom to do what you actually creatively want to do.
I think that the biggest thing here is just continually growing the event with the parameters we have. I think that's the hardest thing, but also the most fulfilling thing; trying to find new things and new ways of doing things in a space that, essentially, is as it is, that you can't do a lot with. But we are fortunate this year to be one of the only Australian parks to be doing an evening adult Halloween offering for the second year in a row.
So, last year due to COVID, a lot of parks, I think actually all the parks in Australia, didn't have an offering, but we successfully executed our Halloscream Eight. And then this year, again, a lot of the parks have chosen not to go ahead where we've strived through and chosen to execute our event, which is Halloscream Nine, which is really cool.
Philip: I have here that last year it ran for six nights, so you're adding a night.
Andrew: The original plan, we were going to do 10 nights this year. So that was the original plan, it was going to be 10 nights of Halloscream. But, unfortunately, due to the COVID restrictions in new south Wales, we just had to be realistic about the execution of the event, and we've cut it back down to seven, which is still better last than last year.
Philip: That's what I was saying, yup.
Andrew: Exactly, it's continually growing, and I think it will continue to grow. I think the park is very keen on becoming the number one Halloween destination in Sydney, and then essentially growing it to be the number one Halloween event in Australia. So, there's definitely that kind of base of growth.
How Halloween Is Different in Australia, and How That Impacts Halloscream
Andrew: So, for me, obviously coming from working in a whole variety of parks, I've done the theme parks on the gold Coast, I've worked in the theme parks in Malaysia, in Orlando, and I think to come here, it's just a very different clientele in regards to what Halloween expectations are. I think with the big infrastructure of the theme parks on the Gold Coast, you've got permanent space where they can build the mazes, and they stay there all year round, and they just continually grow on them. Same with the parks in America, they've got the warehouses, and they've got the sound stages and the studios, that they can build on and continually work throughout the year.
With us it's different because, obviously our footprint is so small, we can't keep the mazes up all year round, they need to come and go. But also, where we build amazes inside the Big Top, is also one of the biggest venues of ours to constantly have things throughout the year. So, for us to shut it off for an entire month would obviously have an impact on the business, because we can't bring in concerts and trade shows and all of those things. So, we do have to limit our time.
Also, I think, Sydney is not ready for a full-time Halloween event that runs for a large period of time. I think the clientele is happy for an event that runs over a couple of weeks, they can get the Halloscream fix, Halloween fix, and then go back to their normal lives ready for the next year. I think in a few years' time it will be ready for a full month-long event, I don't think we're there yet, especially with the COVID restrictions. We have a very limited number of international guests coming in, so it does rely a lot on our locals. The locals are very supportive of the event, we've got a lot of people from around Sydney coming. So yeah, it's just a very different clientele down here than it is from any other event or park that I've worked at. So, one year at a time, one step at a time and hopefully we'll get.
How Did Halloscream Become Adult Focused?
Andrew: Halloscream officially launched in the park as a family event. Spooksville came two years ago. So, originally Halloscream was the family event, we had a whole variety of things that kind of incorporated. The adults had a scarier maze, but then there were also kid-friendly mazes. So, I think a few years ago there was a Hotel Transylvania maze where it incorporated that kiddie element, the kids could have fun, but I think, especially since I've started, the direction has definitely turned more to the adult offering, which is why we did include Spooksville during the day.
So, Spooksville are daytime family friendly event, which is trick or treat trail, pantomime, very fun, very friendly, spooky characters. [Think] Disney's Not So Scary Halloween, very family orientated, so that our clientele who is generally young for the park, being an amusement park, we have a lot of families as our demographic, so I think Spooksville really reached and read to them.
But then, we found from research, that the adults wanted something to do. Since Sydney is a very business orientated city, so there's that demographic that we needed to reach out to. So, I think growing the event to become an adult demographic orientated was the way to go. So, my first year with Halloscream Seven, which we did Hell on the Harbor. So, our central character was a devil, the devil woman was the base character for our shows, it got a little bit sexier in the costumes, it appealed more to the adult demographic again. And then last year, again, we grew it again. We had Mr. Bowler was our infinite fear leader. It was, again, we had a lot more adult music, it was a lot more intense for the guests. And then this year, again, with the witches, it's not so much the sexy side of things, but it's more the eerie, creepier side of things.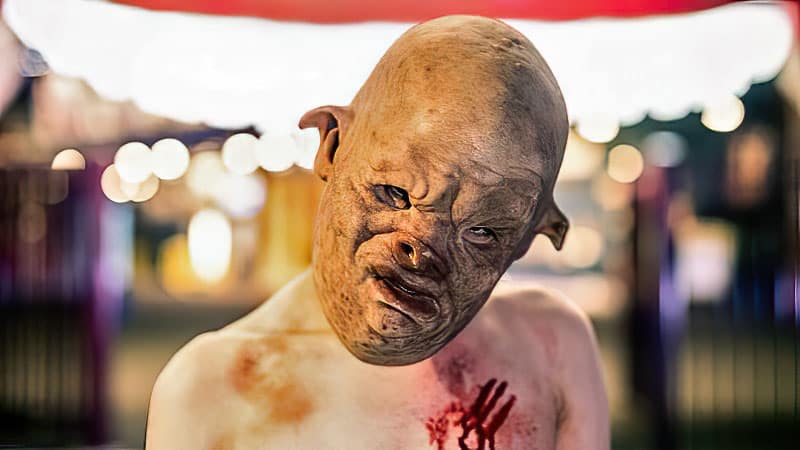 Has Halloscream Changed It's Pricing Model?
Andrew: Halloscream has always been a separate ticket for the nighttime events. So, if the guests did want to come they needed to, obviously, purchase an additional ticket that wasn't included in their day pricing. One of the big draw cards is, the guests want to do the rides with the lighting and the smoke and the sound, and they want to experience all of these exciting rides that we have, generally during the day, but at nighttime. When we have our daytime trade, the guests need to purchase ride tickets for the certain rides, whereas at nighttime, you purchased one ticket for the Halloscream event, which includes all of the rides, it includes all of the shows, it includes mazes. The only additional cost when they're in the park is obviously the food and beverage, or if they want to do some games, or buy merchandise, or things like that.
Philip: So that's a really good package deal then, it sounds like.
Andrew: It is. It's a great deal. It's also a great deal during the day for the kids and the families, if they do want to come and experience the park, but I think Halloscream has always been a successful event because it just offers more elements on top of what we already offer during the day in park.
Philip: So, it seems a little bit like you're highlighting the park, which makes sense. You talked about it was like a heritage park, and there are sections you can't really alter.
Andrew: Correct. The feedback we get is, the guests really love the atmosphere of Halloscream. They love the park, because we are such a loved park. We're heritage listed, we're on the Harbor, we have the best music in Sydney, and then you add to that smoke and lighting and theatrical effects that are all based around a Halloween theme, and it just grows the park to the next level.
How Does Luna Park Halloscream Differentiate Itself From Other Halloween Events?
Andrew: There was another event in Sydney that we worked, not against, but Fearaphobia was another Sydney based Halloween event, but they've moved to the Gold Coast this year. We are really the only adult Halloween offering in Sydney, especially because lockdown still hasn't lifted in Sydney, we'll be one of the first events to open out of lockdown.
So, I think it does give us that edge and the element of appeal for guests to come along and then continue to grow that. I think being the only park in Australia over the past two years to operate has also given us a kind of good step forward and good leg up on the competition in relation to growing our event, and essentially growing themes, growing the word, growing the reputation, and constantly improving on what we offer without having to stop and have a few years off or take a step backwards.
We don't offer Fast Passes, we don't know for Front Of Queue things, it's about the whole experience. So, the guests come, they choose what they want to do in the night; it's essentially a choose your own adventure for the Halloween evening. We offer the shows, there's constantly something on the stage, there's the photo opportunities, there's the mazes, the rides, there's the restaurants, the bars, everything gets to overhaul so that it kind of includes the experience for everybody that wants to come. We have a lot of guests that actually don't go through the mazes when they come to the park, they want to go and we give them something else to be entertained by. It helps us with, essentially, our returning clientele, because there's always something for them to do.
Philip: Were there any decisions you consciously made this year with that in mind?
Andrew: So last year, inside Coney Island, we did the Dollhouse, which was our immersive of experience, but continually ran throughout the night as an on-off experience, and then our main stage show ran on the hour. This year we've decided to time the inside Coney Island experience to House of Hex, which will run opposite to the outside stage show, so that if the guests aren't outside watching the stage show, then they can go into Coney Island and experience House of Hex. And then once House of Hex has finished, the stage show starts again, so that there's always something happening.
As well as this year, we've just had our $30 million renovation of the park, so we've got eight brand new rides that are opening for Halloscream this year, which haven't opened previously, so that's another big draw card for our guests. Again, something we have to think about, because obviously in previous years the back area of the park has been predominantly for kids rides. When Halloscream became targeted at 14 plus we didn't really have a need for the kids area. So the guests did not neglect it, but didn't feel the need to go out the back. But this year, with the eight brand new multimillion dollar rides out there, It's obviously going to be a strong draw card and a strong area. A key focus was putting entertainment out there to make sure that there was also something for them to see if they weren't going to go on the new rides.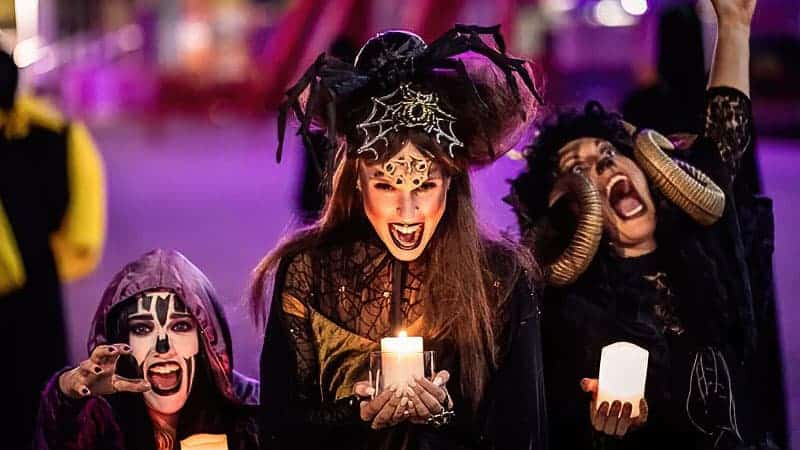 How Did the Theme Come About for Halloscream Nine?
Andrew: So the first year we had Hell on the Harbor, which focused around the devil character and he had two sidekicks, Brimstone and Molec, which was a very male, strong based, leadership of kind of the face of Halloween. Last year, again, we had Mr. Bowler, which was another strong male heavy character.
So, I think this year's idea of going to the witches was really focusing on female empowerment and bringing nine witches in line with our ninth year, we've got nine new rides in the park in 2021, so the number nine really kept coming up. Then, over the past two years being a male focused lead, we decided this year it would be really cool to flip it to be a strong female focus, and really give that woman power to the lead characters of the park.
Andrew Explains How Halloscream Keeps Their Mazes Unique and Fresh
Andrew: So what we do with our mazes is, we grow on the theme yearly. So, last year we had the DecayMart maze, but this year it's to DecayMart 365, so it's 365 days later. So, it's another growth on the event. So, it's not so much just the same maze you went through, it's now 365 decayed days after that.Same with our Outback Slaughterhouse. So, last year it was, the pub into the slaughterhouse. Now we've moved further into the slaughterhouse. So, instead of three rooms of the pub, you enter into the last room of the pub, and now it's more slaughterhouse.
So, I think that's something really cool that we do with the mazes, is continually grow them every year. Instead of just doing one maze and then scratching it, we do one maze and then for the next two years after grow the maze further and further, so that returning guests get to experience the ride of the story, as opposed to just doing it once and forgetting about it. They can come back and go, "oh, okay. This is now the next part of the story." Our mazes, essentially, we think of them like trilogies, so you can see one part, or you can see two parts. They're episodical, they are standalone, but essentially you can, if you come for three years in a row, you can see the story follow through.
Philip: Can you paint a picture for me of like your favorite scene, or a favorite moment from one of these mazes?
Andrew: My favorite scene would have to be from the Outback Slaughterhouse. Essentially, we've gone very obviously Outback Australia, think Wolf Creek, like that kind of dirty, typical Outback for those who need a reference. Yeah, Wolf Creek's a good one. We've put a slat roof over majority, three quarters of the maze with that kind of swinging light above it, and filled it with fog. So, as you go through, it's very disorientating because the light and the slats are constantly moving the lighting as you're walking through. Obviously with the heavy fog, it makes it immersive. And then on top of that, you've got pigs coming out of nowhere, oinking at you and squealing at you and all of that fun stuff.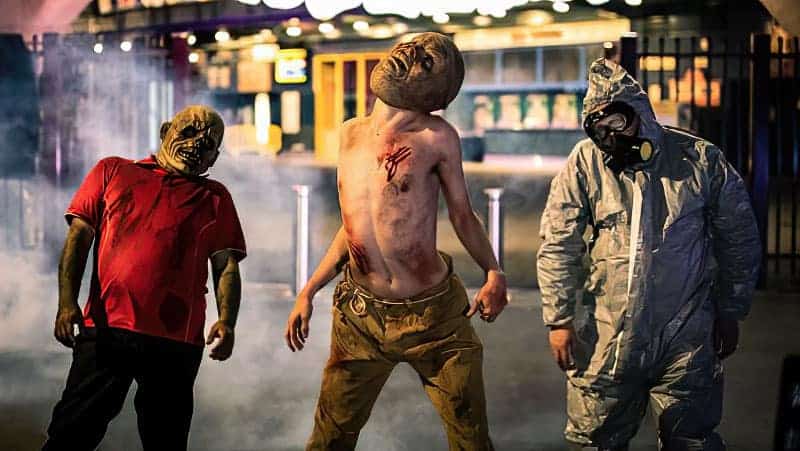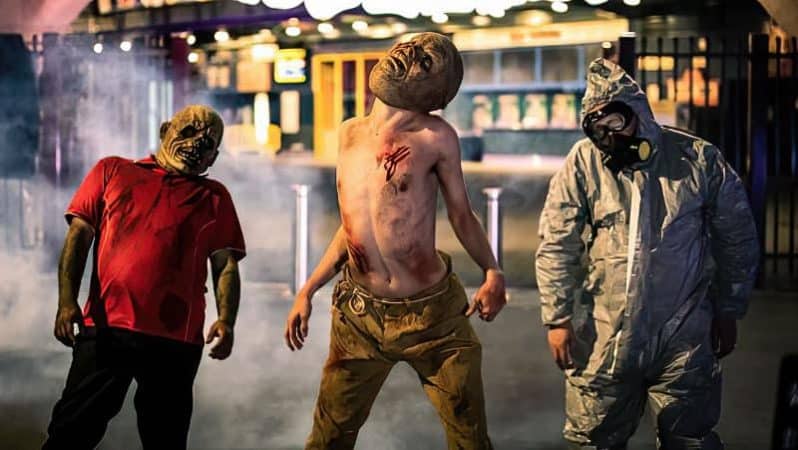 How Does Staffing Work for Halloscream?
Andrew: So, our staffing is, we have a day trade entertainment team who perform weekends, and when the parks open during the day. So when we have our roaming characters and our stage show characters, they come from our daytime entertainment team. So, they just do shifts in the day and then double shifts at nighttime into that entertainment aspect.
And all of our maze actors are hired as casual, seasonal entertainers for that event. So, anything we do in park is in park entertainment, and then the mazes are brought in, so we bring in the actors for those characters and roles as well.
What Does the Future Hold for Halloscream?
Andrew: So, the future of it is essentially just to grow, and like I said, make Halloween at Luna Park the number one go-to event in Australia. Next year is Halloscream Ten, so obviously 10 years of fears, huge event planned. I can't give too much away because we're obviously still in the final process of getting everything sorted.
But what I can say is it's going to be back bigger and better than ever, especially hopefully next year, all of our COVID restrictions will be gone, so we can continue to grow the event, add more actors, add more performances, add more scares, and really add to the atmosphere of the overall experience.