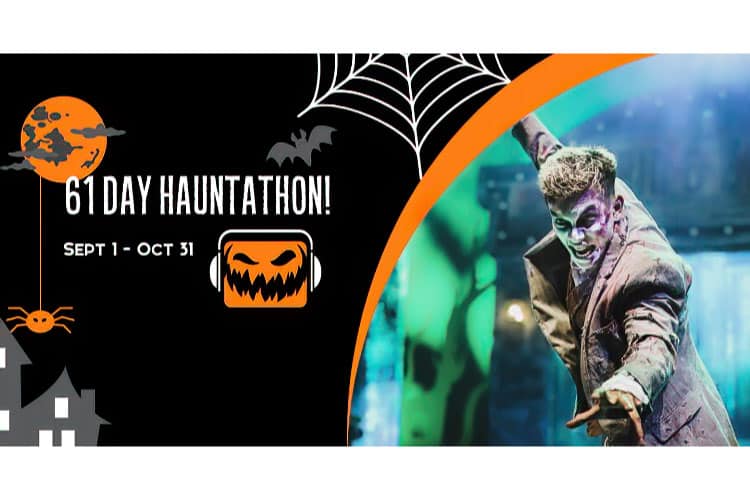 Countdown to Halloween With a 61 Day Hauntathon
Countdown to Halloween with daily podcasts from the Haunted Attraction Network's annual Hauntathon. September 1st through October 31st, this daily programming will help haunters navigate the unique challenges of this upcoming Halloween season.  
2021 Halloween Special: Sounds of Halloween
Halloween Never Dies: 2020 Halloween Special (Replay)
Haunted Little Tokyo 2021
Hauntopic Radio Halloween Special: Crawford School of Terror, Midnight Syndicate, Terror Isle
Walsall Scare Maze – Bunker 41 / On-location Review Episode 2021
Haunted Attraction Industry News for Oct 26th
On-Location: Pennsylvania, Indiana, and South Carolina
Museums go to OnlyFans & Halloween Takeaways
Haunt Hack: Staying Healthy
On Location: 5 Haunted Attraction Check-Ins
Haunted Attraction Industry News for Oct 20th
On Location: 3 Haunted Attraction Check-Ins
Haunted Attraction Industry News for Oct 13th
On Location: American Horrorplex & Frightmare Farms
Preemptive Planning for Crises
Haunt Industry News, Malice Manor Check In, & SoCal Events
Biden Asks Entertainment Venues to Require Vaccines
Haunted Battlefields, Grave Friends, & Ghostly Lovers
Should You Widen Your Offerings for the Whole Family?
Reviewer Pet Peeves: Costuming & Makeup
We've gathered a gang of ghouls to provide a wide range of informative and entertaining content, including:
State of The Industry updates from the Haunted Attraction Association Board Members.
Trip Reports from The ScareFactor, The Hauntline, and ScareTrack.
Hack Hacks, implementable tricks to provide haunt professionals helpful information in small packages, from Scott Swenson.
Industry News from Green Tagged, Haunter's Toolbox, and Socalloween909.
Foam Carving and decorating from Victoria Lohman of Hot Wire Foam Factory.
Various poems and short stories of the dark and witchy sort from Whispers of a Witch.
Guerrilla Marketing from Scary Good Marketing.
Last Minute Haunt Lighting from Gantom Lighting & Controls.
Haunt owner check-ins from around the world.
"This year's Halloween is critical for the industry, and we'll be there every day to help. While we're producing serious segments on emerging issues, we also need some room to enjoy the holiday; I'm thrilled with the balance of informative and entertaining content that we have lined up. I'm grateful to all the partners that have stepped up to help this year," said Philip Hernandez, Publisher at the Haunted Attraction Network and CEO of Gantom Lighting.
"Our board members are a wealth of knowledge and we're excited for this opportunity to share solutions to the challenges for this season. It's also in alignment with our goal of connecting more with our members," added Spencer Terry, Board President of the Haunted Attraction Association.
To celebrate their 7th year, 500th episode, and 2 million downloads, the Haunted Attraction Network has a new look! Just in the time for this year's Halloween season, the new logo was designed by Pashur Illustration. Pashur is an award-winning illustrator, body painter, and member of the SoCal Haunt Community.
The Haunted Attraction Association
The Haunted Attraction Association, the only official association in the haunt industry, serves as the voice of the haunted attraction industry. Our mission is to promote our worldwide network of haunted attractions including Haunted Houses, Haunted Hayrides, Scream Parks, Mega-Haunts, Halloween Festivals, Haunted Outdoor Trails, Corn Mazes, and Amusement Park Halloween Events.
Gantom Lighting and Controls
Gantom illuminates attractions worldwide with the world's smallest award-winning intelligent spotlights.
The Scare Factor provides Haunted House and Halloween lovers with the most professional and accurate info possible. We are not the oldest or the newest, but we are BY FAR the most complete and up-to-date website of our kind in the haunted attraction industry.
ScareTrack is the UK's first podcast dedicated to the Scare Attraction & Haunted House Industry. We bring listeners in depth interviews with some of the biggest names in the UK scare scene, discussion & debate episodes as well on on-location review episodes from scream parks, zombie chases, immersive theatre and much more.
Do you have questions about starting your own haunted attraction or keeping the doors open at your current one? The Haunter's Toolbox is the place to get those answers. Monthly online masterclasses with professionals in the haunt industry, access to the exclusive toolbox media library, and a private community to get instant feedback. Get the tools you need at HauntersToolbox.com
Scott Swenson Creative Development
For over 30 years, Scott Swenson has been bringing stories to life as a Producer, Director, Writer and Performer. His work in Theme Park, Consumer Events, Live Theater and Television has given him a broad spectrum of experiences. After 21 years working with SeaWorld Parks and Entertainment, Scott has now formed Scott Swenson Creative Development LLC and is working with various clients developing shows, events, festivals and training classes.
Created by actress and voice over artist Jennifer Anne Scott this weekly podcast provides something of a different sort to listen to and enjoy – a dark escape if you will. If you love spooky stories, you will love Whispers of a Witch!
The Hauntline is a YouTube show and Podcast dedicated to SoCal Haunts & Events!
Follow for Haunt Reviews, Rumors, & Behind the Screams!
Hot Wire Foam Factory offers a wide range of foam cutting and shaping tools, foam coating products, instructional DVDs and patterns for the hobbyist, home crafter and professional artist.
SoCalloween909 is the 909's LOCAL INDEPENDENT NEWS Source On All Things Horror, Haunts, Halloween, & Everything In Between in SoCal, 365
At Scary Good Marketing, we take the fear out of marketing and advertising your business using battle-tested strategies and creativity to bring you a better ROI.
The Haunted Attraction Network
The Haunted Attraction Network connects and educates the Global Haunted Attraction Industry through weekly podcasts and newsletters. In 2021 we're celebrating our 7th year, 500th episode, and over 2 million downloads!