Too tired to read?
Listen to this article instead:
At this year's co-located HAuNTcon and Halloween & Party Expo, which took place from January 12-15, 2018 in New Orleans, a panel of industry experts —featuring Philip Hernandez as moderator—shared their thoughts on the impact of first impressions on attraction guests. The panel served as a preview of this year's Haunted Attraction Leadership Symposium, whose theme is First Impressions. This article summarizes the panel and key learning moments.
"What are your holiday traditions?" asked Philip the audience at the outset of his brief introduction to the afternoon's discussion. "The 1983 book, The Invention of Tradition, discusses many examples of how tradition is invented. For example, the State of the Union Address given by US Presidents is only about 100 years old. Before President Wilson giving such an address in 1913, leading up to World War I, communication about the state of the union was simply a note the President sent to Congress. And it's only been called the State of the Union Address since 1934," he said.
"Take the word 'like' for example. You're probably used to saying 'like' as a conjunction, as in, 'It looks like rain,' or 'She runs like the wind.' In 1954, Winston Cigarettes wrote the copy, 'Tastes great, like a cigarette should,' instead of 'as a cigarette should.' Even though the company received hateful letters, editorials, and other protests about the misuse of the word, Merriam-Webster changed the definition in the dictionary to make 'like' a conjunction," noted Philip."
"The coffee break is a tradition created by the Pan-American Coffee Bureau in the 1940s to make coffee more popular. When couples get married and spend three months' pay on a ring, we can thank De Beers Corporation for that 'brilliant' campaign to invent the tradition of the engagement ring. If, when I say, Santa Claus, you think of the traditional rolly-polly fat guy in a red suit with rosy cheeks guiding a sleigh pulled by reindeer, you can thank Coca-Cola for that. Since 1931, this company has helped us define not only what Santa but what Christmas looks like."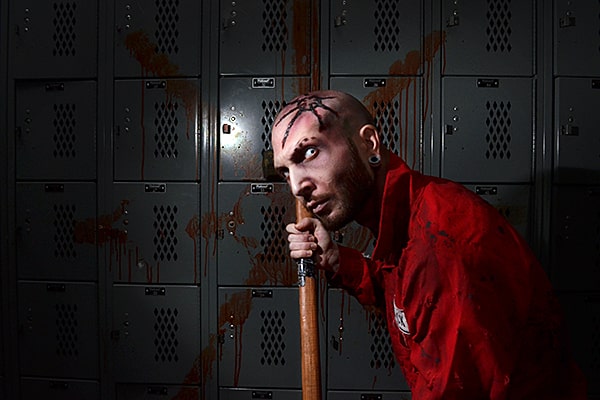 Philip continued, "As destination and retail leaders, defining tradition is our aspiration. When we invent a tradition, we've reached a new level of connection with our audience. We've shaped and impacted the culture. Halloween is an ecosystem. From retail to food, parties to haunted houses, theme parks to theaters, we all participate in the consumer-buyer journey.
"Research shows that human beings can make astoundingly accurate judgments in as little as five seconds and that impressions at the beginning and end of an encounter are remembered more often than anything in the middle. The consumer's first impression at each of these touch points impacts and feeds into their whole experience.
"The exciting panel we have with us today brings together experts from all aspects of the Halloween ecosystem to discuss first-impression best practices," he said.
Philip wrapped up with, "We're always inventing traditions. The ones that are handed down are handed down because of us. The ones that endure do so because we let them. Welcome to today's panel discussion of 'The Halloween Ecosystem,' which will focus on, 'Which First Impressions are Important to Creating a Tradition?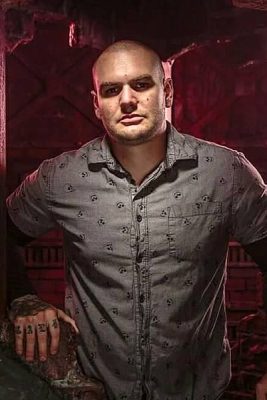 Jon Cooke is the entertainment designer for Knott's Berry Farm. His innovative Knott's Scary Farm designs include Special Ops: Infected, Paranormal Inc, ShadowLands, Dark Ride, and Trick-or-Treat: Lights Out in 2017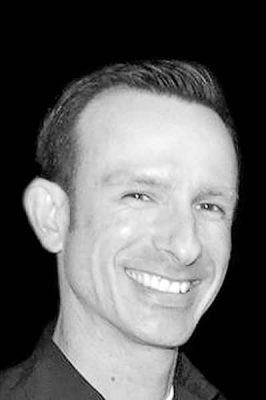 Ted Dougherty is a writer, producer, and director, having worked with Universal Studios' Hollywood Halloween Horror Nights, Knott's Scary Farm, Hollow Studios, and Cedar Fair. He also co-wrote and directed Fear VR, the first 4-D, virtual reality horror experience at a major theme park.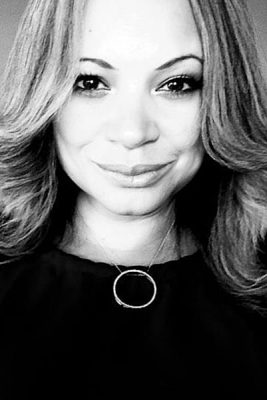 Charity Hill is the Co-founder and Managing Partner of Epic Entertainment Group and Executive Producer of Dark Harbor and Chill at the Queen Mary. From creative direction to strategic execution, her brand of activating and event producing spans two decades.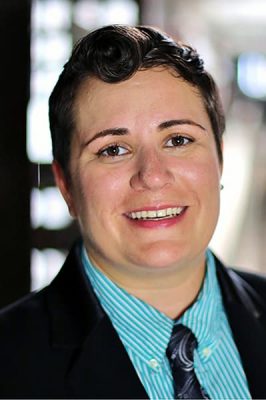 Amy Hollaman is currently in her sixth year as creative director of Terror Behind the Walls at Eastern State Penitentiary. Year-round, she works as the historic site's assistant director of events and operations, planning and producing events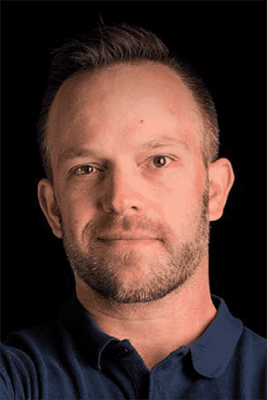 Steve Sheldon is an award-winning event producer and is the co-founder and managing partner of Epic Entertainment Group, a collective of producers, experiential marketers, and creative designers focused on producing live events and immersive entertainment experiences. Steve is the Co-Executive Producer of large-scale themed events and attractions that include Dark Harbor & CHILL.
Scott Swenson has been bringing stories to life as a producer, director, writer, and performer for over 30 years. His work in theme parks, consumer events, live theater, and television has given him a broad spectrum of experiences.
Managing a Guest's First Impressions
Philip kicked off the conversation by asking, "How, specifically, do you manage a guest's first impressions?"
Amy Hollaman was first to speak. "The initial aspect of managing first impressions, for us, is the training of our staff. When people are applying for roles, we model to them what we want them to do in their customer-service position. At our auditions, all of our staff are in branded uniforms. They're friendly. They greet people. They make the applicants feel comfortable, even though they're in a state of anxiety—just like many of our visitors. We want to make sure, right away, that these applicants know we value each of them as an individual," she explained.
"I memorize every single person's name before the first night of training. When they come in, I'm high-fiving them and saying, "Hey, Charity. Hey, Scott." Their minds are blown trying to figure out how I already know them. I've only met them once… What we're teaching them is to value people as individuals rather than seeing them as a massive group. If you start to think of your visitors as a big mass, you're like, 'Oh my gosh, they're annoying, or they're drunk' They, they, they. If you think of them as members of a family, a unique group that decided tonight they were going to have fun by going to this haunted attraction, you have the opportunity to make it special, to customize that experience. We model that to our staff, and then they feel the same way."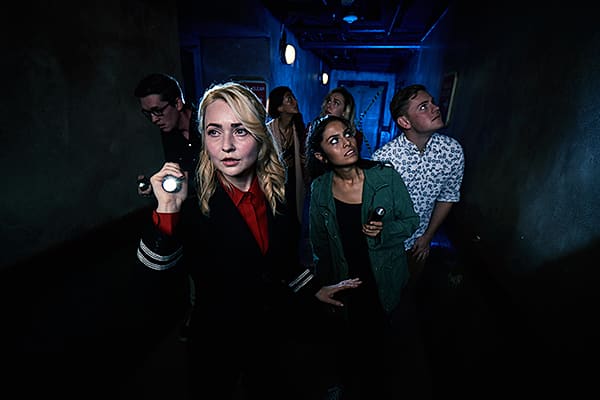 Scott Swenson countered "The very first moment guests become aware of it is that first impression. It's important to make certain that first impression, from a marketing standpoint, goes all the way through the experience, so there's no disconnect between what you've marketed and what you've delivered. You have to make certain that it's a seamless journey for guests, and it extends after they leave—through social media and the ability to share and continue that experience," he explained.
 "The merchandise, the culinary—that's where those elements come into play. Make certain guests have a merchandised component to their haunted attraction and aren't selling just 'something' but are selling something that directly relates to the experience the guest has had. People don't come to haunted attractions to buy stuff. They come to have an experience, but if they can relive that experience by having a piece of merchandise they can take home with them and continue to imagine, pretend, and remember, then it's not just a piece of plastic. It's a magic charm," Scott pointed out.
"We have multiple opportunities for first impressions and, for us, it's the marketing," stated Steve Sheldon. "But you also have another first impression opportunity when somebody drives through the parking lot gates. What's their experience as they're parking? What's their experience getting to the queue line? What's their experience getting into the event?" Have entertainment for folks in the queue lines—add an experience before they even get into the event itself and then create an opening ceremony each evening to kick off the night. That goes a long way."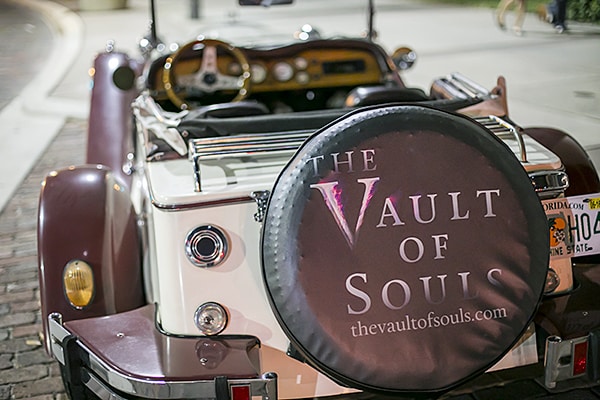 Charity Hill offered, "Push out your story ahead of time through social media and storytelling on the way to the event, as happens if a guest is with someone who's been to the event before. Having tools for your consumers and guests to educate themselves on what they'll be doing before they arrive is also a great way to grab your consumer, immediately drop them into your world, and immerse them before they walk onto your property. The more you can get them engrossed in and experiencing that world, the more time they have to decide to purchase it, love it, give feedback on it, and have it become a tradition instead of a learning curve."
"People are going to start forming their opinions of your attraction the second you release any bit of information about it," said Jon Cooke. "We've started controlling that by creating a big-announcement event, where we get to theatrically announce our own experience to make sure we're getting across a cohesive representation of the experience."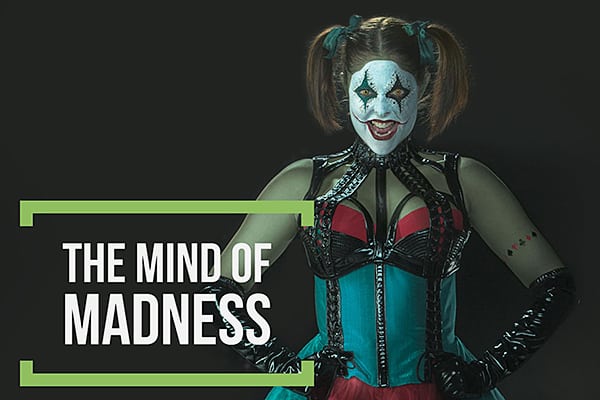 To Ted Dougherty, it's about the branding and trying to influence people's decision making. "It begins with the attraction title. If it's too vague, people may be curious about it, but they may not be persuaded to spend their time and money on it. There needs to be clarity, beginning with the attraction title and the tagline and all the subsequent text inside the press release" he said.
First Impression Case Studies
"To tag onto the idea of the parking experience," said Scott, "one year at Busch Garden's Howl-O-Scream, we had a vehicle that had been hit by a car that we owned. It was a customer's vehicle and we had to buy it. It was sitting there in our back lot, and we got the idea to put it out in our parking lot, surrounded by zombies. So, as people came in on the tram, they were driven by this car where this family's getting yanked out of a destroyed car by zombies. My absolute favorite moment was when a guest came up to me and said, 'That's not going to happen to my car, is it?' We had them hooked from the moment they'd parked their car. They'd bought into the brand and they were already a part of it."
Steve chimed in, "Here's my first experience visiting Eastern State Penitentiary. It was a waiver experience—you can choose to be touched or not be touched. If you choose to be touched, you get this glow-in-the-dark necklace. Just that experience alone, of having to decide if you're going to sign the waiver, creates this feeling of 'Oh my gosh, what might this be like? I could be touched. It could be intense.' That's a first impression that sticks out to me strongly."
Scott added, "Our ultimate goal is to make the guest experience something memorable, something good, something effective. Sometimes you have to take a half step back and say, 'You know what? We were just too clever. Let's be practical. We've seen it work somewhere else, so let's not reinvent the wheel. Let's install it the way it's worked before.' With any of the projects I've worked on, we started with a straightforward model: Start, stop, continue. Start doing things you're not doing that you should be doing, stop doing things you're doing that aren't working, and continue doing those things that work."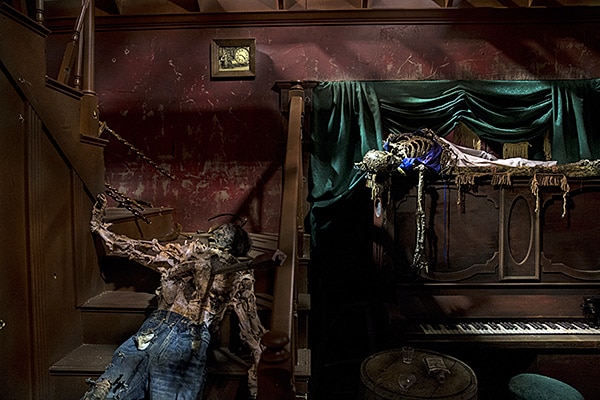 Correcting and Reworking Unintended First Impressions
Philip next wanted to explore unintended first impressions—guest responses that weren't expected or desired and what was done to remedy these. "What did you start that you later stopped or corrected? I'd like to hear some examples of correcting first impressions," said Philip.
Jon took the lead. "You can spend as much time as you want planning something, but once you introduce what I call the X Factor—which is the guests—it's going to change, no matter what. While designing a paranormal ghost-hunting maze, I wanted to have an immersive first room where guests participate in a ghost-hunting experience. Guests were told what their role is and the story they're about to walk through," he said.
"The more you can spread guests out, the easier they are to scare, but I was bringing 60 people into one large space at a time," Jon continued. "I thought, 'Okay, this is a cool time to show off some technology.' They'll have a neat theatrical experience and be sent on their way through this maze. Well, we got to a part in the show where we had this little girl up on a flying rig, and she flew across room. We thought, 'Neat visual.' Well, it scared all 60 people at one time, and our minds were blown. Group after group, we were getting these amazing reactions! We pivoted and did everything we could to facilitate this one scare. Four years later, with every single group, 60 people at a time, she's knocking them down."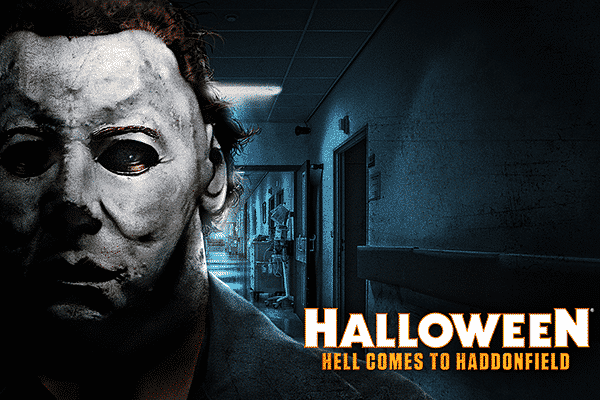 Rolling With Trends and Taboos
"I have a story about Fear VR," said Ted. "For those of you who don't know, Fear VR was an attraction at multiple Cedar Fair parks that was prematurely shut down due to complaints from folks who never went to the attraction, but that felt the content was offensive to the mental-health community. Those complaints snowballed to the point that even if Cedar Fair tried to publicly explain that the content wasn't what these folks thought it was, the damage was done and it wouldn't have made a difference. What did Cedar Fair opt to do? They shut it down. But what we learned is that these haunting experiences are very fluid. Communities change, society changes, pop culture changes. We need to be at the forefront of how to best present these types of experiences to give the audience what they're paying for." 
Scott agreed. "The ecosystem is constantly in a state of flux, and there's always the latest hot thing. How much longer is Steam Punk going to be hot? Who knows? It could go on forever, and it could quit next week. You have to be cognizant of the fact that nothing is going to stay forever, and, if you're doing things the same way you were doing them five years ago, you're probably behind the times," he noted.
"Regarding that unfortunate experience with the bad publicity about Fear VR—by people who hadn't even seen it—to create that ecosystem and create those traditions, you have to make sure you're aware of what's going on in the environment to begin with. For example, the year 9/11 happened was a horrible year for the haunt industry. At Busch Gardens, our marketing campaign had been, 'Terror Takes Control.' Everything from that marketing campaign was burned, and we had to reevaluate and start from scratch, two weeks before the event started."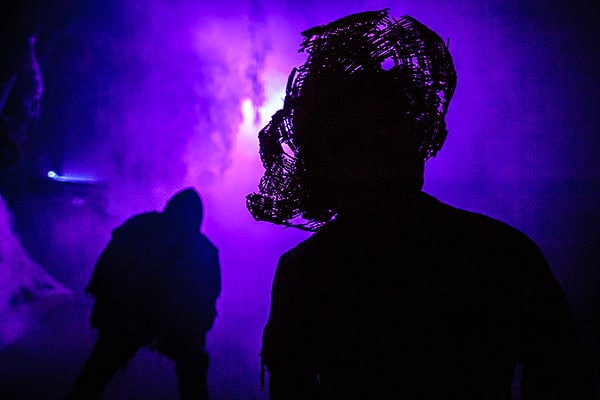 "We have such a variety of consumers, too," said Charity. "We have consumers that range from age 13 to 60. Every race, every gender, every creed, every nationality, and you have to resign yourself to the fact that you're not going to please everybody. You just aren't."
She continued, "We do pole banners in our city, and we started getting complaints from the city that these pole banners, which were in neighborhoods, were super gory and maybe a little girl is looking outside her bedroom window at content that's probably not okay. Maybe it's great on a freeway billboard, but maybe not in a neighborhood. When faced with this, our marketing team just looked at each other—all of us in a room—and we're like, 'Does that mean we just won? That's a win, right?' We pulled the pole banners down and put up different content. When we started looking at our consumers, we found out yes, they're young, but we're definitely on more of an R-rated or high PG-13 content haunt."
Unintended Staff Impressions
Speaking to the staff side of making a memorable first impression, Amy told a story. "Eight years ago, we categorized our staff into the acting group and the non-acting group. How horrible does it feel to be a 'non-something?' You're defined by what you aren't. All of our staff members who weren't actors felt second rate. They weren't getting awards for great performance, so what was their incentive to perform?
"Once we started referring to those non-acting staff as 'customer service associates' instead of non-actors, things changed. For example, we hire staff in our parking area who are enthusiastic about parking cars. They don't think of themselves as non-actors. These are the first staff that guests meet. Those guests have been driving for hours, they get out of their car, they're confused and don't know where they're going. The parking-lot people direct guests to the bus and answer all their questions. When guests leave, we make sure each of the parking lot staff asks, 'How did you like the show?' We teach them responses. If there are complaints, we teach them how to answer those in a friendly way."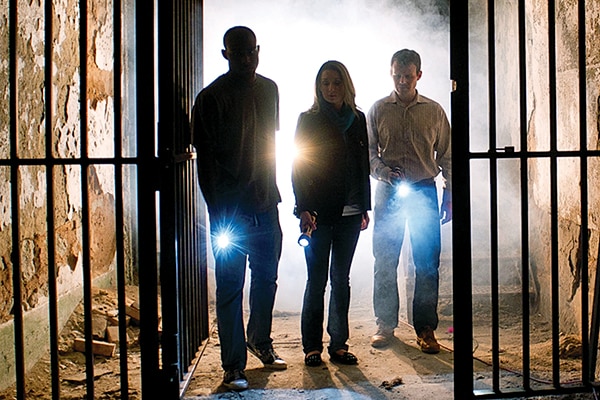 A Bad Impression May Have a Ridiculously Easy Fix
"At Busch Gardens, I didn't just do the Halloween event; I was responsible for the ratings of pretty much all of the show product that was there," Scott added. We had a show we thought was good, but it was getting crap ratings. I mean crap ratings. We had survey after survey done, and we'd watched people, and we just couldn't figure out what the heck the problem was," he said.
"Then we did surveys in which we sat down and talked to people. We found out that the reason the show was rating poorly was the seats in the theater were uncomfortable. It wasn't the show they were reacting to- it was the fact that their butt hurt. Sometimes we have to take half a step back, take off our creative hat, look at the situation and ask, 'What creature comfort are these guests not experiencing?' 
How to Create and Shape Tradition
Next, Philip asked the panelists if they aim to shape tradition in any way with their experiences, and, if they do, how.
Ted responded, "I never really thought about it as shaping or creating tradition, but after thinking about it, yeah, we're all trying to create tradition when we're conceiving of any of these types of experiences because we're trying to create repeatability within our designs as a lure to draw guests back. That's done absolutely on purpose. If guests go through one time, there's no tradition there, right? But if we create something where they want to come back annually with their friends and family, we're doing the bare minimum of trying to create that type of tradition," he explained.
"I think tradition spawns from innovation in marketing," Ted continued. "For example, before 1973, no theme park in the world thought of creating a hard-ticket, special event for Halloween until Knott's Berry Farm decided to do it. That first year, that debut year, every night completely sold out before the event began. That's because of marketing. They lured the guests there and then, of course, delivered on the concept. The guests loved what they saw when they got through the turn-styles. If you want to talk about a massive, industry-changing way of shaping tradition, that's it."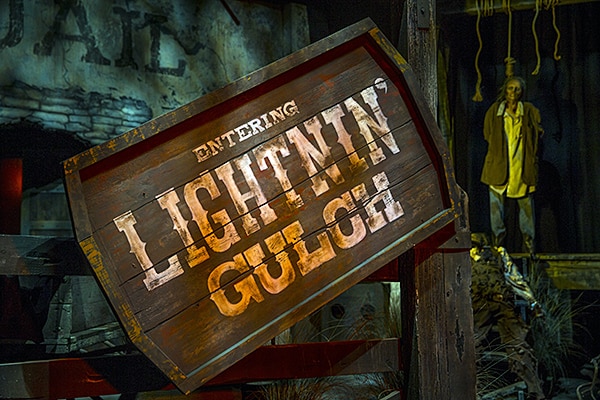 Scott had another take. "I honestly believe the reason the Halloween industry is what it is today is that we've embraced a generation that thinks Halloween is cool. When I was a kid, Halloween meant trick-or-treating. Halloween meant going out in the neighborhood, running amuck, and playing in the dark. When we grew up, we wanted ways to catch that same spark in a bottle. The way we do that is in the various and sundry haunted attractions. That's why adult-theme haunted attractions work incredibly well.
"An example is Vault of Souls in Tampa. We call it 'an evening of elegant fear.' It's more of a high-end cocktail party, based on the history of Tampa, than it is a traditional haunted house. But it has a Halloween bent to it, and it's all based on the paranormal. It's an elegant way for grownups to capture that same feeling they had when they were kids, that same feeling of 'I'm going to raise a little hell tonight.' They're raising it differently—no longer knocking on somebody's door and—God forbid—egging their house or throwing toilet paper into their trees," he said.
Evolving the Halloween Tradition
"I don't know whether this is creating tradition so much as it is embracing tradition and taking that tradition to the next level," Scott continued. "How do we help evolve that tradition?… This is giving us all the opportunity to say, 'Hey, let's be kids again. Let's go out and pretend that we're monsters.'"
"I'm going to go from evolving to expanding," said Amy. "All of us up here have long show runs—probably around 30 nights or so. The haunted house industry makes Halloween start at the end of September, and a lot of us go all the way into November. When I was a kid, Halloween was one night, and it was sad when it was over. You planned your costume for so long, and you just wanted the night to keep going, but then your parents told you it was time to go bed, even though you stayed up late watching scary movies and eating candy," she said.
"Now we can have Halloween for a bunch of nights! The average person doesn't go to many haunts, but I go to at least 10 in a season. A lot of big haunted-house fans do. Our industry allows people to expand that Halloween experience, be brave, and to step inside of it. I love that this industry has taken a holiday from one night to 30."
Steve noted, "For us, I think part of developing traditions has been responding to needs we've seen or interests that our guests have expressed. For years, we saw people on Halloween, in particular, wanting to come in costume and never being allowed to wear costumes. In 2012, we asked ourselves, 'If we did allow costumes on Halloween, what would that take? It presents some security concerns and a lot of other challenges, but what if we did it? How could we do that?' We introduced it, and, ever since, Halloween is one of our most popular nights. Previously, it had been one of our least-attended nights, because, on Halloween, people want to get dressed up and go to a party.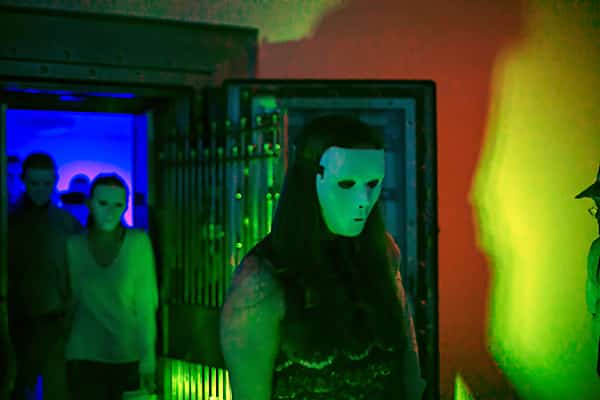 Creating Tradition From Guests' Interests
"Another one was LGBT night," he continued. "Long Beach, where our haunt, Dark Harbor, is located, has a very diverse population. A lot of our cast members are part of the LGBT community, and they'd request to dress as a character of the opposite sex on certain nights, just for fun and to switch things up. We said, 'What if we create a night out of this?' We created LGBT night, and that's become a prevalent tradition. We also have Dia De Los Muertos. People don't want to let go of that Halloween experience just because it's November first, so we started having our Dia De Los Muertos celebration on November first. We responded to guests' interests and requests, and, in this way, we've created traditions."
Halloween is an ecosystem. From retail to food, parties to haunted houses, theme parks to theaters, we all participate in the consumer-buyer journey. The consumer's first impression at each of these touch points impacts and feeds into their whole experience.
First Impressions Matter More. Human beings can make astoundingly accurate judgments in as little as five seconds, and impressions at the beginning and end of an encounter are remembered more often than anything in the middle.
Individuals have memorable moments, 'they' do not. "What we're teaching them is to value people as individuals rather than seeing them as a massive group."
Engage consistently throughout the entire guest process. Keep your story consistent, and flowing through pre-arrival (marketing, announcement events, pre-story prep), arrival (parking lots, lines), and departure (retargeting, social media).
Cultural trends impact guest experience. "We need to be at the forefront of how to best present these types of experiences to give the audience what they're paying for."
All employee interactions impact the consumer. "Once we started referring to those non-acting staff as 'customer service associates' instead of non-actors, things changed."
Creature comforts trump content. "What creature comfort are these guests not experiencing?"
Repeatability is an active design choice. "We're all trying to create tradition when we're conceiving of any of these types of experiences because we're trying to create repeatability within our designs as a lure to draw guests back. That's done absolutely on purpose."
The Nature of Halloween shifts. "Now we can have Halloween for a bunch of nights!"
Capitalize on the guest's current traditions. "We created LGBT night, and that's become a prevalent tradition…and we also have Dia De Los Muertos. We responded to guests' interests and requests, and, in this way, we've created traditions."
You're not in competition with other haunts; you're in competition with Netflix. "We continue to make it a better industry overall by taking ideas from independent haunts and incorporating them into our theme parks and by taking some of the quality and technology that's in theme-park haunts and incorporating that into independent haunts."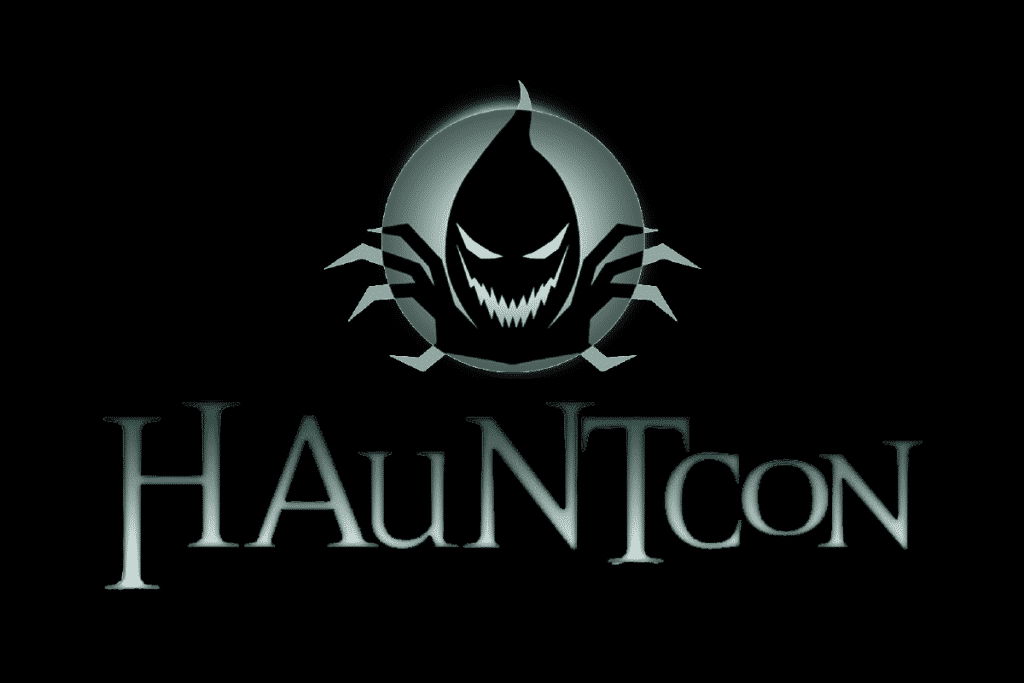 Next Year's Haunted Attraction Symposium Event
The Haunted Attraction Leadership Symposium returns July 30, 2018 to Southern California with the theme of 'First Impressions.' Sign up to receive all six keynote videos from our 2017 event and take advantage of exclusive early pricing for 2018 by visiting www.hauntedapplication.com