A haunted historic fort once occupied by George Armstrong Custer is the perfect venue for authentic Halloween scares
Haunted Fort
is a truly unique scare experience because the venue, Fort Abraham Lincoln, is considered one of the most haunted places in North Dakota. Paranormal enthusiasts have declared the site a haven for phantoms, ghouls, spirits, and various 'lingerers-on.' "It seems that when the house in which George Armstrong Custer once lived was reconstructed in 1989, the men and women who long ago lived and died at Fort Lincoln were themselves resurrected," states Matt Schanandore, Interpretive Director at Fort Abraham Lincoln State Park and creator of Haunted Fort.  "A woman wearing a black dress is sometimes seen looking out a second-floor window of the Custer House; footsteps are heard pacing the sergeant's quarters in the Barracks; the voices of weeping women echo along the boardwalk; a shadowy figure stalks the commissary at night; and horses' hooves stomp the dirt of their stalls in the stables."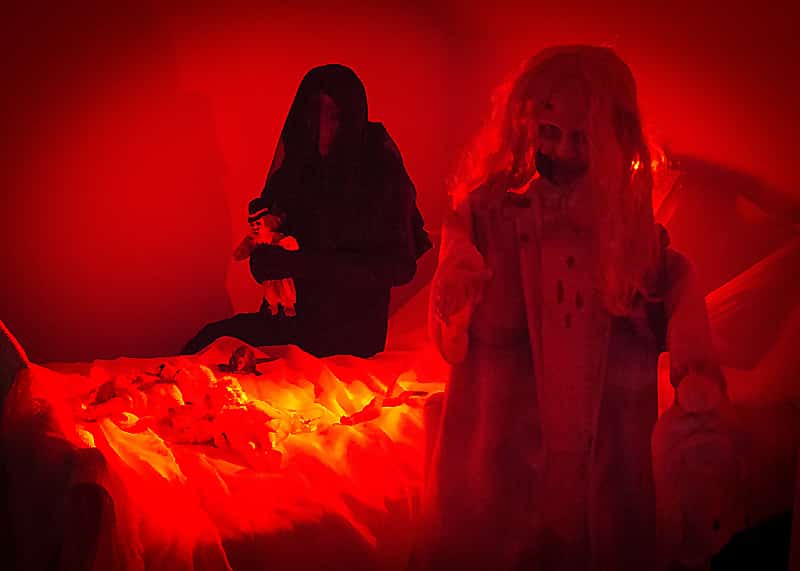 The Evolution of Haunted Fort
This place was a natural for a haunted house—and that's precisely what happened in 2002 with the opening of Haunted Fort. "
That Autumn, we embraced the gothic side of Fort Lincoln and turned to history and horror films for inspiration, blending the two into a combination of eerie effects and in-your-face scares that successfully transformed the buildings at Fort Lincoln into a terrifying attraction
," says Schanandore. After a few years, Haunted Fort made a significant transition, dropped the historical aspects, and became a more modern haunt that features clowns, spirits, demons and the different character assets seen in typical haunted houses. As a result, the event grew exponentially from one weekend to four weekends and now runs an average of 10 nights throughout the Halloween season. Haunted Fort now features four different haunted houses within the reconstructed, historic military buildings that once were Fort Abraham Lincoln. 2018 is Haunted Fort's 17th season, and it's the State Park's most significant event with over 8,000 people turning out every year to be terrorized.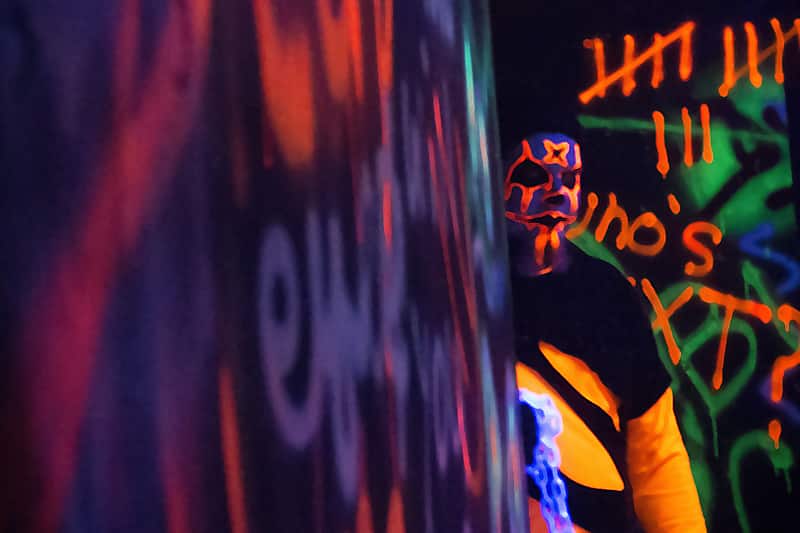 Haunted Fort's Halloween Kids Bash Happens on October 21
Recently, an afternoon children's bash was added to Haunted Fort for children too young for the evening attraction. The Haunted Fort isn't recommended for children under 13, so
children are encouraged to attend the Haunted Fort's Halloween Kids' Bash on October 21 for five hours of nonstop fun that includes games, candy prizes, and tours of the spooky Custer house conducted by Custer's dead butler.
There's also a Zombie Paintball Kids' Edition and a Little Monsters Hike at 1 pm and 4 pm outside the commissary. Doors open at noon for the Kids' Bash and the event ends at 5 pm (doors close to entry at 4:30 pm). Cost of the bash is $5 per kid, and parents/guardians get in free. Zombie Paintball for kids is $5 per player or five passes for $20, and for kids who only to go on the Little Monsters Hike, the cost is $7 for the vehicle entrance fee.
Haunted Fort Supports the Operation of Historic Fort Abraham Lincoln
All of the proceeds from Haunted Fort are used to maintain the interpretive program and other foundation operations within Fort Abraham Lincoln State Park. "It used to be that when the leaves began to turn, we'd get ready to close up shop for the winter," says Schanandore. "Now, our minds change with the leaves—we turn away from thinking about Custer and the Mandan Indians and delve into the world of Poe, Le Fanu, and King; of Michael Meyers, Freddy Kruger, and Jigsaw.
We plot, build, destroy, disembowel, and dismember. With our own phobias ever in our minds, Haunted Fort becomes the place where nightmares come to life.
"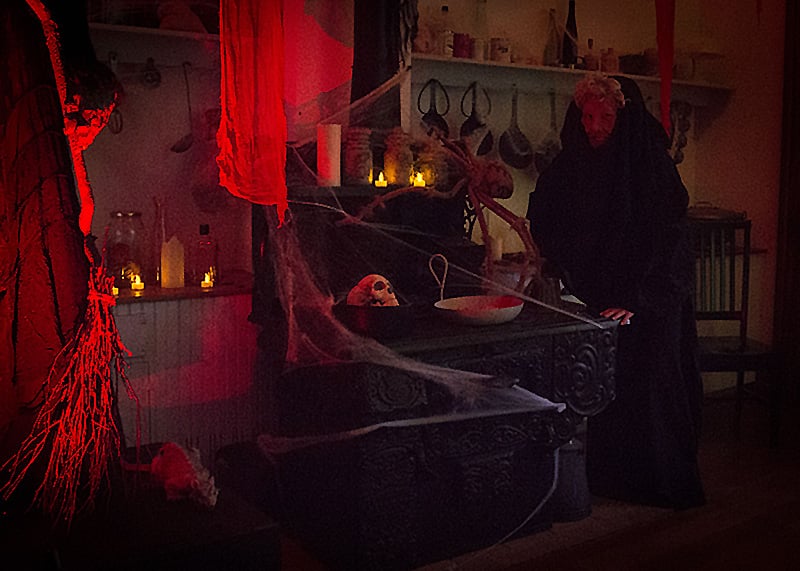 Location, Hours, and Ticket Prices
Haunted Fort is located in Historic Fort Abraham Lincoln State Park, which is seven miles south of Mandan, North Dakota on Highway 1806. The physical address is 4480 Fort Lincoln Road, Mandan, North Dakota. This year, the Haunted Fort will be open from 7 pm to 11 pm on October 5, 6, 12, 13, 18,19, 20, 26, and 27. On Friday nights, General Admission to all four haunted attractions is $15 online/$20 at the door; Ultimate Fear Experience tickets are $50 online/$55 at the door; and Zombie Battlefield tickets are $6 online /$8 at the door. On Saturday nights, General Admission is $18 online/$23 at the door; Ultimate Fear Experience tickets are $55 online/$60 at the door; and Zombie Battlefield tickets are $6 online /$8 at the door. The General Admission ticket allows visitors access to the four haunted houses. The Ultimate Fear Experience includes expedited access to the main event and all four haunted attractions, a glow necklace indicating the "quick pass" access, a fast pass to the Zombie Battlefield Paintball Experience, and a 10% discount in the Haunted Fort Monster Shop.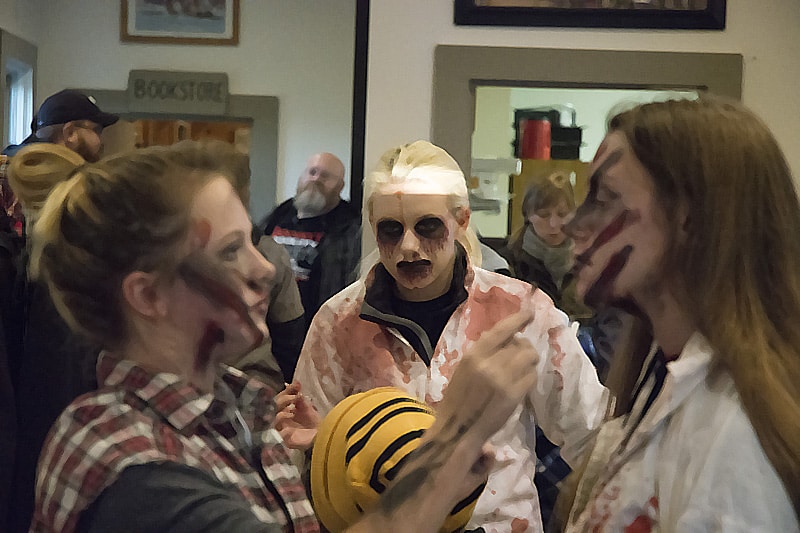 Haunted Fort Is Looking for Volunteer Scare Actors and Scare Crew
Haunted Fort is looking for "high-energy individuals with a sinister love for everything Halloween and devious enjoyment" to join its scare actor, character actor, and zombies teams. No experience is needed, but applicants are expected to show their best screams and scares at the audition. For more information, visit the
Haunted Fort website
.