Hush Haunted Attraction in Westland, Michigan, is debuting three haunted houses in a new venue that's 6X as large as the previous space. The trio of haunted houses—Descent, Coven, and Rosecliff Hall—live inside a 40,000-square-foot-building for one admission price. Hush opened on September 27th for the 2019 Halloween season and continues every Friday, Saturday, and Sunday and on select weeknights through November 2nd.
Cody Bailey, the executive producer of Hush, used the new building as an opportunity to design a themed environment. The environment provides a background for the haunted houses during Halloween but also allows for year-round revenue opportunities. "Since Hush began, it's become known for its high-quality set designs, actor-driven experiences, and new technology," he said. "This year, it's all indoors, and we're creating an experience that people don't see in many haunted attractions—at least not in this region," he said.
Cody has been in and out of haunting since childhood but committed fulltime to Hush in 2013 after a brief political career. "The whole reason I'm a haunter—after graduating from college, running for office, and losing—is that I was trying to figure out what I wanted to do with my life. I was stuck in a rut and, when the opportunity to do Hush came up, I took it. That failure of losing the race for office changed my entire outlook and my career path. I'm glad I lost and that I took the risk to see how this would do. The opportunity to plan new attractions each year and create these high-quality, immersive sets is the motivator for me," he said.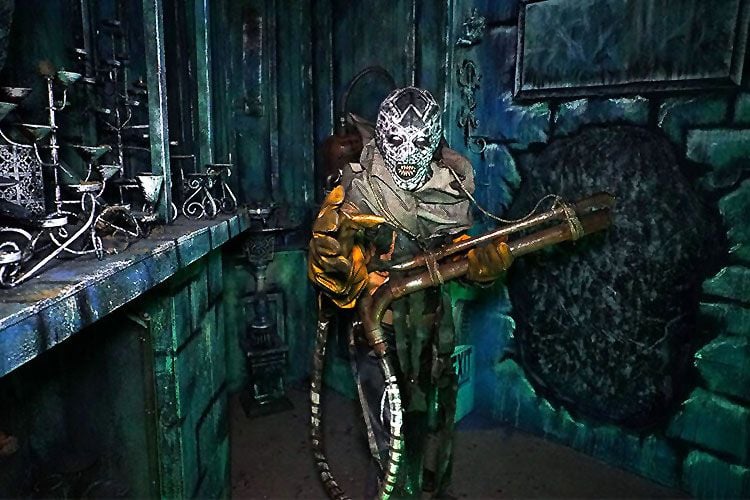 What's New a Hush Haunted Attraction for 2019?
This year's haunts are:
Descent—an underground encounter with crazed, flesh-hungry miners
Coven—a coven of witches seek revenge
Rosecliff Hall—guests enter a house with a murderous heart
Descent
Descent takes place in abandoned mines and caverns underneath Hush Falls. Long ago, miners slaved away in these mines until, one day, they collapsed. Extract, the mining company, commissioned the building of a secret elevator to transport the corpses of the deceased miners to the surface undetected. The elevator leads to a hotel named The Detroit Detour, which is where guests enter the elevator and begin their descent. The trip is more than they bargained for—the humanoid miners left behind, who've been driven mad by isolation, darkness, and hunger, and are now on the hunt for their next meal.
Coven
Guests emerge from the underground horrors of Descent into a swampy wooded area leading to the next attraction, Coven, which takes place in an above-ground cemetery. Within this cemetery lives the Casper Coven, a group of witches whose sisters were persecuted and burned long ago. For generations, the remaining witches and their offspring have hidden in a tree in this graveyard—their whereabouts protected by a spell—planning their revenge upon mankind, which they will exact using voodoo dolls. Their protective spell is wearing off, the witches are getting restless, and they're ready to unleash the dolls.
Rosecliff Hall
The last haunt is Rosecliff Hall, a large, Gothic-revival, Victorian-style mansion in which dwells a living heart that takes possession of all who enter. The previous residents of the mansion, the Clarkes, slowly lost their senses and murdered one another. Their bodies were discovered by the neighbors, but, when the police and ambulances arrived, there was no trace of them—only the bloody sheets and floors. Guests are warned not to slip on the blood as they scramble to escape the horrors of Rosecliff Hall.
The façade of the mansion is visible as soon as guests exit the mines and enter the graveyard. The house is 80 feet wide and 25 feet tall. "We wanted to make a wild statement that guests will see long before they step foot into the mansion," explained Cody.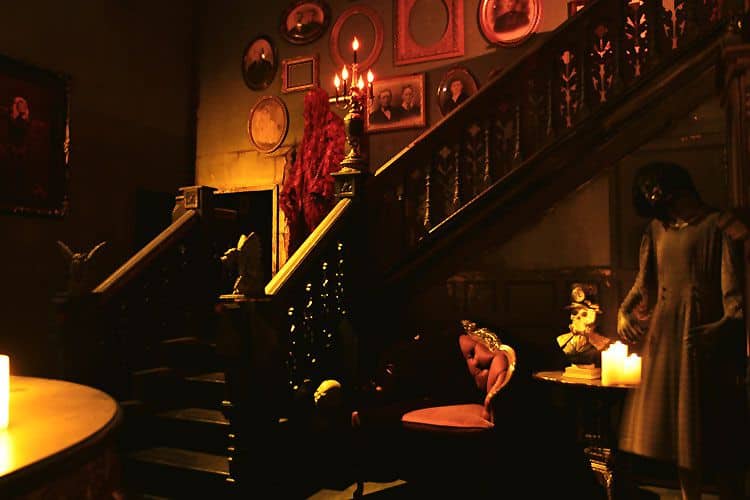 Designing Hush as a Themed Environment
Designing the overall building as a themed environment is a large part of Cody's philosophy with the new space. "Themed environments are the way entertainment is going overall, and, at some point, people will expect this. It's not enough to go into black hallways and have a couple of drop panels here or there. People want to be taken out of the environment they're in and into something else completely," he explained. Cody's themed environments include original music, making the queue part of the experience, and using a strong overarching narrative (which guests can follow online).
"We're a themed entertainment environment, and our goal is to immerse people in quality sets with quality actors that don't touch you. Our goal is to bring a story to life as guests walk through this experience, and that's what the industry is really about."
Planning for Year-Round Entertainment
Creating a full themed environment venue allows Hush to provide jobs and entertainment outside of the Halloween season. "In Rosecliff Hall, there's one section called the Great Hall. Taking out all the Halloween props, it can seat about a 100 to 125 people around the banquet table. It's possible to do fully themed, murder-mystery events inside the mansion, where people work their way through different rooms to find parts of the storyline, for example. To do that, we have to make the space themed and immersive enough to use for other things—like renting it out for private events or making it available for people to create their own events."
Opportunities to entertain year-round require a full-time philosophy, which Cody has continued since 2013. "You must focus on your business to grow it. I employ 5 – 10 salaried people year-round."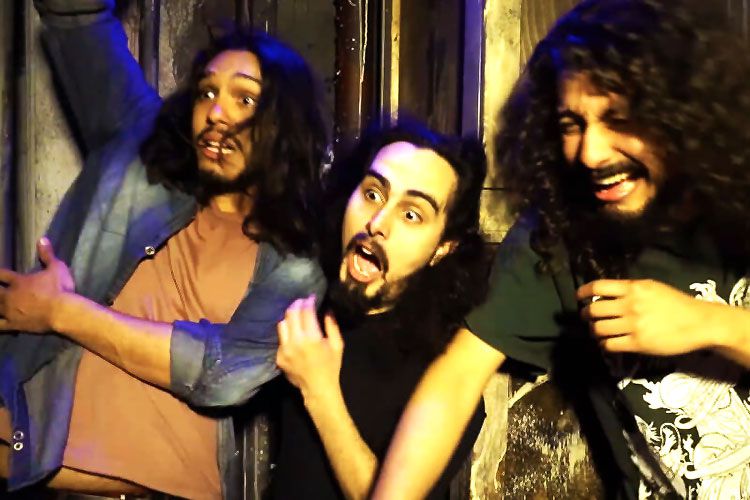 Where is Hush Haunted Attraction Located?
Hush Haunted Attraction is in Westland, as it has been previously, but at a new location about a mile away—37550 Cherry Hill Road.
How Much Are Tickets to Hush?
General admission is $24.99 Sunday through Thursday nights and $27.99 on Fridays and Saturdays. Fast-pass and immediate-admission tickets are also available.
What Days and Hours is Hush Haunted Attraction Open for Halloween 2019?
The attraction is open from 7 pm to midnight on Friday and Saturday nights, Halloween, and the Glowstick Fright Nights on November 1st and 2nd, and from 7 pm to 10 pm on Sundays and selected weekday nights. Lines are shorter earlier in the season.