Jack-O'-Lantern Journey has been popping up everywhere. I'm sure you've seen them too. It seems like every Halloween when I'm looking for events I see them, sometimes as a single photo op like at the Winchester Mystery House, and sometimes as a full-scale event. I've been so curious how it all works, are they operators or are they designers? How are they managing so many events? What are the costs and timeline involved? How are the IPs related? Well today we find out. I recorded this interview a few months ago during IAPPA, but if you want to meet Jacqueline or Journey in person, they'll be at Transworld March 17th or 20th in Booth 914. 
Support for this episode that comes from Gantom Lighting and Controls. Sign up at Gantom.com/demo to see what they can do for you.
What is Jack O' Lantern Journey?
Debbi: Hi my name is Debbi Katz, and I am the owner and CEO of Jack-o'-lantern Journey. Jack-o'-lantern Journey is the number one creator of family-friendly Halloween, pumpkin-themed events in the country. We have done over 30 shows, created over four to five different brands of family-friendly fun that revolves around pumpkins. 
Everyone loves pumpkins. They're fall-themed, it's great for folks to come and take pictures in, it's great for folks to experience. It's great for people to owners of different venues to do because that's a way to either do ancillary revenue, or if you're putting on an individual show, you're going to make money with pumpkins. 
Most of our pumpkins are molded from real pumpkins, but they're actually made out of foam, and everything is hand carved. I want to say that again. We are not CNC machine folks, we are doing everything by our artists. So, every carve, every pumpkin, everything that you see is going to be slightly different. Every stroke of the pen, every carve is done by our own artist vis a vis Dremel's, vis a vis different tools that we're using, so it is really an art display. 
80% of our pumpkins are in that foam realm. We do also carve real fruit, as we call it, especially in the northern places. The southern places we'll have some fruit, but not as much because it's a process to get rid of all of it, but a lot of our shows have the fruit in front of it as well. But, like I say to people, you really wouldn't want me to take 1000 pumpkins and hang them from a tree, real pumpkins. So that makes a lot more sense to do with foam.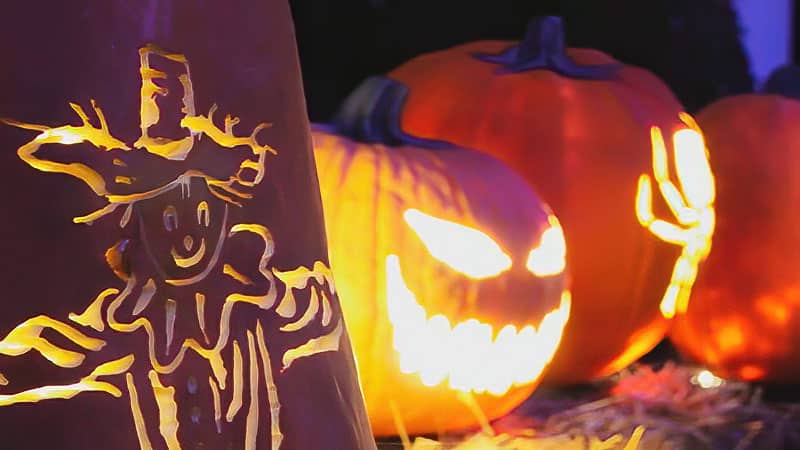 How To Work With Jack O' Lantern Journey?
Philip: Walk us through the process. How does the conversation start and what do they need to have ready before they're ready to have a conversation? 
Debbi: We come to attractions that are very large or very small. So, what I mean by that is that we have zoos, for example, that might contact us and say, "hey, we just need a super photo op that's going to be Halloween-themed where we can also get our branding across." We also have a show like Nights of the Jack in Calabasas [California], where it is an entire pumpkin experience, which is almost 3/4 of a mile long with about 40 different displays and over 7500 pumpkins in it. We will work with you on the different themes and exhibits that you want to create. We will help design your trail for you. We will provide you with marketing assets. We will basically do soup to nuts with you to make your venue artistically amazing. 
Philip: So when do we need to be having these conversations?
Debbi: We are lucky in the fact that we create a lot of stuff in house, so we really can do a lot of things that other folks can't do. I'm not totally dependent on others, although there are some products that I am dependent on. 
So, my advice, literally, is that if you want us to help explode your Halloween from a revenue perspective, from a creative perspective, from a branding perspective, get in touch with us in December/January because we will not take on more than we can deliver. We will be that company that says we do something and we will get it to you. That's why we're still growing and expanding and that's why most of our business, frankly, is by word of mouth at this point because that's who we are as a company. 
So if you're interested in Halloween, have the conversation with me sooner rather than later, even if you don't know exactly what you want to do. What we're doing now is, we're setting up letters of intent with folks where they're basically giving us a down payment, and they're saying put us on your queue line.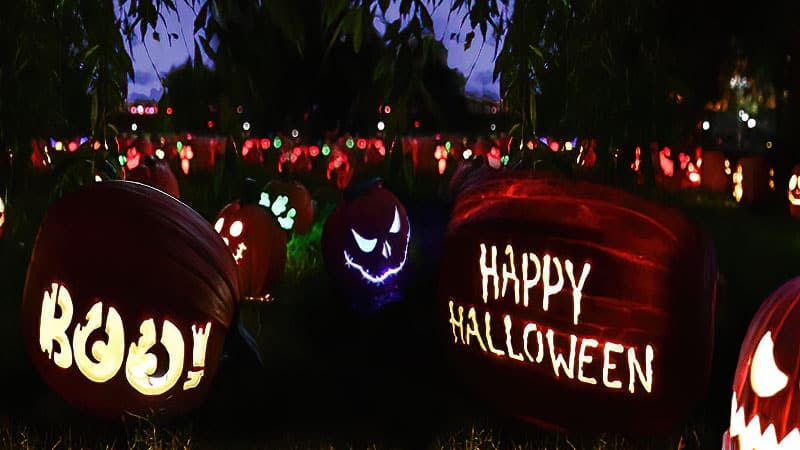 How Does The Creative Work?
Bill: Hi, I'm Bill Bywater, the creative director here at Jack-o'-Lantern Journey. So, some of our clients are quite large, like Frisco, TX and Michigan State Fair, but they each had distinct themes that they wanted to show with their jack-o'-lantern show. Although they both had dinosaurs, Frisco was a baseball stadium, minor league Stadium, so we had some baseball players that you can see in our gallery on our website. Then also in Michigan, they were an agricultural venue, so we created a barn scene for them all in pumpkins, all jack-o'-lanterns, and all family-friendly. Each just to reinforce their brand for this specific location. 
 If there's a more modest location, like the entrance to a hotel or lobby or something, we might not have to do a site visit, give us a couple of good photographs and some measurements of those areas, and we'll come up with a couple of different ideas how we can theme that and keep it family-friendly, but use every opportunity to reinforce their brand, their logo, put that in there with the pumpkins. There was a laser tag place that came by and so we were thinking you might be able to have some laser-tag themed jack-o'-lanterns pumpkins as well with everything else that they're doing.  
Debbi: So we did a project for Winchester Mystery House, and they wanted very strongly to stick within who they were about. So, we make scarecrows, which are super cool, but their scarecrows were actually decored with the costumes that people used.
Bill: Yeah, in the late 1800s from that site, so there would be like the Carpenter, the Baker, housekeeper, and then another kind of things that they had there was the number 13 and also spider webs. So, we have that folded into the storyline as well as daisies, who's the young daughter who lived there and grew up. That kind of thing we can just fold into it, we always do original content. We're not just pulling out of a catalog, that way it's super easy for us and it's super fun to make something that's really customized for each client.  
Debbi: We love working with the different spaces and making your space stand out for who you are and what you are. As Bill said, there are lots of different ways we do that. Sometimes it's within a pumpkin itself, an individual pumpkin. Sometimes it's within an entire theme, et cetera, et cetera.  
Philip: If someone is interested in doing that, IP road, who is doing it that? 
Debbi: I love that question. If we are doing something specifically for a third party, like one of our partners, like nights of the Jack, or in Frisco, we did Frights and Lights–that's what Bill was referring to—that venue would be responsible for securing that particular IP.  
So, we also now have come up with an entire line of our own Gourdys, our Pumpkin Gourdys, think Smurfs but pumpkins. We do a lot of things that are like dinosaurs, which have bones in them and they are super cool to look at. But now that we've created this line of pumpkins that are really characters, we need to talk about the little details that make that character stand out. How are the hands positioned? What is the face doing?  
Bill: So part of that is to know how far away the audience is going to be. If we do a nighttime trail like Nights of the Jack, the venue needs to be far enough that people can really enjoy the content. The whole dinosaur scene is over 100 feet long. Each individual dinosaur, so the big ones might be 22 feet long, so you'd want to be about 28 feet to 32 feet away from it to have it well-composed in a photograph and to see what it is. If you're too close, you can't even see what it is, and if you're too far, you've lost the beauty of it. So the art pumpkins are finer ones.  
Philip: These guys, the Gourdys bring that even closer, because they make the pumpkin more human. They give it those more human characteristics, but then they also encourage people to pose directly with them, take selfies directly with them, and interact with them much closer than you would with the dinosaur display.  
Debbi: So we have a combination of content where we have what we call the art pumpkins, which are a little bit closer, the Gourdys are one example of a 3D, but we have multiple 3Ds that are involved, we have a huge octopus that's a 3D, we have huge pumpkins, just huge pumpkins where people are taking photo OPs with. So, those are our 3D pieces and we are doing a lot more of those 3D pieces because they do a couple of things.  
Our 3D pieces, number one, you can use them in the daytime and in the nighttime, and number two you can get up nice, comfy, cozy with them and do things of that nature. Those pieces also are finished in a different way. They have a different kind of coating so people can interact with them. They can handle a little rough and tumble. There's a plethora. I can't even name all the different photo kinds of pumpkins that we have.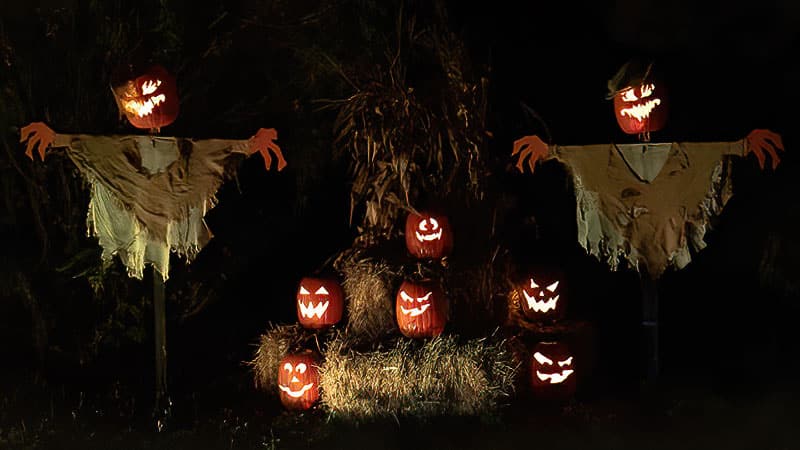 Not A One Time Use Product
Philip: You want this to be something that you can use year after year if they want to, and add to it, or move it, that kind of thing.  
Debbi: These pumpkins go 5 to 7 years as far as the lifespan. 5-to-7-year lifespan easy, and I've seen them go longer in different other spaces. So, we like this model a lot, because, for example, you can do a year one with a spend that you feel comfortable with, and again, that really varies. We work with folks who spend $10,000 just to get their foot in the door with a photo op, and folks that spend $500,000 to blow out an entire show.   But that's OK, you know, and if you fall somewhere in between, that's OK too.  
We're going to chat with you about what you need for your venue, what kind of ticket price you can charge depending on where you live for your venue, we're going to cover all of that for you. Then once you start out with this then you just keep it growing, you just add more content, add more content, and/or once you start to get to a certain space you don't only have one show, but you have two or three.  
Also, this year we are rolling out our own name Jack-o'-lantern Journey, to be lending to folks since we already have our own signage, logo, IP. So, if your space doesn't want to come up with all the creative and all the branding for your own show, Jack-o'-lantern Journey is now doing that for and with you. So, we're going to work with you in that regard. 
If you're somebody like Frights and Lights in Frisco or somebody like Nights of the Jack, and you want to use your own branding, that's cool too, we'll work with you as well.  
Philip: I like the idea, if they don't already have an established brand or they don't want to put in the extra expense to come up with that.  
Debbi: Yeah, we're going to chat with you. We're going to listen to your ideas. We're going to show you this is kind of how many large scenes we think, how many medium scenes, how many small scenes, a pumpkin tree, a couple of photos ops and you're going to pick that out. We're going to come to you, we're going to talk to you and then we're going to help make this work for you. We make it easy, like that's part of what we do. We really look to make this easy for you. We've done so many of these at this point that we get it, we understand it. We're going to talk you through it, we're going to hold your hand through it, and we're going to help make sure you're successful.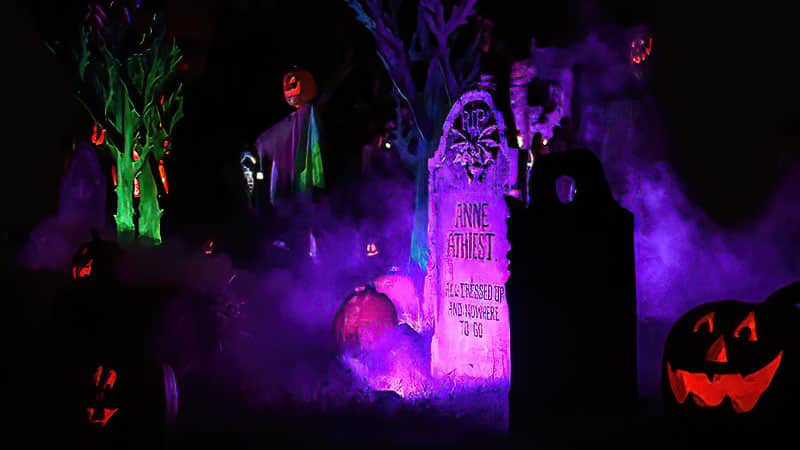 Contacting Jack O' Lantern Journey
Debbi: If you want to get in touch with us, you should reach out to us. You can reach us by phone at (914) 293-0406, you can visit us at our website https://jackolanternjourney.com/, you can certainly email us at [email protected] You know what, I'll even throw mine in there. You can email me directly how's that at [email protected] 
We'd love to chat with you about pumpkins.