A Short Blog Based on Episode 136 of the Scaretrack Podcast, in Which Kate Visits the London Dungeon.
Hello, ScareTrack fans. It's just Kate here today. I have a free afternoon in London, so I decided to visit the London Dungeon. I went in on my own, and I've just come out. Going on your own is a weird experience in itself, but then you get so engrossed in the scenes that it really doesn't matter.
All the actors were absolutely brilliant, as always, and prove that this is an attraction you can come and see over and over again. I've been round the Dungeon so many times, I could almost recite the scripts and do the acting myself.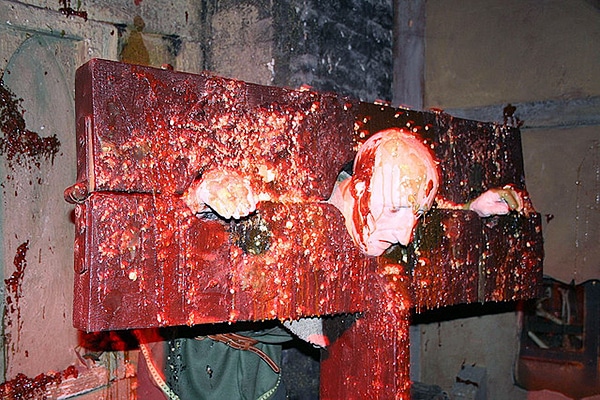 An Unexpected Change
It's been about two years since I last came to this particular Dungeon, and I noticed little changes in the scripts, which always makes me smile—just little things the actors do to keep it fresh when you revisit. At one point though, I thought there had been major changes, because we went down in Descent and then we went straight into Guy Fawkes and the House of Parliament scene. So, I was like, "Oh, I feel like we're missing something. Something's changed up here." I was quite excited to think there was a big new major room or something like that. Then I found myself at the Drop Right, and I was like, "Hmm, I guess there haven't been any major changes." What threw me off was there was no boat ride, so it definitely felt shorter than usual.
I did a quick Google search when I came out, and the boat ride is still listed on the website, so I guess it's having some maintenance or downtime at the moment, but there were no signs when you enter saying the boat ride was down. So, that was a bit of a shock for me. I usually expect to have a warning on these things. We essentially ended up missing out on two shows, because we went straight from Descent to Guy Fawkes. We missed out on the Boat Ride and City Gates. I had a Merlin pass, so it didn't bother me too much, although I do love the boat ride. If I'd paid full entry price, I'd be a bit miffed. Aside from that, you can't fault anything about the Dungeon. It's always brilliant and on point.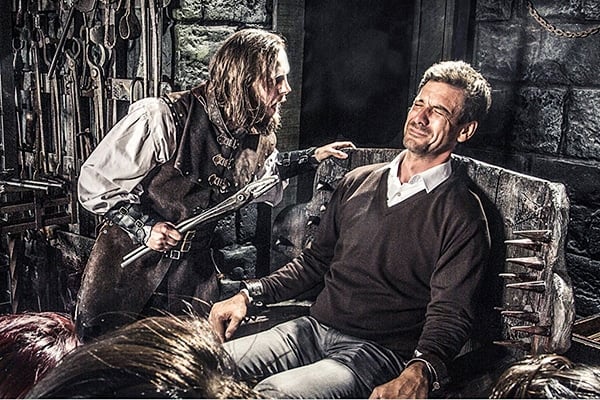 I'm quite excited about Alton Towers' dungeons now. This got me in the mood. There were lots of good jump scares in there, and the actors really used the scenery. I screamed at one point near the entrance, and I don't think I've ever screamed in a Dungeon like that. It was a great way to spend a random spare afternoon in London.
You've also got SeaLife, Shrek, and The London Eye all along this one little bit of the Thames. If you've got a Merlin pass, I call it Merlin Street, because you can do everything. I might go and do Shrek's Adventure now, and maybe have a little browse through Sea Life. I think I'll miss The London Eye today.
A UK Scare Attraction/Haunted House Documentary
It's Mikey, just adding a few words here. The UK is going to be getting its very own scare attraction/haunted house documentary. This film, by Dan Brownlie, is, as far as I'm aware, the first ever. Of course, there are loads of documentaries in the US, and we really enjoy watching them. It's always hard to get them over here in the UK, though, whether it's through Amazon Prime, Fire Sticks, or YouTube. However, we always find a way on the Internet, and they're fantastic. This UK documentary is now in post-production. Dan's just doing the last little editing. You can find Dan on Instagram and Facebook, or you can search for the UK Haunters Movie Instagram page, which is UKHaunters_Movie. Dan Brownlie is a big name here in the UK horror scene. He's created some awesome movies that you guys genuinely need to see.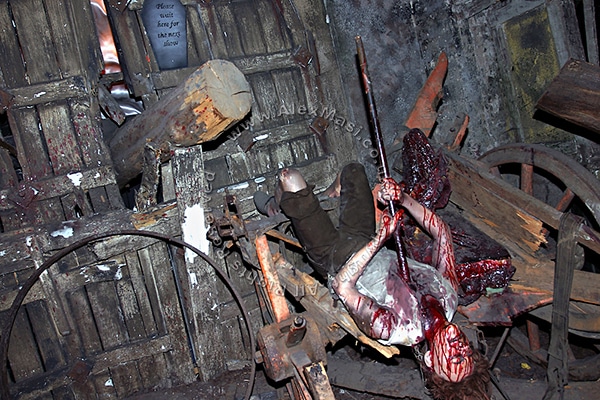 This documentary is scheduled for release this Autumn. Dan's been working on it for a couple of years, and we can't wait to see it. We're featured in it, along with Faceless Ventures, Steff [11:53] from Our Space Reductions, and loads of people here in the UK. How awesome is that? I can't wait to see it at the film festival. It might be at a film festival near you guys, so definitely keep an eye out for all the information regarding UK Haunters.