What Is Midnight Syndicate, and Where Did It Start?
Ed: Hi, I'm Edward Douglas with Midnight Syndicate Soundtracks, and I'm one of the composers and producers for the band. Midnight Syndicate creates orchestral, dark, haunting, and instrumental music blended with sound effects. Our albums are mostly music, but the sound effects play an important role.
When we first started making these albums, there just wasn't a lot of music or resources available to haunters, and so you'd hear a lot of the same songs, a lot of the traditional rock tunes. So, we saw a great opportunity there. So, we took our music to all the haunts in the Cleveland area that we were familiar with. In 1999, we went to Transworld, and that's where we met the rest of the haunted attraction industry, and the rest is history.
We've just been producing albums now for 25 years and trying to focus on what haunts need and can use. I think that's what made us unique. We were a band recording our albums with the haunt industry in mind. We set up a haunted attraction registry, a real simple way that haunts could register with us, cross-promote each other, but also feel that they are covered to use the music in their public performances.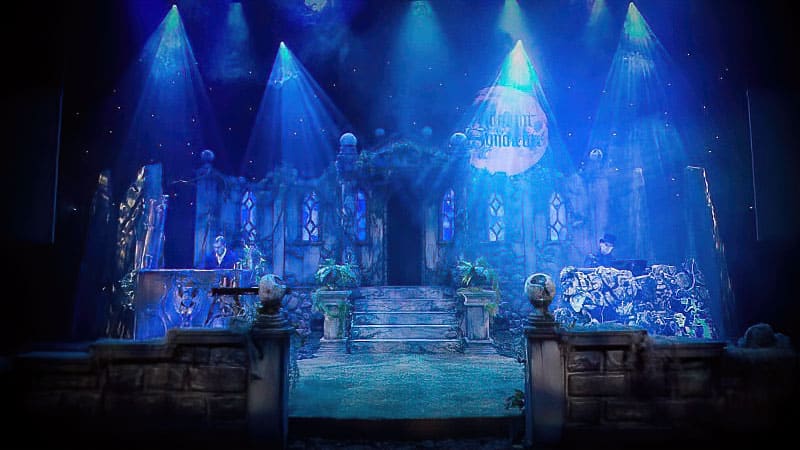 2021 Was a Huge Year, Especially for the Evolution of Midnight Syndicate
Ed: As the music industry has changed, we knew we needed to develop a live element to the Midnight Syndicate experience. So, we started doing these shows at Cedar point. It's a large multimedia horror-themed show that, I'm sure, all of our haunters would very much appreciate. We've been doing it for a long time and enough that we could put together our favorite tracks from the shows that we've done over the years and put together a live album. So, we released that at the beginning of last year.
Midnight Syndicate is orchestral music and is difficult to reproduce live. So, we knew that if Midnight Syndicate were ever to do a live show, it would have to involve a lot more than just the music; and make it a complete multimedia immersive experience. So, Cedar Point had a huge theater where we could build this wonderful set and give people some visual eye candy.
Since then, that theater got torn down, but they moved into a slightly smaller theater which gives people a more intimate experience. Having a theater that we can work in for seven to eight weekends and creating unique experiences for people at the park has been a lot of fun. I don't think they've ever seen an amusement park show like what we do. I don't think there's ever been anything quite like that.
Philip: You spent so long in the haunt industry and going to events, working with haunters, and thinking about what haunters need, and then you get here creating, in a sense, almost like a miniature haunt experience
Ed: It's so funny. That is such an accurate representation of what we do. Most of our show was inspired by what we have seen and experienced in haunted houses throughout our entire life. So, it's like a full-circle thing. Hopefully, some of our music was able to inspire the haunt designers. Just, in turn, those haunt designers have inspired us for the live Midnight Syndicate shows. And we are taking from our experience just going through countless haunted houses and trying to pull some of those elements into our show. It just makes it more immersive for the audience. Especially today, people need to feel a part of it.
Cedar Point put up a poll in 2020, "What show entertained you most?" and we ranked second on the list, and it was the greatest feeling in the world. Growing up and loving that park so much and being able to do that, it was like, so fricking cool.
Philip: Custom shows like this are not only great for the time of the year, but they also allow Midnights Syndicate to write in special throwbacks to the park that locals will understand.
Ed: Each show has a story, and the story can sometimes loosely connect year after year. There are a couple of shows we did that were very specific to Cedar point. They involve the park, and I think that is what has resonated with fans. We're not even just putting together a Halloween show or theatrical show. We're doing a show that acknowledges where it is held.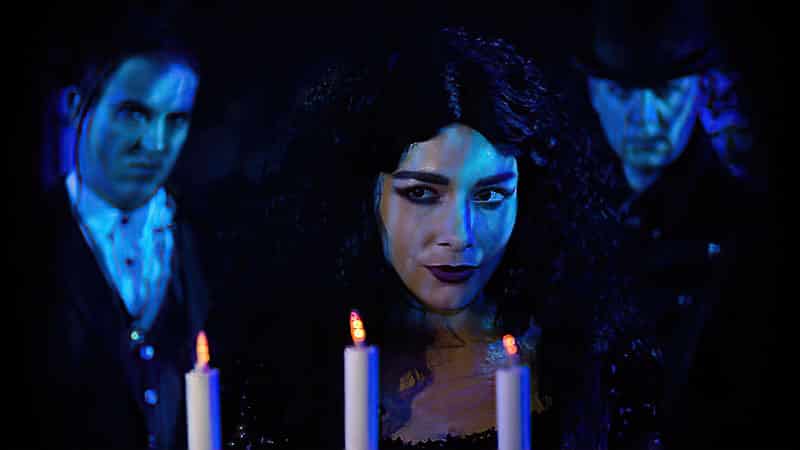 Midnight Syndicate Created Custom Music for Halloween Horror Nights 30
Philip: Aside from the live album, Midnight Syndicate also released a custom album last year for Halloween Horror Nights 30. After a year on hiatus, Halloween Horror Nights 30 was a record-breaking year for Universal Studios Orlando. They leaned into Year 30 by bringing back many of the previous characters. Midnight Syndicate had a long history with Universal Studios Orlando. Working with them in the past was a perfect opportunity to bring back the artist.
Ed: When they're bringing back all the iconic characters for a haunt that just featured all the characters that people remember like the timing was perfect. So, we had a lot of research that we could use to find which of our songs resonated most with people that went to the events and brought back memories. It was a lot of fun getting the songs and audio files that the Halloween Horror Nights had used either in the haunt or on the website and integrating those into things.
We've only created original music for a haunt once before. It was in 2007 for the Carnival of Carnage year at Halloween Horror Nights. The music was never released previously and was a perfect opportunity to release it for the first time. It had never been out there.
So, you know, you're pulling all this together, and it all just came together nicely. The idea of bringing back all the iconic characters, looking back, just made the artwork all flow perfectly. It was a lot of fun, and we love working with the team there. Hopefully, we can do more in the future, I would expect that we will be.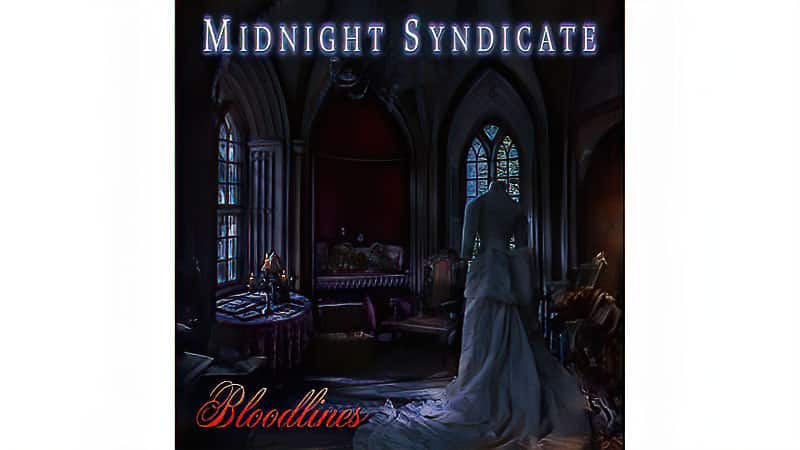 Midnight Syndicate Released a New Album: Bloodlines
Ed: We followed up with our first album in a long time called Bloodlines. It is a prequel to one of our most popular albums, the 13th Hour Haunted Mansion theme disk. Our music is now available everywhere. You can buy the CD on our website and is available on YouTube, Spotify, Amazon, and iTunes.
Midnight Syndicate Will Be At Transworld
Ed: Yeah, Transworld has been a constant for us over the years. It is so much fun and a great opportunity to connect with our friends in the haunt industry. Always a real highlight of the year. The live album, we'll have that there, we'll have the new bloodlines album, on CD and vinyl, and merch and everything like that. We will have a ton of stuff at the booth.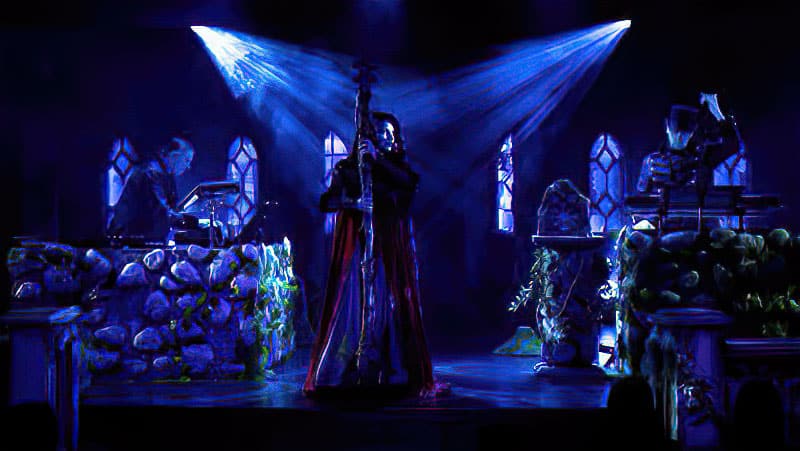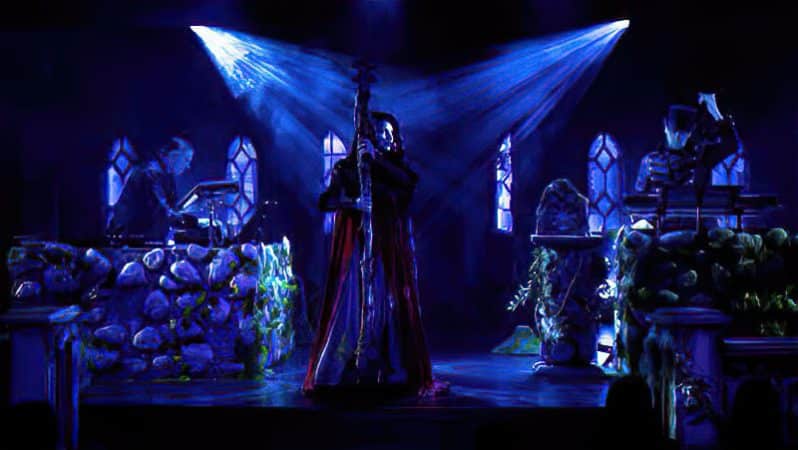 Why Care About What a Haunt Needs?
Ed: My first introduction to horror was ghost stories and albums of Vincent Price reciting ghost stories and watching those old horror films. That's what got me hooked. But then the next level came when I experienced my first haunted house. All the things I had read about or had in my imagination were coming to life right in front of me as I went to these haunts. That was the next progression in my development as a horror artist, as an artist in general. The haunts started inspiring me, which became where I pulled from when I was writing the first music for Midnight Syndicate.
You want to give back, right? Isn't it all about helping each other? I always felt that the haunt industry is about helping each other. That's been our attitude since day one. So, if we can create something that inspires a fellow artist with the creation or make it more effective and more what they see in their head, that's great. So, that's what it's always been about for a Midnight Syndicate, working together with a haunt industry hand-in-hand, and that's why it's important.