The producers of Midsummer Scream have announced a surprise pop-up event at the Pasadena Convention Center taking place the weekend of August 14th – 15th, 2021. Awaken the Spirits! will feature over 200 spooky vendors, live entertainment, and a presentation stage where fans will get sneak peaks of what's in store for Halloween 2021 from LA Haunted Hayride, Delusion, Six Flags Magic Mountain, Winchester Mystery House, and more.
Tickets go on sale tomorrow, Wednesday June 16th, 2021 at 10:00 A.M. PDT at midsummerscream.org/awaken.
"The entire team is excited to be able to create live events once again," says David Markland, Executive Director of Midsummer Scream. "Awaken the Spirits! will allow us an opportunity to bring together fans and professionals from the Halloween and haunt community to celebrate and prepare for what will be a great 'spooky season'."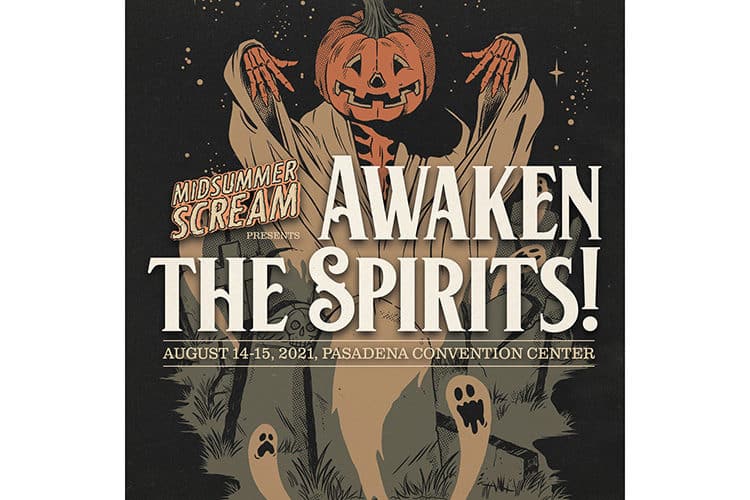 A Strong Line-up of Events for 2021
After the pandemic caused Midsummer Scream to cancel their flagship event for the past two years, the team has ramped up production on several related projects for a strong end to 2021. Midsummer Scream's Screaming Room Film Festival presented by HorrorBuzz will be held at the Frida Cinema in Santa Ana July 10th-11th. Season's Screamings, Midsummer Scream's dark holiday convention, takes place December 17th-19th, also at the Pasadena Convention Center. Next summer, Midsummer Scream returns to Long Beach for its highly anticipated 5th Anniversary show July 29th-31st, 2022.
"Once we were certain Southern California was allowing live events again, we felt it was extremely important to do something for our longtime supporters, and create a showcase for the theme parks and attractions to inform the public what each of them will be doing for Halloween," says Gary Baker, Executive Producer of Midsummer Scream. "Since there are so many questions concerning haunted attractions and events this year, we really wanted to create a solid platform for that information to be relayed directly by our partners."
Midsummer Scream and the Pasadena Convention Center are working in accordance with all CDC, state, and local guidelines governing requirements for events and gatherings of this type.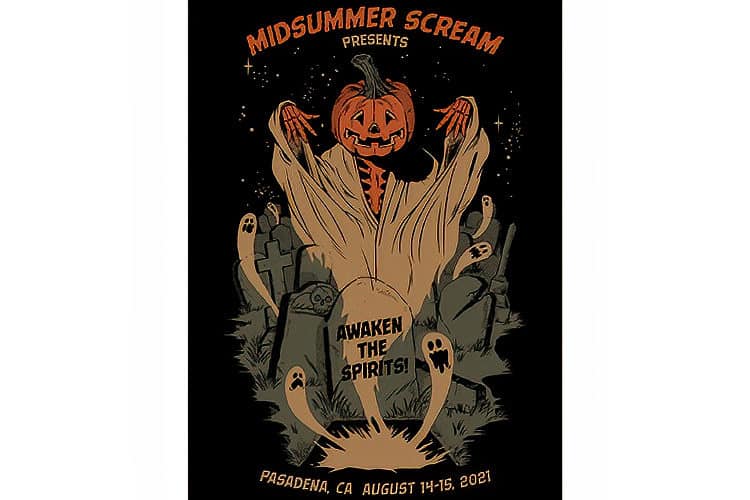 About Midsummer Scream and Awaken the Spirits!
Midsummer Scream and its branded events are presented by David Markland (Founder/Executive Director), Gary Baker (Founder/Executive Producer), Claire Dunlap (Founder/Supervising Producer), and Rick West (Founder/Creative Director). Their goal is to showcase the diversity of Southern California's haunt and horror community as a welcoming beacon for fans around the world to converge on Los Angeles for a weekend of excitement, networking and non-stop spooky fun!
For breaking information about Awaken the Spirits! and other upcoming Midsummer Scream events, follow them on Instagram, Facebook, and Twitter @midsummerscream and sign up for the newsletter at MidsummerScream.org.