This is the third part of our mini-series covering some of the haunt friendly programming from this year's IAAPA Expo in Orlando. Say you want to expand into mobile friendly options, but you want something with more theming built in. Well, Mind Games has you covered.
Support for this episode that comes from Gantom Lighting and Controls. Sign up at Gantom.com/demo to see what they can do for you.
What Is Mind Games Productions?
Todd: Well, hello, I'm Todd Fedyshyn, I'm one of the owners of Mind Games Escape Rooms. We do mobile escape rooms, and we've also got a brick and mortar and mobile packages that we offer membership programs with.
So, at the show here this year at IAPPA we have a 13 by 13 heavy duty mobile tent, we have 15 different themes of these tents, and people just love it because it's like an easy up on steroids. Really heavy-duty, but when you put the walls up the players are completely immersed in just amazing puzzle play and great graphics on the walls. So, you feel like you're transported to a different place.
What Is A Puzzle Todd Enjoys?
Todd: Well, the one that I got right next to us right here is Immunity Quest. You're on an island and you're searching for the God of Immunity Mask. So, you're going to find different puzzle parts and some tikis along the way, and then you're going to put a table puzzle together, which will tell you how to place the five tikis from left or right in the proper order, which gives you the God of Immunity Mask, and immortality forever..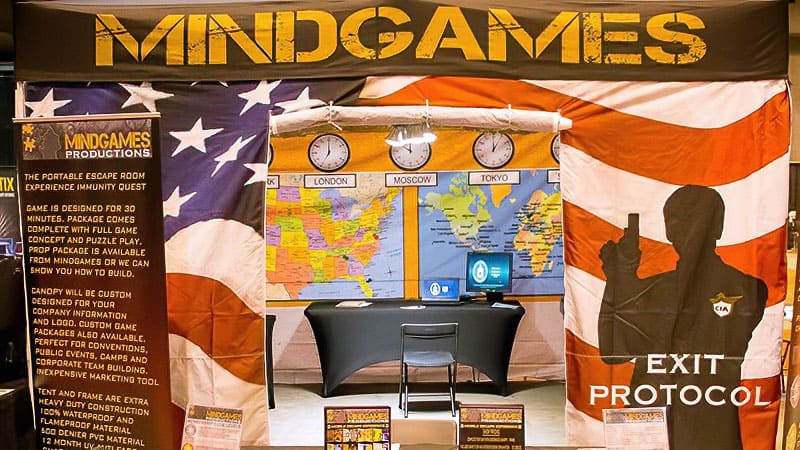 What Makes Mind Games Different?
Todd: Mind Games is a family business, Uncle Den and I own it. Dennis Guzalak and myself, we're going on seven years. We've just kind of stayed true to our roots. We treat people like your family, like every sale that I've closed today, I welcome people to the Mind Games family. I mean that because, when they call me next week, I treat them the same way today as I'm going to treat them next week, because I don't want it to be any different. If they need something from me, I'm a phone call away, and I think that's how I built my business, and I want to stay true to the roots and offer that same support ongoing. Because, I mean, that's how I want to be treated by a company, so I treat my customers the same way.
What Are The Different Sized Options For People?
Todd: You can start with just one tent, and then I also show people how to do your own props. Like, if you want to just do it, I'll save you money, just build your own. Then my Dropbox files that are pertaining to each game, I'll give you a "how to" package so you can save money, save yourself a couple thousand dollars, and just buy my tent from me.
But then I got a "you can Velcro" as we look up at it, I know on audio we're not really looking up, as I look up at it, there's Velcro up there and we can change the walls real quick, and you got another game. So, you know, clients will start with one package, but then they might end up buying two tents and have four sets of walls, and then they end up with props that worked for each game, but have small adjustments, difference between the games, so they can be applicable to certain areas. But, I try to make things duplicatable, but really easy in and out. People are taking these into schools or fairs, or different ways to do that.
Philip: It allows you to pop up these games anywhere.
Todd: Absolutely. Like, some of our mobile escape room companies don't even have a physical location, or they might use their home office as that location for billing, but everything's done over the web. Then they book everything and they'd bring it to you.
It's almost like one of those portable game trucks. I actually had somebody today, super cool family, really nice people, they own a game truck and they just wanted to add this to it. So, they're taking that game truck out and they're offering this for like after prom parties or, you know, school functions, different things like that, anything where they can go and put their name out there, offer a service. But they wanted that wow factor, and they were like, "you know, your tents have that wow factor." And I appreciate that, because I put a lot of work into the graphic design aspect.
Every time I tried to look at, I say, "how can I make this look cool? Like something I'd want to be in?" And, you know, people walk by the tent and they can't help, but want to walk in. So I was like, cool. I think I could sell a couple of these.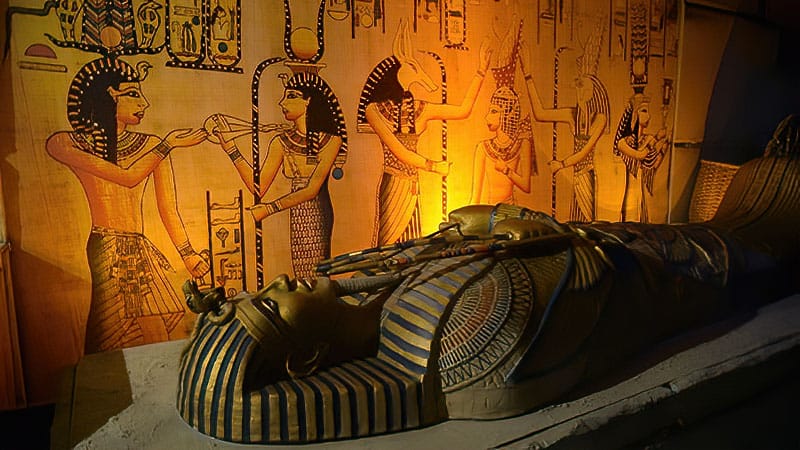 Todd: Okay. Well, just a tent, show price, is four thousand, normally 4,500. So, you get the tent, and then you get the electronic documents that go with it; the puzzle play, how that works, at a glance flow chart, all the different clues and things that you have to print out and laminate. So, you get all those documents, you get any videos that are applicable to the game, and just all the stuff that makes the game work. Then, if you want to buy the prop package from us, it's $2,000 for the electronic prompts, the tiki, the torch prop, and the table prop in this game.
Where Will Mind Games Be Next?
Todd: You can go to https://mindgames-productions.com/ and you can visit all our mobile teams as well as our brick and mortar themes right there. But our next show will be Transworld. So, we're always at Transworld, and I had a great time at the Transworld mixer last night, great to see all the familiar faces there. I'm just glad to see everybody back out enjoying trade shows again.