Reign of Terror revamps its 120 scare rooms to terrify guests safely with new layout and more scares during their 21st Anniversary
Reign of Terror Haunted House will open on September 25th and take place every Friday and Saturday night through October 31st from 6 pm to 10 pm. The event will also be open on Sunday night, October 25th during the same hours.
The haunt has made changes to address the COVID pandemic, but guests are assured a more intimate experience that enhances the fun and scares. Capacity is limited to 25%, and guests walk through the event in private parties (people who arrive at the haunt together) to experience the attraction's 120, custom, award-winning, horror-themed haunted rooms. Reign of Terror is renowned for its bone-chilling details and hordes of gruesome figures plus animatronic props, frightening animated scenes, spectacular special effects, theatrical lighting, and terrifying sounds. This year, there will be no live actors, but there are new and returning terrors. The haunt's nine themed attractions have been reorganized into a new flow with new sequencing, twists, and turns. There are new bizarre beings and more life-like creatures and characters than ever before occupying the 120 rooms. Among the returning fan favorites are "The White-Out Experience," "Slime Bog," and "Vortex Tunnel." The walkthrough ends at the merchandise area, where a variety of Reign of Terror apparel and accessories await guests. It's also possible to make arrangements to purchase some of the amazing props.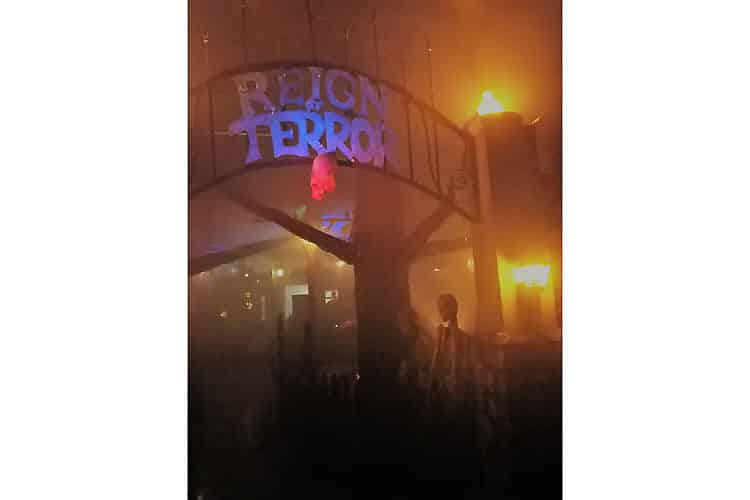 Admission times will be strictly scheduled, and reservations and ticket purchases can only be made online. A reservation provides admission during a 30-minute block each hour. Due to the limited capacity, tickets are expected to sell out quickly. Guests are advised to make their reservations early and be flexible about the night and time they attend.
Regular, scheduled admission is $25, and immediate access (preferred admission during the allotted, 30-minute reservation time slot) is $50.
Reign of Terror has also revamped its venue. It's still located at Janss Marketplace at 225 North Moorpark Road in Thousand Oaks, California, but in a new, larger facility conveniently located directly across from the parking structure.
For more information, visit the Reign of Terror Haunted House website