Suds & Scares: Haunted Car Washes Transform an Everyday Service into a Fun Experience
With rising demand for socially distant Halloween activities, several car wash businesses around the country have announced spooky spins on their traditional car wash services. Attendees can experience costumed staff, themed lighting, and effects from the safety of their vehicles – all while receiving a thorough haunted car wash. Here are three businesses that have incorporated Halloween theming into their car wash services:
Rainforest Car Wash - Haunted Car Wash (Medina, Ohio)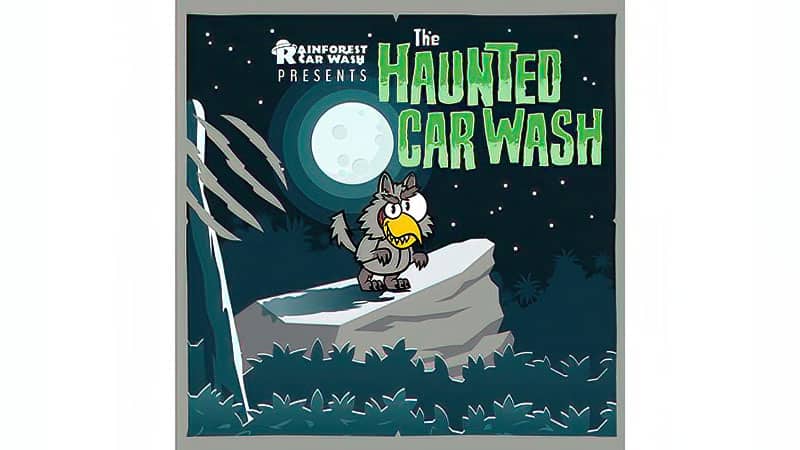 Rainforest Car Wash has announced its "Haunted Car Wash" at its Avon location. Attendees will enjoy a carefully curated experiential haunted car wash.
For 2020, the focus of the Haunted Car Wash was on providing an uplifting, immersive experience for participants in the midst of what has been, for many, an exceptionally stressful year. Anthony Bencivenni, Rainforest's District Manager, explained, "This event is one of the few things you can do this Halloween that is completely safe. Each participant will get to escape from the day-to-day for a little while to enjoy the event from the comfort of their vehicle. This year has been particularly difficult for many in our community, and in light of that, we feel it's critical to provide an opportunity for our local families to enjoy special moments, have fun together, and make lasting memories. That's really our vision for this year's event: making people's lives a little brighter,"
They are back for 2021 on two different weekends from 6PM to 10PM. Tickets are required, no walk-ups are accepted, so make your reservation before you arrive.
The Haunted Car Wash is $30 per vehicle for non-members, and free for Unlimited members. Presale tickets are now available for purchase on their website.
The event is open October 15th, 16th, 17th, 22nd, 23rd, and 24th.  Hours are 6:00 p.m. – 10:00 p.m. every night
Paradise Car Wash – Scare-adise Haunted Car Wash (Yorkville, Illinois)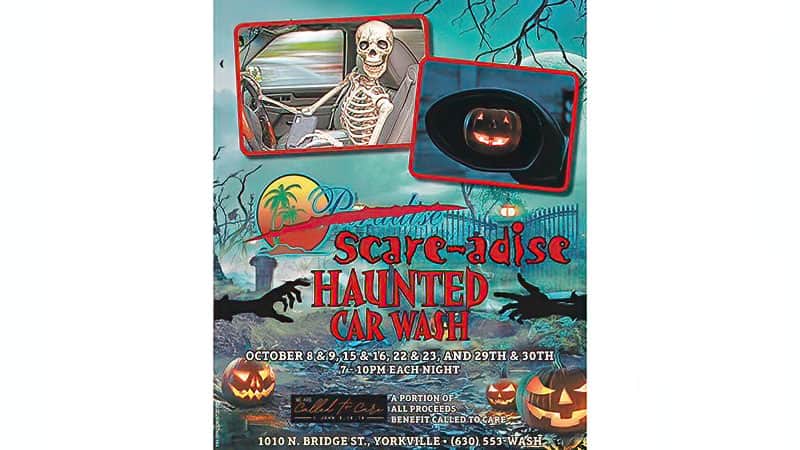 For select dates in October, Paradise Car Wash in Yorkville, Illinois will transform into "Scare-adise Haunted Car Washv". Mark your calendars for spooky fun for the whole family.
A portion of all proceeds will benefit Called To Care.
Scare-adise Haunted Car Wash will operate on October 8th, 9th, 15th, 16th, 22nd, 23rd, 29th, and 30th from 7:00 p.m. – 10:00 p.m. every night.
Bluebird Express Car Wash – Haunted Tunnel Of Terror
For two days, October 29th and 30th, Bluebird Express Car Wash is hosting their Haunted Tunnel of Terror Car Wash from 7:00PM – 10:00PM.
"This is a haunted car wash, customers will stay in their vehicles and go through the wash. Customers can expect us to scare the dirt right off their vehicles and enjoy a fright, we will have kid-friendly scares as well! In addition to receiving a great car wash and having some scary fun," says President & Founder John Michael Fery.
Good news, they have multiple across Idaho and Colorado to visit them!
Fairview Ave, Boise, Idaho
At the Fairview Ave location you are asked to donate $18, and all proceeds will be sent to the Idaho Bustin Out of Boise, an organization that seeks to, "To fill the gap for women who are going through cancer treatments by providing housecleaning services, childcare, food, transportation to appointments and other needs."
At the Overland Rd location you are asked to donate $18, and all proceeds will be sent to the Idaho Humane Society, whose mission is, "to advocate for the welfare and responsible care of animals, protect them from neglect and cruelty, and to promote humane education, awareness, and compassion."
In Sheridan, Colorado at the Metro Express Car Wash is the, "Sixth Annual Twin Tunnels of Terror at the Nation's Largest Express Car Wash." At this location a wash and scare is only $23, and all proceeds are being sent to the Colorado Children's Hospital, where they recognize, "Kids are incredibly different. They need incredibly different care."