Jonathan and Crystal Talk About Halloween and Other News of the Day.
Welcome to our Haunt Weekly blog. This one is based on episode 180 of our Haunt Weekly podcast. May 1st, as everyone knows is halfway to Halloween, or as far away from Halloween as we can be (the Antipodes of Halloween). On that podcast, we had some great announcements from Disney and Halloween Horror Nights as well as some local haunt news and one very sad story—or, at least, a potentially sad story.
News from Around the Country
So, our first news was from Idaho Falls, Idaho. Radio station KPVI reported that a poster was stolen from Idaho Falls DARE Program Facility. Sometime on or around April 17th, thieves stole movie posters from the front of Planet Doom, a local haunted attraction that supports local the DARE program. The posters were done in the style of classic movie posters like Frankenstein's Monster. Planet Doom took over the old location operated by Dr. Slaughter, who ran the DARE program haunted house for 18 years prior. Even though this is only their second season coming up, the place has a 20-year haunted attraction history. Police had no leads and were investigating. Who steals posters from the front of a haunted house?
"Yeah, I know," said Crystal, "They do look really cool, but that's a really shitty thing to do, especially considering a lot of the funding for the DARE Program is through this haunted house. All of it comes from there."
Our next story was an article by Allen Campbell of The Richmond News in Richmond, British Columbia, Canada about a Richmond area haunted house that could be shut down. This is a home haunt that's operated for 35 years. It's run by Tim Jordan, and this was the first year they've had any complaints from the neighbors. Basically, he has a bunch of tents set up in his yard and puts on this free haunted house.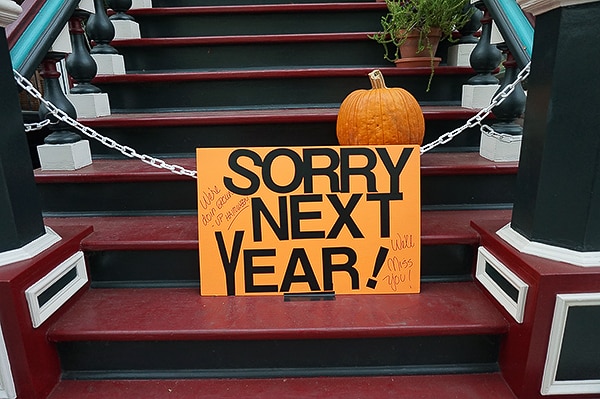 Image Credit Unsplash
But it looks like he might be saved by the city via a regulation called a Variance of Use, which, apparently, the city of Richmond made him aware of. The idea is basically that he can apply for a variance that will allow him to keep his structures up so he can continue working on his haunted house year-round and open it on Halloween. When you're getting advice on how to get around the code from the city, that's a pretty strong indication the city wants you there.
Our next news story was from Alex Myer at the Intelligencer in Wheeling, West Virginia. In this one, the Zone of Appeals approved of a variance for an upcoming haunted house. A gentleman by the name of Sean Cooley wanted to open up a haunted house in a vacant building. However, the codes there would have required him to have 51 parking spaces, but the property lacks enough room for that because of the way the street apparently has a weird curve—an S-curve.
"In the picture, it looks like there's no room for parking," offered Crystal.
Variances were approved, and he got to move forward with opening. However, a citizen named Donna said the following: "I think it's stupid. Can't they think of anything else better to do with the building than fix it up to ruin it?' I guess she's talking about distressing it after you fix it up.
My counter-argument to Donna is that almost anything is better than a vacant building. The only thing worse than a vacant building is a crack house. As long as a legal, successful business is operating out of it, it's better than being vacant. The owner of this property is going to maintain it, work on it year-round, have a presence there regularly, and that's going to prevent bigger problems with the building.
The next news story had to do with Shocktober, which is in a haunted house tradition in Loudon County, which won two tourism awards. This attraction is owned by ARC of Loudon, and has 343 volunteers who do thousands of hours of work to make it happen. They had over 17,000 guests last year.
The ARC of Loudoun is an organization that helps provide services to area children who are differently abled by providing specialists and funding for school programs. Shocktober is its primary source of income, which was $2.3 million last year. Well done!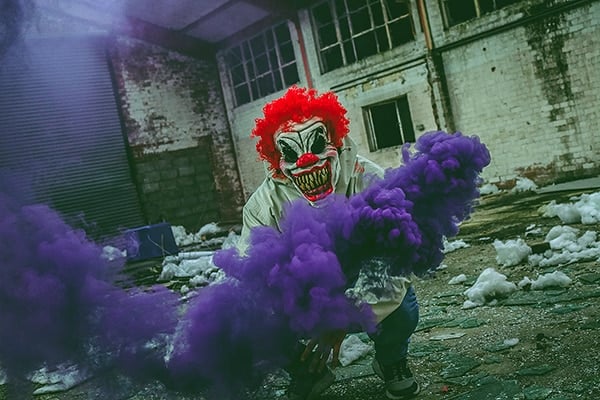 Image Credit Unsplash
Announcements from Universal and Disney About Upcoming Halloween Events
We had two pairs of announcements, two from Universal and two from Disney. First, Universal's Halloween Horror Nights announced another new attraction for 2019. We were getting just the drip feed of haunt news form Halloween Horror nights, because it was the Antipodes—six months from Halloween. Universal Monsters is looking to the classics—Wolfman, Dracula, and Frankenstein for this year's event. Previously announced was a gladiator-themed blood pit. Tickets will be on sale from September 6th through November 2nd.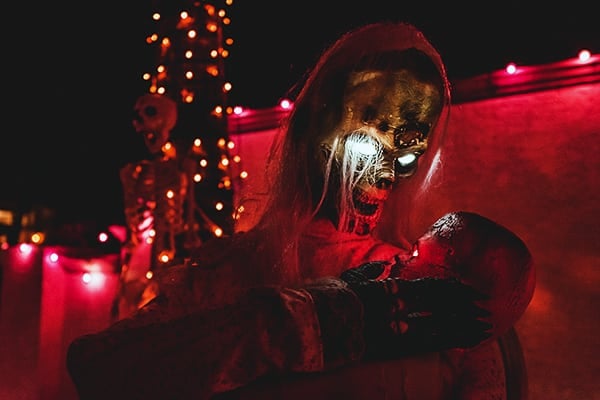 Image Credit Unsplash
"The other announcement out of Universal," said Crystal, "is that Halloween Horror Nights is going to conjure up holiday nightmares with their new Holidays in Hell. So, since haunted houses are doing holiday themes, why not Universal taking it on too?"
They're not just doing one holiday but all of them. Well, technically, it's a maze. What's weird is that they did Holidays in Hell last year.
"But it was like a free roam," Crystal interjected, "and more open. If you have a chance to go to Halloween Horror Nights, and you're an owner of a haunt and planning on doing multiple holidays, you can get some ideas."
This year's maze will be tighter, constricted, more claustrophobic, and hopefully a little more confusing and disorienting.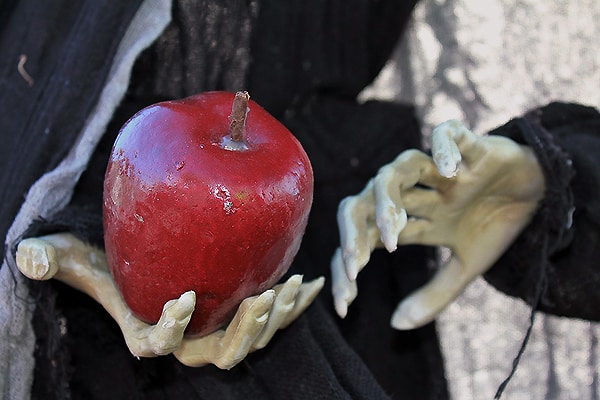 Image Credit Pixabay
We now have two separate stories about Disney. The first deals with Disneyland in California and the other with Disney World in Orlando. Mickey's Halloween Party won't be in Disneyland this year. Instead, it will be retreating to the California Adventure Park and will no longer be called Mickey's Halloween Party but rather the Oogy Boogy Bash: a Disney Halloween Party. Previously, Mickey's Halloween Party was held in Disneyland, but now they're pulling it away. The reason for this is they're opening a new Star Wars park there, and most people think it's going to be a logistical nightmare to have both in the same place.
"Next, from Disney World," announced Crystal, clearing her throat, "is they've confirmed they're killing their Hallo-Wishes fireworks display. This story is from Orlando Weekly in Castoria. Basically, they're not going to do their regular fireworks, but they haven't announced what they will do."
The new show will feature, Mickey, Minnie, Donald, and Goofy entering a haunted house where they will face skeletons, ghosts, and Disney villains. Other key features such as the Hocus Pocus Villain Spelltacular, Mickey's Boo to You Parade, and Trick or Treating Trails will return. At Disney World in Orlando, the fireworks display is going to be different.
One thing I've learned in reading these Disney articles is just how many hardcore Disney nerds there are in the world that really grab onto this stuff. It's going to be a pretty fireworks display, but I don't really care. I see fireworks twice a year, tops, and that's usually me accidentally running into them, so I have no investment in this.
The last were some fun stories for the closeout. First, a Reddit user by the name of Kreimkoek created a giant Lego haunted mansion that's just awesome. It looks really good on the outside, but inside is where the magic is, because he's created a whole bunch of rooms themed around different films—The Exorcist, The Evil Dead, The Shining, Scooby Doo, Gremlins, and more. It's fun because he posted this video on Reddit and you can check it out.
"That's what I did," said Crystal. "I went to the video, and there was the Necronomicon. That's from The Evil Dead."
There's a guy with an ax. That's The Shining. There's silly stuff, too, like Scooby Doo, Gremlins, and all that. It's not just hardcore horror. There were a couple I couldn't quite tell what movie it was. One, I thought was Beetlejuice, but I'm pretty sure it wasn't Beetlejuice.