An immersive, interactive experience introduces fans of "It" to its terrifying sequel.
The It Experience Chapter Two features a 40-minute journey through terror carried out in 10, immersive and interactive spaces that give visitors glimpses into the September 6, 2019 premier of "It Chapter Two," the sequel to New Line Cinema's top-grossing, 2017 film based on the book, It, by Stephen King. This event is free.
A key set-piece from the new film, Derry's Canal Days Festival and Funhouse, is being recreated in the heart of Hollywood. The festival revives that old-time carnival atmosphere—but with a twist. Lurking about the premises is Pennywise—enough said.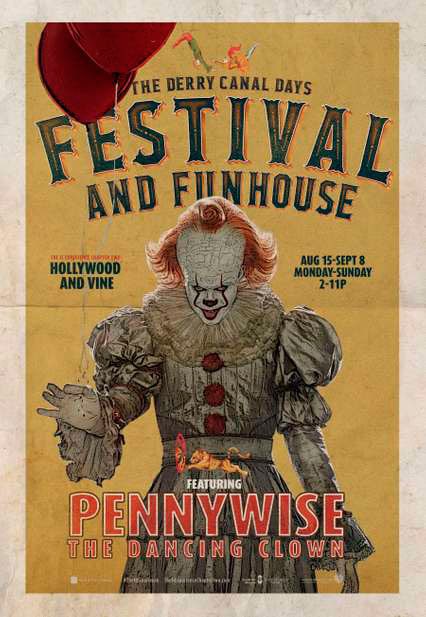 In 2017, tens of thousands of fans immersed themselves in the frightening realm of the first movie, "It," via the Neibolt House Experience. At the Canal Days Festival, guests can play classic carnival games and visit the Funhouse, in which they become part of scenes from the movie including a hall of mirrors, eerie sewers, and sinister clowns. And, of course, you know who.
This event, which takes place from August 15 to September 6 from 2 pm to 11 pm, is for guests 18 years of age and older; 17-year-olds may attend if accompanied by a parent or responsible adult.
For more information, visit the It Experience: Chapter Two website.