How to Decide Which Events and Shows to Attend, and Why They're Important to You and Your Haunt.
Welcome, once again, to the Dark. In this blog, which is based on episode 8 of my A Scott in the Dark podcast, I'm going to talk about trade shows, seminars, symposiums, and other cons. This past weekend, I was lucky enough to be one of the keynote speakers at the Haunt Journal Magazine's Leadership Symposium, sponsored by, obviously, Haunt Journal Magazine as well as Gantom Lighting and hosted so graciously by the gifted and wonderful people at Knott's Berry Farm. I just wanted to say thank you, specifically to Philip Hernandez, for reaching out to me and asking me to do it, and to everybody involved in putting it all together.
It was a great meeting of the minds. I got to sit on a panel with several of my heroes—among them, Ricky Briganti and Margee Kerr. It was very well attended, and there were a whole bunch of people that I got to chat with as well. The people on this panel had a ton of experience, and the theme of this symposium was innovation in immersive theater or immersive techniques. There were people there representing The Queen Mary, people who worked at Netherworld, people who'd worked at Eastern State Penitentiary, and then Ricky Briganti, who's been to pretty much every single haunt in the world, and was there to talk about Shadow's Fall and The Republic. I was there representing The Vault of Souls and my work with Howl-O-Scream many years ago in Busch Gardens. We spoke for about 20 minutes. It was sort of like a Ted Talk for haunters. Then there was a question and answer, which was moderated by my friend, Leonard Pickel, the Hauntrepreneur himself.
After that, we got to play at Knott's Berry Farm, which was a blast, and later we toured one of their revamped mazes with a full complement of actors. That's no small task in the middle of July—putting together a fully operational haunt with actors, costumes, makeup, etc. It was well worth the time to go to that.
Overall, for anyone in the haunt industry or who's thinking about it, the Leadership Symposium was a great place to get a bunch of information. There will be another one next year.
Another show I went to while I was out there was Midsummer Scream. That was a completely different kind of event, but so very much fun. It was just a blast. I'd like to thank Jeremy Grunardt for putting me in touch with that show and all the people who put that show together. It was a great amalgam of haunt and horror fans and haunt industry folks. There was something for everybody.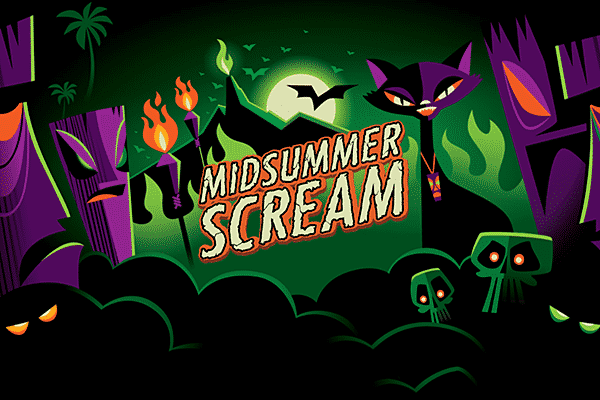 I guess you could call Midsummer Scream a con, but I think they call it a Halloween festival or a celebration of Halloween in July. Who's not going to go to that? I'm going to be there. The cool thing about bringing together haunt fans, the haunt industry, and creating a show that appeals to both is that haunters are or were haunt fans, too. We're all fanboys or fangirls at one time or another, and I think it's really important to bring those two sides together.
Midsummer Scream is an interesting show because not only did it have haunt vendors but there were classes, symposiums, and presentations by everything from the Knott's Scary Farm team to Halloween Haunt Team to a group doing radio drama based on the old Tales From The Crypt comic books, which was super cool. I got to see a bunch of things I'd never seen before and, being on the opposite side of the country in Florida, it was nice to see what was happening in the Pacific time zone.
Midsummer Scream also had attractions featuring a two- to three-room samples of their haunt or haunted experience in what's known as The Hall of Shadows. Guests had the opportunity to go through and experience a taster of what these haunts had to offer. Boy, was that inspiring!
Another show I'd strongly recommend if you're really twisted, over the age of 18, and not easily offended, is Urban Death, which I'd never experienced before. This is a production of Zombie Joes' Underground Theater Group, and it was one of the most twisted and weird things I've ever seen. Some people didn't care for it at all because it was just so odd, but I loved every minute of it. It involves short vignettes that had everything from monsterish, puppet creations to full-frontal nudity. It just pushed all the buttons and bars. There was everything from cute carved pumpkins to a guy doing something inappropriate to a cute carved pumpkin. We'll just leave it at that. In addition, there was a cat-adoption area in which the kitties needing homes were roaming through a cemetery, which I thought was adorable.
I'm guessing everybody who's reading this has been to—or at least thought about going to—one or another of the various and sundry tradeshows that happen around the country each year, everything from the Transworld Show in Saint Louis to HAuNTCon to Midwest Haunters to Chicago Frights to ScareLA and a number of other haunt-based shows. If you haven't gone to one, you're probably asking, "Why should I go?" It's an investment of both time and money, so I'm going to tell you why I go.
For me, the most important reason is, I like to meet people. Now, having been in the haunt industry for [mumble] years, I'm lucky enough to know quite a few people, and I get to see them, hang out with them, and go to dinner with them, as I did with Leonard and his wife, Jeanne, Kyle, and Tater. We went to an escape room one night and had dinner the following night. These shows are a great networking opportunity. It's a great chance to meet folks you might only be friends with on Facebook. It's also a chance to meet folks who do podcasts, because they're usually there making some sort of appearance.
It's also a great way to share ideas. I've been going to the Transworld show for probably 20 years now. I used to go when it was in Chicago, and then I went when it was in Vegas. The thing about that particular show is, not only do you get to go out on this massive tradeshow floor, which is just like a candy store for every haunter, but more important than that to me is the camaraderie of sitting around before or after the show or at one of the sponsored events and talking with people and sharing ideas. Back in the day in Chicago, everyone would sit in the lobby of the Holiday Inn, because that's where most of the haunters were staying, and talk about things. You'd see all kinds of monsters and creatures walk through this lobby, because it was right next to the convention center, and it was affordable, so almost everybody stayed there.
One night, the team from Universal Studios in Florida, Halloween Horror Nights, and Lowry Park Zoo in Tampa were there along with a couple of other vendors, and we were just sitting around and coming up with the coolest ideas. It's the best brainstorming place in the world to talk about what might happen next in the haunt industry—or, more specifically, what's going to happen next in your haunt. Folks in the haunt industry are very willing to chat and share ideas. If they're not, they should be.
I mentioned the haunt samples in The Hall of Shadows. Seeing and hearing about other people's work can either reinforce what you're doing or give you ideas about how you can expand. In my opinion, if you're inspired by someone else and you can do something as well or better or in a different way, do it. There are no new ideas, just different ways to put the existing ones together. So, go out and get as much inspiration as you can by seeing other people's haunted attractions.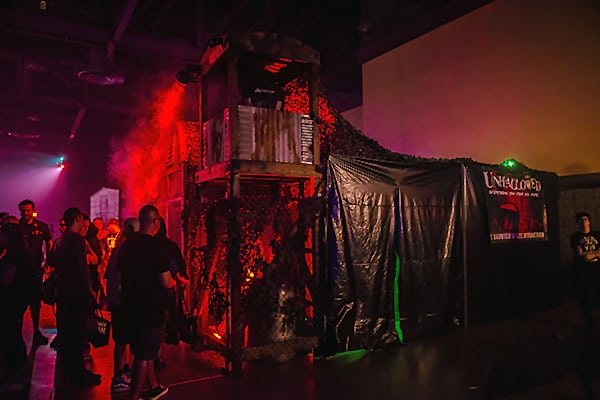 Be the First to Know about New Haunt Products
The other thing about these events is you get to see—and touch—new products in the haunt industry first. You're not just seeing them on a website—you get to hold them, ask the vendor questions about them, and, in many cases, the vendor will be able to adapt them for your specific needs. You might ask things like, "Can you paint this mask with UV? Can you take the blood off this particular prop because we're doing a kid-friendly event—or, can you add more blood to it, because we're nowhere near kid-friendly? When you can to talk to the vendors, if they make their own stuff, they'll often be more than happy to customize it for you. There may be an additional fee, obviously, but sometimes there isn't. If you want something they don't offer, but they do something similar, you can say to them, "I want a rhinoceros ghost. Can you build a rhinoceros ghost for me?" If anybody does build a rhinoceros ghost, I'd like to see it, so please send me a picture of that.
Network, Network, Network
So, when you go to these shows, what should you plan to do? Each show has its own personality. Some shows are more party-heavy than others, and some are more focused on education, practicum, make-and-takes, and that sort of thing. Do some research on the shows that interest you, so you know what they're about, but, first and foremost, as I said before, you want to network. Since you're going to want to chat with anyone and everyone, make sure you have some form of business card. I realize business cards are probably going by the wayside. Pretty soon, we'll just be able to shake hands and instantly people's contact information will electronically go into our devices—if the technology isn't there already. But, until that time comes, bring business cards with you. You can get some inexpensively and quickly online at VistaPrint.com, or Zazzle.com does business cards as well.
As a vendor, of course, there are people you want to get in front of. I realize it costs some additional money for vendors to rent the space and transport their merchandise, etc. Some shows don't allow you to sell on the tradeshow floor, but what better way to take orders? It opens you up to people you've not had business contacts with before. So, with vendors, too, it's an opportunity to network, network, network.
Be prepared to share your ideas and listen to other people's input. If you've got something halfway planned, you can be vague enough that nobody will steal your idea before you get it out there. Besides, chances are you're going to be talking to people who aren't necessarily in your market. It's like having a very knowledgeable brainstorming team. You can ask them, "Have you guys ever tried anything with exploding tarot cards?" Once again, if you've tried anything with exploding tarot cards, please send me a photo. Share those ideas with people. You'll get responses ranging from, "That's a great idea," to, "Yeah, we tried that, but we put too much gasoline in them, and the guests caught on fire." They'll tell you what's worked for them and what hasn't. People like to listen to other people's ideas and to plan haunts, even if they're not their own.
When you get there, be prepared to reach out to folks you don't know. Go say hi to somebody you don't know. Find out who they are and what they do. Don't do it with the thought of, "I hope I can get work from this person." Do it from the mindset of, "Here's somebody who's like-minded and cares about the haunt industry the way I do, or they wouldn't be here." So, they may become a business associate, they become a client, they may become a vendor for you, or they may just become a friend. It doesn't matter. All of these things are positive. Sit at a table with people you don't know. If you're hesitant, grab one of your friends and say, "Hey, let's go sit at that table, introduce ourselves, and start talking with them." This is super easy to do it at most of the shows, festivals, and events out there.
Don't forget to take tons of photos—but only of what you're allowed to photograph, of course. Each show, festival, and con has different rules about what you can take photos of. If you're on a tradeshow floor, always ask the vendor before you take a photograph. If you're visiting a haunt, chances are good they won't want you to take pictures inside, so take plenty of pictures outside. At all the parties or in the lobby, take as many pictures as you possibly can, and share them on social media. This past weekend, I was able to post things from different shows—or different parts of different shows—on social media to let people know what was going on and hopefully inspire them to attend next year. Oh, and don't forget to take an extra battery pack and remember to charge your phone every night.
Almost every convention or event has some sort of sponsored party. If you don't know anyone at the event, a great way to get immediately into the scene is to go to one of the sponsored parties. These are usually masquerade parties, which makes them even more fun. Hang out, get to know people, network, and have a good time.
Don't Forget Your Credit Card
Bring some extra cash or a credit card that still has room on it, because, I promise you, you'll want to buy something while you're on that tradeshow floor. Some companies go to the bigger shows like Transworld and buy everything for their event at that tradeshow—every single thing. You have to plan this out before you get there. Have some idea of what your theme is going to be, what you're going to add, or what you want to replace before you go to the show. Usually, you can get great deals at tradeshows. Many vendors will offer a show deal or a show discount of some sort. You can also negotiate with them for things like a reduction in shipping costs or a volume discount. So, if you have the requirements for your haunt in mind, the tradeshow floor can be the best place to make those purchases.
Conversely, you can go with an open mind and use what's available on the tradeshow floor as inspiration. It can work both ways. In my experience, you get the best pricing deal if you're able to purchase or place your order while you're on the floor itself.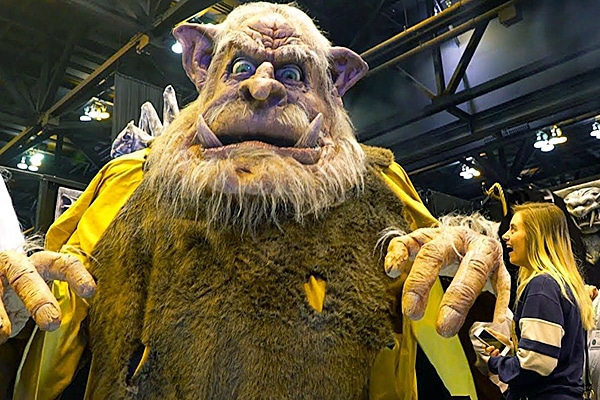 Review the Contacts You Made
After you get home from a trade show, sort through the business cards you collected, because you'll have a stack of them. Sort through the business cards and put them into your contacts. If you have one of those fancy apps on your phone where you can take a picture of the business card and it automatically puts it into your contacts, use it. These are people you want to be able to contact right away if you need them, and you never know when that will be. If there was somebody you really liked or had a good chat with, send them an email or add them on Facebook. I have tons of Facebook friends I met at shows. They're the people who are going to look at the photos you post from the next show you attend and say, "Oh my gosh, that looks like so much fun. I wish I could be there with you." And, the following year, they will be.
Another question that people often ask is, "Is it worth it? Is it worth it to go and spend all that time?" There's only one answer to that, which is "Yes." Yes, it's completely worth it. You're surrounded by a bunch of like-minded people and, at certain conventions, it's just one big party—often with lots of alcohol. There are parties that happen in the hotel rooms and various and sundry suites. If you don't know which conventions those are, ask the folks that go to the various and sundry conventions which ones are the party conventions.
These events aren't only fun, they're important to the development and ongoing growth of your haunt or your understanding of the haunt industry. Make attending these events part of your haunt budget—the marketing budget, the research and development budget, or whatever line item will allow you to squeak out some extra money. That way, when the event rolls around, you don't have to worry about whether you have the funds or not. Budget it and book early, if you can. Most conventions, festivals, and events have partner hotels that will give better deals on rooms. When festivals and events offer those kinds of hotel deals, they're not necessarily packages. Another thing you can do is schedule your vacation around the event. If you're planning on taking an annual vacation, go ahead spend two days of it at Transworld, two days at HAuNTcon, a few days at Midsummer Scream, ScareLA, Spooky Empire, or any of the other haunt conventions. If you're going someplace cool for a convention, there's always something else cool to do there.
I make these events part of my budgeted expenses for my business, because I think it's essential for me to be at these places to continue to be on the cutting edge, to meet new potential clients, and to share my ideas. One thing that's important to me is to continue to keep the haunt industry growing, coming up with new ideas, and not stagnating. Whenever I attend these events, it's always the case that I saw something I'd never seen before, or I came up with a great idea while I was having coffee with so-and-son. I've met people from all over the world at these conventions, and it's completely worth it. Find the money. Just find the money.
Maybe you can't fly cross country to an event, but there are local gatherings of haunters in many places. Often, they're gathering to do make-and-takes. They'll come together, make a prop, talk about ideas, and then go home. See what's around you locally, and start with those. Later on, you can go to one of the larger cons. Many change venues each year. HAuNTcon, for example, has been everywhere from Orlando to Nashville to Birmingham to New Orleans. So, you can keep an eye out for when it's coming to a city near you.
If you don't have a con coming to a city near you, start one. Only do this if you have a ton of extra time, because they're a huge amount of work, and there's a lot that goes into them. I've never hosted one myself, but I have friends who have. It's a bit of a financial risk, because you do have to put a lot of money up front. If you're passionate about it, do it, call me, and I'll come and have a great time at whatever your convention is. Or I'll certainly try my best.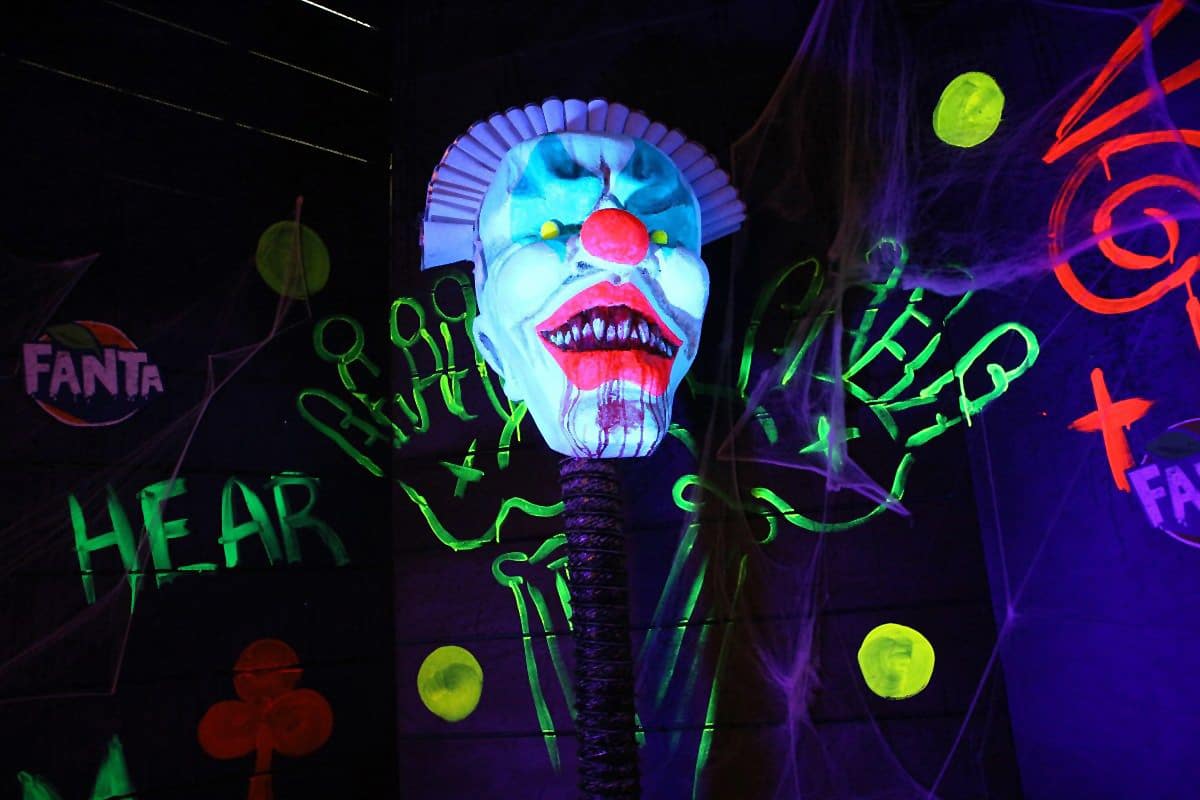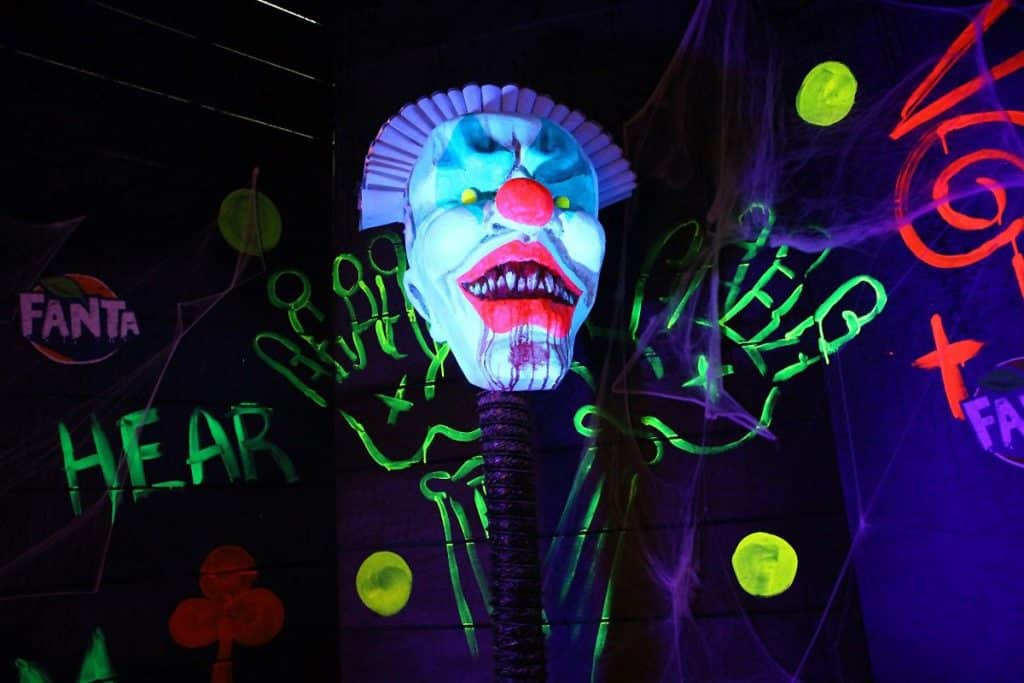 With all the events, all the cons and other shows out there, which are the best shows to go to? I have no idea how to answer that question, because each one of us is going to want to get something different from a show. If you're on the fan side of things, there are shows that are focused on the different horror brands out there. There are people signing autographs and great artists creating beautiful work. I was at some show—maybe an escape room show—not long ago, and I got these three, beautiful, hand-drawn charcoal pieces of artwork of Edgar Allan Poe. One is of Poe, one is of the Raven, and one is of the Black Cat. I have them all framed and on my wall. You'll find that sort of thing at shows that target haunt and horror fans.
There are shows that aren't necessarily haunt-related that might benefit you. MegaCon, DragonCon, some of the sci-fi conventions or gory horror-film conventions could be worthwhile for certain people.
Then, of course, there are the shows that focus more on the professional haunter or the home haunter. I have to say that the Transworld show is by far the quintessential MacDaddy of these shows. That's the one where you'll find pretty much anything you can imagine. It's focused primarily on the haunter not the haunt fan, but there's plenty there for the haunt fan as well.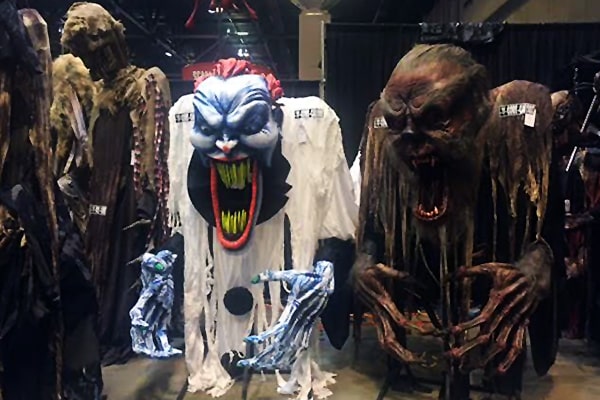 Do some research and decide what it is you're looking for and where you're going to get the most bang for your buck. There are a ton of shows I haven't mentioned, just because I can't remember them right now. Go online, do some research, talk to friends who've been to different shows, and listen to what they have to say. Maybe plan a road trip together. I know people who go to almost every single one of these shows. They all pile in a van—10 haunters in a van. The journey can be even more fun than the event itself, but make sure it's not so much fun that you don't remember why you went there or what you experienced while you were there. This is another reason to take lots of pictures—it helps you remember.
So, that's my report on why it's important to go to cons. If you'd like to ask questions, suggest topics, or even make comments on what I've said or written on any podcast or blog, please go to our Facebook group, go to AScottInTheDark.com or my website, or email me at [email protected]. Until next time, rest in peace.