Coming May 1st and 2nd to the Heritage Square Museum in Los Angeles is the Spooky Swap Meet. The museum's nine Victorian manors serve as the stunning backdrop of a buzzing marketplace featuring vintage and original Halloween décor, furnishings, costumes, props and more. Ghost stories and trick-or-treating from mansion to mansion are included in the $13 admission. And – the inaugural event is already sold out.
So, besides that this is a haunter's dream, why bring it up? Well, the event design carries some ideas you can try to engage with your local community to get a head start on the season.
Co-creators Claire Dunlap and Sarah Cook were hanging out with their partners and discussing how bummed they were about missing so many spooky events this year. Something we can all identify with.
 Claire: "I said, yeah, because I have a bunch of stuff that I was planning on selling at this one event, old Halloween decor, et cetera.  And Sarah, said me too. Oh my gosh, we should do that. Yeah, it's too bad. And I said, yeah, we should just do something like that, where we sell it. And Sarah's like, a spooky swap meet. And I said, okay, we're doing this. And that's how it began."
Involving Multiple Vendors
Claire: "We do have few fantastic haunters that are coming to share their girth of wealth, and we're very excited about it. Traditional vendors as well, that sell spooky and Halloween related items, furnishings, decor, clothing, accessories, things like that. So, it's going to be a good mix in there."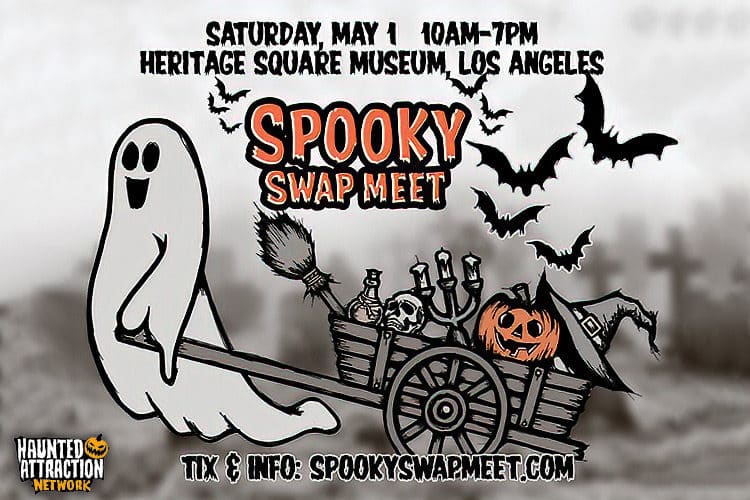 Expanding To Capture Some of the Halloween Spirit
Claire: "Being in this industry and having done so for a number of years now we know what we like. So we know we like to be immersed in something.  I don't want to just go to an event that's like where I can shop. I can do that. Any other weekend. But, most of all, I want to go to something where I feel like I'm transported into another world. We couldn't be more ecstatic about the location that we are doing this in, which is the Heritage Square Museum, off the 110 in Los Angeles. Which is an outdoor venue that has nine different Victorian structures that have been moved onto the property, that are original historical structures. And they've all been moved under the property in order to maintain the integrity of what Los Angeles used to look like. 
Heritage Square Museum is working with us. So, they're a partner with us on this, which is so fantastic, and so a portion of each ticket sale is going to the museum to help in its upkeep, restoration, and maintenance and renovation. So there are these different structures, and what we have decided to do, with the help of brainchild John Cook and Sarah Cook, who popped up with the idea while we were there looking. They're like, we need to do to her juried houses here, and so that's what's going on. 
We have house sponsors, and each house sponsor will be decorating their particular porch,  and handing out the candy for the trick-or-treat experience. And everybody who is a ticket holder, a part of that ticket price includes the trick or treating. So, it's going to be very exciting. We've got Rad Coffee doing a house sponsor. We've got Vamp and the Fiends. We've got Tim Fowler of the Farm Haunt.  We have Mystic Museum sponsoring a house, and we have our very own John Cook with LA Haunted Hayride.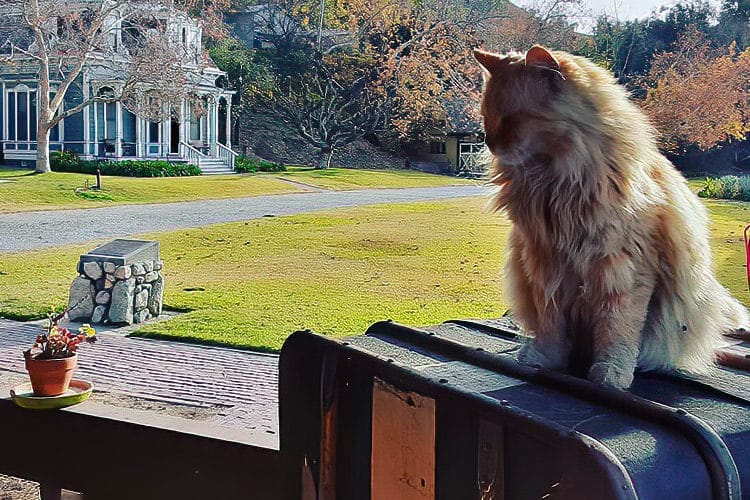 Related Content: Listen To the Story Behind 4 Home Haunts
Sarah: "And we're thrilled to let people know that this is available in their community, that they can go visit this place anytime they want. And It's just such a cool location, and it's perfect because it's completely outside. With COVID restrictions and whatnot, this is very safe, and everyone has felt so good about it.
So, to be able to provide this to people in a safe, fun like just historically, culturally rich environment is such a fun combination of aspects.  I think that's why people have really jumped on board with this whole idea, and people are really excited about it, as are we. It's just the perfect timing  and we're just so happy we can give an experience like this to everybody who's been missing out on it for such a long time."
Yes, Guaranteed Trick or Treating
Claire: "That is the thing I love, right? Exactly. No age limit on the trick or treating. That's the thing that's the most important. I swear, that's my favorite part of Halloween is giving out candy and trick or treating myself, and Dave and I usually do it every year. We'll go out to Burbank, we'll check out home haunts, and depending on the climate, we will walk up there with our bags and say trick or treat.  I love it when you get people that are like, Oh my gosh, adults, come on in. We all need to be able to trick or treat, not just kids. It's a little discriminatory that only children get to trick or treat."
Sarah: "And especially after last year, we were all like robbed of the complete Halloween experience. We almost missed Halloween last year.  Anything you can do that kind of is reminiscent of that, it's just really resonating with people and I think everyone's going to have so much fun, no matter what age."
Claire: "We want to drive that point home. If you have a ticket, you go trick or treating. It's not for just the children. It is for adults. Yes. No, we are encouraging it highly, please."
But There's Also the Ghost Stories
Claire: "The Heritage Square Museum is open on the weekends. So it's open 12 to 5 Saturday and Sunday. They have ghost tours, so they have go stories for every house. They have docents there that are providing those, and those docents will be present at our event, and they will be giving tours and ghost stories. Now, obviously we can't go inside the houses yet. However, you can still get the wonderful stories behind each house from these docents.
Shop for Original Works and Used Decorations
Sarah: "I'm also going to be selling headbands and masks and I'm making these new fun, little, like spooky signs.  So I'm going to be showcasing those for the first time there. So yeah, plenty of stuff.  That's been such a cool thing, because even some vendors that you might think are only going to be selling, their handmade stuff, like they're also bringing a ton of their Halloween decorations that they don't want anymore. So we're really trying to get a good mixture of, pre-owned or slightly used halloween or spooky decorations, but then also, vendors that kind of fit our idea of what we want this this event to be. "
Claire: "Larry Bones is coming with a team. He's got six makeup artists and six models, and they will be doing traditional Halloween character makeups for us. And so we're really thrilled to have Boneyard Effects with us. And then in regard to the shopping I too, being the Halloween hoarders that we are, we will have items that we are going to part with, including a few little molds possibly.
And David has his new store, the Candy Coffin, and so he'll be selling some of the things. He's doing puzzle boxes now and just fun items like, he basically, it's one of his dreams to have a Halloween dime store, and so that's what he's creating. So  that will also be there at the event."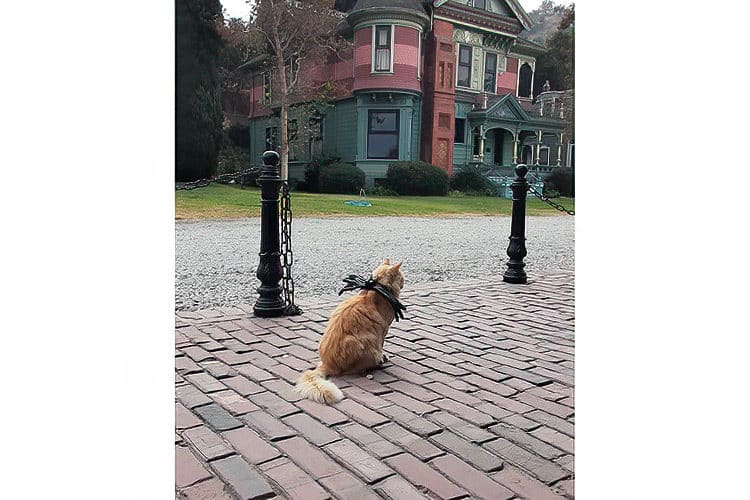 The Organizers Are Still Following COVID Guidelines, and They're Hoping the Timing Will Work Out in Their Favor
Sarah: "The timing of this event is so perfect, because we've come so far from where we were two months ago, three months ago, and then adding on the vaccines. I mean like, our numbers have dropped dramatically in the area, and that's why we do feel so comfortable and so safe putting this event on and knowing that we're not putting anybody at risk and  we feel really good about that. We've been talking about this for a long time, but now it's finally as safe time to do something like this. "
Claire: "I just want to say thank you so much to  all the vendors and the haunt community that have come out, and also the people that have come out to support. And the enthusiasm for the event has been really heartening and it means so much to both of us. And so we're thrilled to be able to get together. It is Sarah and I, but we also have, our partners they're helping on this production as well.  John is doing a lot of work, david's doing a lot of work, and we're really grateful just for everybody involved. And we're very excited. We're really thrilled. We can't wait.
Sarah: "We are. Yeah."
I like how this event went from swapping decorations to a full experience, and how locals are getting involved. This unites the community, and it gives people a taste of the upcoming season. How can you get into your community this summer? Can you bring some spooky May Day treats of your own?