EPIC Entertainment Group Launches Dark Horizon in Orlando
"Dark Horizon: Point of No Return" is a new haunted attraction produced by California-based EPIC Entertainment Group opening October 10, 2019. Dark Horizon is setup 'screampark style' and features 3 haunted houses, 2 stages for performers (fire performers, aerials, sliders), live DJs, the 4D experience "Panic," and atmospheric bars. Guests pay one entry price for access to the 'park' and can choose what to experience at their leisure; quick line options and a behind the scenes tour are available. The haunted houses are linear walkthroughs, with a separate cue line for each. Each haunted house focuses on an aspect of Florida's history and myths. Read more about Dark Horizon here.
Listen to the Interview with Steve Sheldon and Charity Hill from EPIC Entertainment
EPIC produces many seasonal attractions, most notably The Queen Mary's Dark Harbor in Long Beach, California. Dark Harbor is one of the largest temporary-install Halloween events in the country, and it occupies the harbor area next to the infamous Queen Mary ship. Being the original concept, the layout and format of Dark Harbor matches Dark Horizon. Dark Harbor offers 6 mazes, 13 bars, stages (fire shows, aerialists, sliders), Michael Jackson's Neverland Ranch Sinister Swings, Panic! 4-D Experience, zombie DJs, Barrel Room Tastings, and a R.I.P. Lounge. 2019 sees a new maze "Rogue" (replacing "Dead Rise"), expanded access to areas of The Queen Mary (Door 13 and the boiler room), plus a secret bar six fathoms under the sea. Read more about the 2019 Dark Harbor here.
Both the Queen Mary and Holiday Inn Resort are operated by private Los Angeles-based real estate firm Urban Commons. They contract EPIC Entertainment Group to produce both events. Thus, Dark Harbor represents a successful partnership between venue and off-site production team and Dark Horizon an extension of that partnership.
The launch of Dark Horizon is a big move for EPIC, but they're applying much of the formula from Dark Harbor to make it successful – a strong competitive advantage and marketing plan.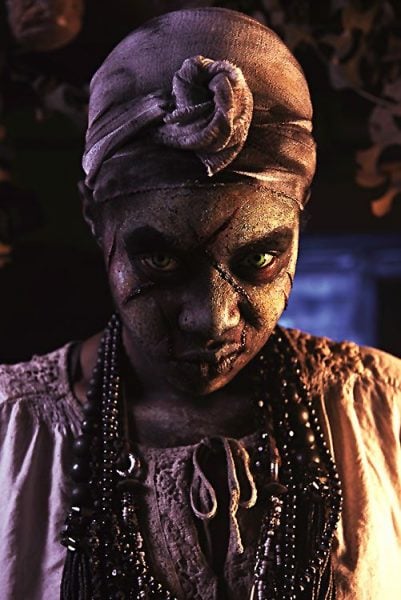 Finding the Competitive Advantage in a Saturated Market
While expansion is logical, Orlando is an entirely different market from Long Beach. "Orlando is primed for entertainment and has a family-entertainment component," said Charity Hill, Producer at EPIC Entertainment Group. "It also has some great roots in Halloween. It was a good fit with the business model we have in Dark, but there are some differentiators. In our experience, a West Coast-style haunt differs greatly from an East Coast haunt. We wanted to keep that differentiator in mind as well as focusing on the deep historical roots and stories based in Florida."
"Just trying to nail what Floridians wanted of that California flair and what they wanted to keep very Florida-driven was part of the challenge."
The Mix: Marrying Location, History Inspired Story, and Party
"We finally found our differentiator, which is to be the destination entertainment at Halloween. We wanted Dark Harbor to become the party where people ended up at. In addition, we wanted to appeal to a broader audience that just the haunt lover. There's the pub crawl and the history buff element. At first, we felt forced to tie those things together, and then we realized this was our strength," Charity explained.
"Marry story and entertainment. The story must compel enough for someone to want to purchase a ticket to visit, but it must be cost-effective enough to make money and have a return on the investment. Sometimes partnerships are unaware of the reality of what those two things are and where they marry each other," said Charity.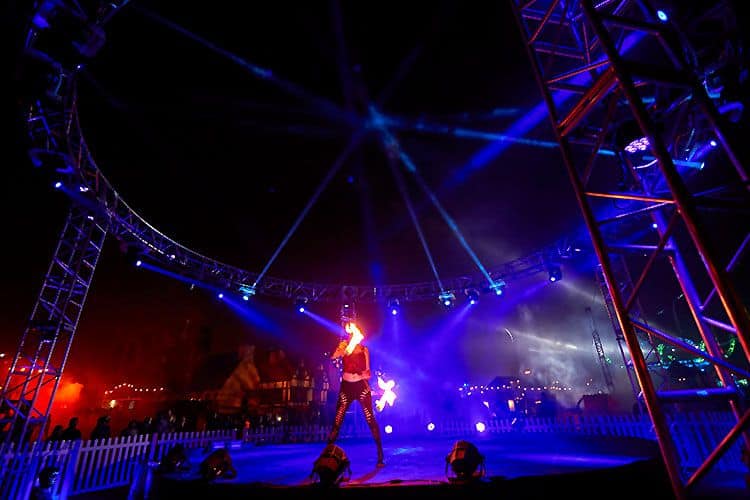 "Dark Harbor didn't always tie into the history of the ship. The first year, the mazes had nothing to do with the ship or her history. We started that in 2012 and, over the years, we've been able to home in on and develop this based on what struck a tone with our audience. We've listened to feedback and studied where our guests connect the most with the event," added Steve Sheldon, Executive Producer at EPIC Entertainment Group. The EPIC team identified the specific characteristics of Dark Harbor's competitive advantage (location, history inspired story, and party) and plans to use that mix with Dark Horizon.
Using Dark Harbor to Explain Dark Horizon
When you find a competitive mix, how do you explain it to the guest? Guests must know the structure and quality of your event to make a purchasing decision, and they don't always trust you. EPIC is using the Dark Harbor brand as a reference point for Dark Horizon, not just for the quality of entertainment, but to convey structure. "We felt the easiest way into the market was to carry on the current brand that we've built. When people ask what Dark Horizon is like, our response is, 'It's like Dark Harbor.' We tell them to Google Dark Harbor on Facebook or pull up a YouTube link of the walkthrough," said Charity.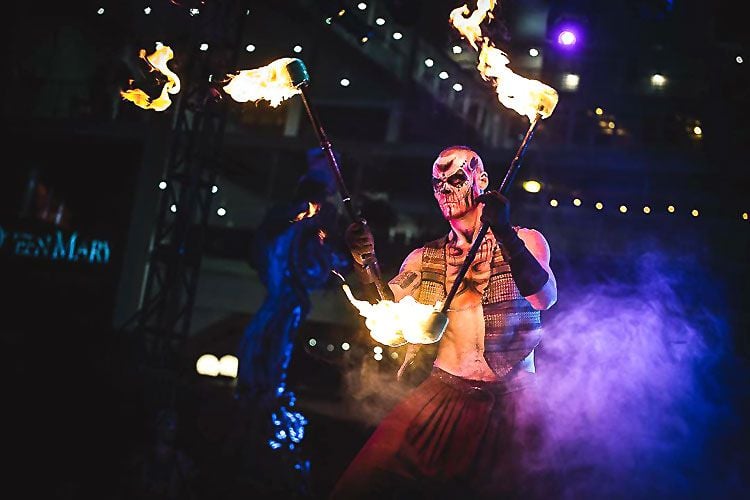 Leveraging a Seasonal Attraction as a Marketing Asset
 "We're been tasked with creating this successful Halloween adventure, but we're also tasked with managing and promoting the flagship for the brand. We've noticed it goes better when they're hand in hand instead of competing against each other. If we can drive awareness of the 85-year-old vessel creatively to draw in a demographic that wouldn't be the demographic attracted to the historical aspects of the Queen Mary, the brand not only enjoys that additional stream of revenue but has a new brand identity and awareness that keeps it in the public eye at all times. Marrying those two is one reason we've found success," said Charity.
Buzzworthy Content
 "You're creating this brand identity that seems forward thinking and relevant to a younger demographic, and you keep it at the forefront with social media. We get a massive number of impressions for Dark Harbor—and even, already, for Dark Horizon. Marketing wise, the amount of money it would cost to purchase those impressions is astronomical, and they wouldn't be organic. When you're pitching to a marketing department, their job is to spend money. When you're pitching to almost any other department, their job is to save money and have someone else spend it. For EPIC, it's about finding the companies that understand both and that can marry both well. Those clients are understand the marriage of marketing and entertainment," said Charity.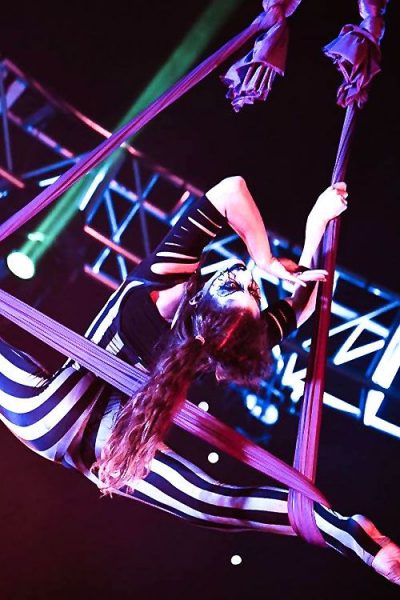 The Experience Driven Economy
Immersive might be a buzzword, but there's no doubting that guest expectations for entertainment are changing. "I believe 'being there' and experiential is a trend that will continue to grow," said Charity. "For people who do what we do, it will be more challenging, because audiences are expecting more all the time. They want more engagement, they want more interaction, and they want more immersion, and that's a challenge, but it's why we do what we do," said Steve.
EPIC understands these changes, but they also represent how developing a seasonal attraction has become more accessible for the located-based entertainment market. Resorts offering 'pop-up' attractions that rival large theme parks by dealing with a single production firm is a big shift. Demand and accessibility are converging, and we might be in the middle of the perfect storm.
"EPIC has had exponential growth over the past couple of years," said Charity. "Dark Horizon is our second show in Florida, and we're hoping this will open up the playing field for us across the nation," she said.
About EPIC Entertainment Group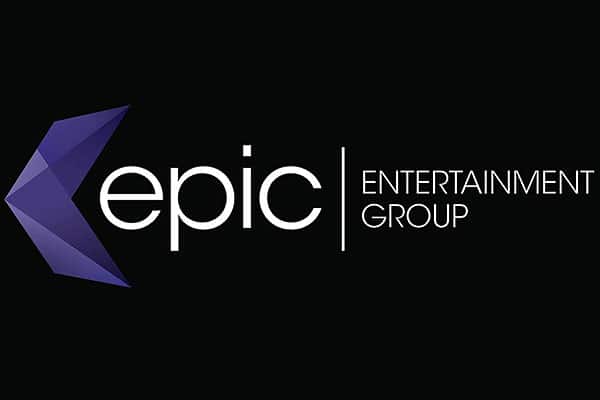 Founded in 2016, EPIC Entertainment Group, headquartered in Long Beach, California, specializes in festivals, live entertainment, experiential marketing, and immersive environments.
EPIC is a collective of innovative producers, experiential marketers, and creative designers whose sole mission is to produce immersive experiences while having fun doing it. The organization comprises a team of fine-tuned, experienced architects who execute every facet of development, production, operation and integration with precision for events of every scope and scale.
Find your competitive advantage. EPIC spent years researching and testing before finding their mix.
Marry story and entertainment. "The story has to be compelling enough for someone to want to purchase a ticket to visit, but it has to be cost-effective enough to make money and have a return on the investment."
Use your seasonal attraction to make buzzworthy content. "Marketing wise, the amount of money it would cost to purchase those impressions is astronomical, and they wouldn't be organic."
Audiences are expecting more. "They want more engagement, they want more interaction, and they want more immersion."